Podcast: Download
Subscribe! Android | RSS | More
 (This is a transcript from episode 26 of Minutes to Momentum)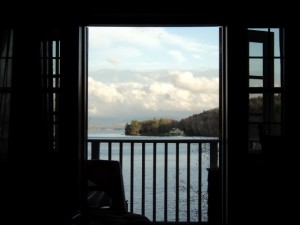 Next week I'll be leaving the wonderful state of Oregon and heading across the country to live near my family.
It's been many years since I've lived near a relative, so I'm looking forward to seeing them and getting to know some of them again from a new place. I am a different person than I was 10 years ago. I'm a different person than I was a month ago even.
My life has taken quite a change in direction. My original thought was to move to San Diego. But plans have changed, and now I'll be going to the opposite of sand and beach, and heading towards lakes and trees. Hey, not so bad of a sacrifice there!
My road trip will be about 5 days long, so it is unlikely I'll be doing any Minutes to Momentum next week. I need to clean the place I'm in, pack, then drive my cat and I across the country to return to a place I haven't lived in 24 years.
I have lots of emotions going on right now. My entire family lives in New England, which is where I'm from. I moved away from there when I was 20 years old. I was so ready to leave freezing-cold New Hampshire and head to the tropical climate of Naples, Florida. After 15 years there, I moved to California. Then to Texas. Then back to California. Then to Oregon. Now I'm back full circle 24 years later, to experience this familiar environment from a new perspective.
I'm sure you've heard the phrase, "Where ever you go, there you are!" Meaning, you can't escape yourself. I was never fond of that phrase. I prefer something a bit more resourceful like, 'Where ever you go is a chance to start again.'
I believe as long as your always working on yourself, improving yourself, and growing, then where ever you go is a chance to start again.
If however, you never choose to address unexpressed emotions, or you're holding on to anger or resentment towards someone, or perhaps you have a lot of emotional pain that you haven't been able to release, then for sure, where ever you go, you're taking you with you. The new environment could help the healing, but you still have to go through the healing.
And that's my message of momentum today. Before you go anywhere, go inside. Check inward. Ask yourself, what do I feel bad about? Anything? Is there something I get triggered about over and over again, and it creates tension or bad feelings every time I get triggered?
One of my major triggers has always been people not living up to my standards. And I had some pretty high standards. You shouldn't smoke. You shouldn't drink. You shouldn't eat junk food. Oh see, that's what happens when you smoke. Uh huh, that's what happens when you drink. Yup, I know you're sick, that's what happens when you eat junk food.
My quest for the perfect friend, the perfect lover, or whatever was really a drive to control people. I must control those around me to create an atmosphere that I am comfortable in. I did it in all kinds of ways too. From manipulating them, covertly of course, to expressing my dissatisfaction with their behavior, or even pretending what they did didn't bother me, when they could somehow sense that it did.
Instead of working on myself, I decided to try to control people around me. "You need to conform to my dysfunction, why should I conform to yours?"
Coming full circle from where I was 24 years ago, both mentally and emotionally, to where I am now… How much I've grown and learned about myself, how much I think I know the world, and how much it continues to surprise me, is another one of life's huge opportunities for growth.
In one sense, I welcome the opportunity to learn from the challenges ahead of me. After all, I've only ever related to my family from the person I used to be. And, I haven't lived where it has snowed for a long time. So I've certainly forgotten what bitter cold feels like.
In another sense, I'm scared. I'm starting fresh. I'm learning about myself once again, in ways I never thought I would.
Most of us have something going on inside of us that just never seems to get resolved. Whether we're triggered by something someone does, or we're holding on to some emotional pain that keeps showing up in different ways. Whatever it is for you, ask yourself one question:
If there was an answer to resolve what I feel inside, what would it be? What would the answer be?
It's such a silly question I know, because, if you knew, you'd do it, right!? But ask anyway,
If there was an answer, a solution, to resolve what I feel inside, what would it be?
And just listen to what comes up. And here's the trick, don't question what comes up. Don't dismiss it. Even if it's silly or impossible. Just play out the scenario of what comes up.
Our brains are amazing devices. When we plant a seed of hope or the beginning of a solution, the unconscious mind has a way of nurturing that seed and growing it into a full-on answer. And that's all we're doing today, just planting a seed.
Another way to ask is'
If my wishes came true, what could I wish for to help me feel better about the situation, or this memory, or whatever?
Plant the seed in your mind. It doesn't mean, that's that answer. It's just a seed. It's the start of what could grow into something that changes everything.
That's what I've done. Except, I asked a slightly different question to plant a seed. I asked:
What good will come of this?
When I really sit with that, the first thing that happens in my mind is I get to see my mom's smiling face. She spent so long missing me. And now that her life is free of the alcoholic in her life, and I'm heading back to see her, she is just going to be thrilled to have me around. And of course, I have a lot of catching up to do with her. And that, along with seeing the rest of my family, is something I can't wait to experience all over again.
Sign up for your weekly personal growth tips here!