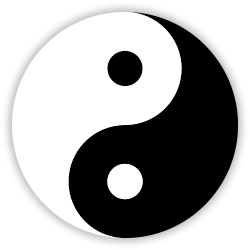 The role you play in any relationship can either complement the person you are with, amplify the relationship, or be a repellent. When forming intimate relationships, the term "opposites attract" is more true than people think. Even in a business environment where there is a manager / subordinate relationship, usually opposites (at least in the form of masculine and feminine) play a huge part on whether they'll get along or not.
However, when it comes to deep, strong friendships, "opposites attract" isn't typically true. It's here where finding an equal "energy" in someone can lead to a lifelong friendship. We all have both masculine and feminine aspects of ourselves, and knowing which one to utilize in each situation can lead to a much more rewarding, and fulfilling life. 
(The following podcast transcript has been modified for easier readability and to benefit the Deaf and hard of hearing)
We start off as empty vessels and learn through our experiences about how to live our lives. We grow up, have problems, learn from some, not from others. We take some of those problems into our adult life, then we have to face them from a whole new place.

We get a job, a lover, money, then we lose all three. Then people betray us and people die, and people cheat, and all sorts of bad things happen. Of course, it works the other way too. We can find something we're passionate about. We get happy seeing old friends and meeting new people. We find new hobbies. There are the ups and downs of life in general that make it so exciting and sometimes scary at the same time.
But just because all this stuff happens, doesn't mean we have to be affected by it. In fact, many of my episodes talk about building your emotional core. When you have strong values, strong personal boundaries, and can stand up for both when needed, then there isn't a lot that can shake your foundation.
I'm here as, more or less, your emotional core strength training coach. Women and men in touch with their feminine side, seem to have easier access to this core. They expose it more, and are typically, voluntarily, more vulnerable because of all the good that can come from connecting with people at an emotional level.
Then there are those who are more in touch with their masculine side. They've built walls around their walls. And around those are moats and barbed wire fences. These are the people that don't let anyone in. They protect themselves. They get close to people, but not so close so that they are vulnerable. They'd rather not let anyone in because if they do, they could potentially feel pain.
The hardest part for these folks is that, like one of my guests Mike Robbins said, when you mute or lessen some of your emotions, the others lessen too. If you lessen the pain, you lessen the pleasure.
I didn't know this for the longest time until I learned how to express my true emotions. Believe me, it wasn't comfortable. But once I did, I noticed that the more negativity I was able to safely express, the more positive I felt. I was gaining access to both higher highs and lower lows.
But, what I noticed was that even though I could feel more hurt, the pain went away quicker. In fact, the most intense, negative emotions went away much faster. I felt them, then expressed them, and they disappeared.
The opposite was true about the pleasurable emotions. They actually lasted longer. I enjoyed longer durations of joy and pleasure. It was a strange experience. We can actually experience longer durations of happiness and satisfaction if we choose to allow ourselves to feel, and of course, subsequently, express, the hurt and pain.
The more you suppress what you feel, the more your feelings will be suppressed.
***
But, today we're going to talk about learning to embrace both the masculine and feminine side of you, and by doing so, how it can help you live a fully realized life. The opposite of who we are actually complements our personality if we allow it.
There's a philosophy I learned in my trainings that I chose to adopt that I'll always live by. It's this: The person with the most flexibility will control the system.
This has a lot of deeper meaning, but for this particular topic, it means that the more flexible you are in your behavior, the more likely you will be able to get through any situation in a way that gives you the least amount of stress.
For example, I had a friend that refused to discipline her dog for the longest time. She felt that she was doing better for him by letting him run around anywhere he wanted, wake her up anytime he was hungry, even at 4 AM, and even growl at strangers and get nippy with them. If she showed the dog any assertive energy, she thought that was sort of mean, so she let him be.
Well, his behavior only got worse, and she knew that her sleepless nights, her consistent worrying about him biting someone, and his anxious behavior when she was gone during the day, had to stop or one of them would lose their mind.
She decided to learn how to train her dog. And by doing so, she became more assertive and had to overcome his current behavior by making him submit to her commands. By the time the dog's training was over, he was calmer, less anxious, and found that a structured environment suited him. This led to a much happier, and more healthy dog.
My friend was able to learn that being more flexible in her behavior allowed her to create a more suitable, and more joyous environment for both of them.
This is the philosophy I want you to think of during this episode. The more flexible you can be in your behavior, the more you will be the master of your own satisfaction. Let me give you another example of being flexible.
You may have heard this story before. I once had a conversation with a client of mine whose husband had cheated on her with multiple women while she, his wife, was sick in bed. When the wife told me this, the first thing I wanted to say was, "Wow, what a loser! Get out of that relationship as fast as possible!"
But, remembering that my duty is to help, and not react with my own personal opinions, I kept listening to her story, and what she wanted to achieve from our sessions. My flexibility, in this case, was to be a thoughtful listener, instead of a gut-reactor.
She did want to save what they had. He seemed to feel bad about what he did. And they both wanted to be married to each other. So my flexibility allowed me to put away my own beliefs, values, judgments, and ideals to just focus on what they both wanted to happen from this point on.
I wanted so bad to judge and get her away from him, but I chose to be flexible, and really pay attention to what outcome they both wanted. By doing this, they ended up together once again. I got a letter a few months after our last session, stating that they were very happy and thankful that they met me.
I won't judge how other people seek happiness, well, at least not anymore. Because I only know my own history and experiences in life. Just because I wouldn't stay with someone who cheated on me, doesn't mean someone else wouldn't stay with a person who did that.
Being flexible means being non-judgmental. It means trying new ways to behave to get the results you want. It sometimes means that when you talk to your kid, you act like a kid. It's doing things that you think aren't the way you'd behave, in order to get a different response from the people you know.
Just keep that in mind during this episode. Some of you masculine men out there may be like, 'I'm not going to embrace my feminine side!' And some of you ladies may be like, 'why would I want to be masculine?' All I'm saying is to stay open to this discussion. Don't think of masculine and feminine as men and women, think of those terms as access to behavior that allows you to be more flexible in situations, to get the results you want in life.
***
By the time the episode is over, you'll learn why it's so important to have access to both the masculine and feminine aspects of you anytime you need them. It's hard to stay masculine when you really want to comfort a friend. It's a challenge to stay feminine when you're trying to push a car out of the mud.
There are useful qualities on each side, and when you have all of them in your tool belt, you'll be the master of flexibility, and will experience success more often than not.
***
Have you ever heard of Cesar Millan? He's known on TV and in books as "The Dog Whisperer" because of his amazing ability to rehabilitate dogs. He grew up with dogs in Mexico and learned to be a part of their pack. He learned a lot about dog behavior, and never planned on teaching others about it. Well, he eventually moved to the US and people started realizing how well he got along with dogs, and how their dogs changed after he worked with them. He also learned that dogs in the US are more neurotic than dogs in Mexico.
One of the main issues he saw was that the owners treated their animals more like roommates. Showing them lots of love and playtime, but doing little in the form of leading them like a dog is used to when he's in a pack.
Dogs look for the pack leader in any group they are in. When they can't find one, they assume the responsibility of the pack leader. This can be a problem, especially for smaller dogs, because now they have to be a fun, happy puppy, and protect the home and his pack. You know the tiny dogs that growl at new people, right? They are happy when those they know are around. But anyone new comes in, and they play the protector.
Very similar role-playing happens with people too. I was in a relationship once where my girlfriend told me that she didn't like it when I asked her things as if I were afraid. As if I were a child always asking for permission.
I could tell her something like, "I'm going to play my guitar if it's alright with you." But notice how I ended the comment with what is almost a question. It was as if I was afraid of doing something that would make me happy.
I approached so many topics in this manner. Always qualifying each comment or question with a placater at the end. It was like I was walking on eggshells as if telling her I wanted to do something might be a problem. The problem was that I didn't want to look like the bad guy. It was actually kind of manipulative, but I didn't realize I was being manipulative.
I would say something like, "Do you mind if I eat now? I won't if you want me to wait" and she would respond by saying something like, "Eat when you want to eat! You don't have to run it by me."
I would respond, "Yeah, but if you wanted to eat together, I'd wait for you."
And she'd say, "Do what you want to do. If you want to eat with me, I'll be hungry in probably a couple of hours. If you want to eat now because you're hungry, then eat now."
Oh, the burden of independent thought! I was so used to living life by waiting for other people's responses, I could barely make a decision without seeking someone else's approval or permission. After a few months of this, it finally got to the point where she said to me, "I need you to stop being a little boy in our relationship. I want to be with a man."
We talked about this for a while, because I had no clue what she meant. A little boy? How am I a little boy? It turns out that an indecisive, can't stand up for himself, fearful of what other people say, and 'always needing validation for everything he does' person is more like a little boy than a man.
Back then, I thought I was just being a good, kind-hearted person. Now I look back and see that I was overly concerned and fearful in many ways. I actually see now that my girlfriend at that time was the pack leader. I wanted someone to take a lead role in my life so that I wouldn't have to make any real decisions on my own. If she was the pack leader, all I had to do was run everything by her, and I'd have no responsibilities, and also no accountability.
If something went wrong, I could just point to the pack leader, "Hey, you said it was OK!" This was a very passive-aggressive behavior, which was also a survival technique I learned as a child.
This little boy behavior might actually have been me embracing more of my feminine side, or what some people would call a feminine energy. By having more feminine characteristics, I was more receptive and passive, less assertive, and more concerned about others than myself. Good qualities in many circumstances, but not when they interfere with your happiness and take away your power.
Try not to think of masculine and feminine as what a man is and what a woman is. Think of those terms as access to behavior that allows you to be more flexible in situations, to get the results you want in life.
By accessing the feminine energy in me, the woman in my life felt like she had to take on some of the masculine role. The problem with that was that she didn't want to. She wanted to be the more feminine person in the relationship. She wanted the man in her life to be more assertive, more decisive, and able to stand on his own two feet, and take action.
So when she called me a little boy, she was really emphasizing that I was strongly attached to the feminine aspects of my nature. I had learned since childhood that these qualities got me what I wanted in life, but I never thought to look inward to find out if this was actually healthy for me.
So I had a choice to continue embracing the more feminine side of me or start exploring my masculinity and emphasizing those aspects about myself as well. My decision changed my life forever.
***
So what are the masculine and feminine qualities of a person? What makes someone more masculine, and someone else more feminine.
Let's start by exploring some scenarios. How you answer will give you an idea of what is more dominant in you – the masculine or the feminine.
Scenario 1:
You're at a mall, and a little boy falls down and starts to cry. You don't see anyone nearby coming to help him up. Do you wait to see if he's OK and pick himself up off the ground, or do you walk over to help him out and comfort him?
Scenario 2:
You catch your co-worker stealing a pen off your desk. You've been wondering where your pens have been disappearing to. Do you confront her and ask, "Are you the one who's been stealing all my pens?" Or instead, do you say, "Would you mind returning that when you're done? I don't know where all my pens are going but they keep disappearing."?
Scenario 3:
You're in an argument with your significant other, when it's suddenly clear that you are wrong and they are right. Do you stick to your guns and keep arguing no matter what? Or do you give in and apologize, realizing that you just figured out you were wrong the whole time?
In all three scenarios, the first answer I gave is a response from the masculine aspect and the second from the feminine.
In scenario one,  by waiting to see if the child is OK, it's more of a "he can take care of himself" attitude. Sort of like a father throwing his kid into the pool to teach him to swim. This masculine response probably stems from someone who was taught it's better to take care of yourself than to depend on others.
To reference a pack of dogs again, if a sick or injured dog doesn't keep up with the pack, the pack will leave him or her behind. The masculine response is to leave the kid to his own devices. If he recovers on his own, the pack stays strong. If he doesn't, the pack may move on without him.
I realize it's unusual to compare humans to animals, but we are animals. We've developed more intelligence, but we still have primal behavior, deep down. So there's a lot we can learn, especially from pack mentality.
In the second scenario, where your co-worker steals your pen, if you confront the person, you are accessing the masculine aspect. You are standing up for yourself and defending your personal boundaries. Similar to perhaps a caveman protecting his cave. If however, you give a passive-aggressive response, you are standing down, hoping that your message gets across, without sounding too aggressive. This is the more feminine aspect, giving you a different set of choices.
Neither choice is wrong, but one will help you live a more, fully realized life, and the other will delay you in getting what you want out of life. In each scenario, there is a moment where you can make a choice. That choice can either have a softer, more receptive, and sensitive approach, or a more assertive, quicker, and more defensive approach. Feminine and masculine respectively.
In the last scenario, when you suddenly realize you have no valid argument anymore but decide to continue "the fight" with the other person, you are choosing the masculine, defend your territory no matter what approach. Whereas if you chose to back down, and take a more receptive, apologetic stance, the situation would probably fizzle and the hard feelings may even disappear.
All three scenarios represent an opportunity to decide how you are going to respond. What will likely happen however is that you'll respond unconsciously. Your response will come so fast, you probably won't even have time to think about it. It's like when I type on a keyboard. Sometimes I am trying to spell an easy word, like "bones", but my fingers always end up typing "bonus" instead. It's like my hands type before I even think about the letters I'm pressing.
The same goes for unconscious verbalization (when we express something that's buried in our unconscious thoughts). When we blurt something out, that's just because we've programmed ourselves to respond that way. In the same sense that I need to slow down, and type each letter of a word so I don't type the wrong word, we sometimes have to slow down our reactions in order to come up with a more effective response to a situation.
When emotions are involved, and people could get emotional scars from a situation – perhaps from something you could say that they would carry with them forever, it might be best to access the more sensitive, feminine quality of your personality. That way before you speak, you can be a bit more tactful in what you say.
The person accessing the masculine part of themselves might call someone names and say really damaging words to the one they love, where the person accessing his or her feminine side could find a better solution and say things that are more thoughtful, and less hurtful to a person.
There is a benefit to utilizing the one that works best when a moment of choice comes up. Your response to a situation may require a more masculine, straight-on approach. Or, it could require you to take it a bit slower, with more observation and less confrontation.
But let's talk about the qualities of the masculine and feminine roles, and how utilizing them leads to a richer, more fulfilling life.
***
The following is a list of all the qualities of someone who is accessing their masculine behavior and characteristics. Masculinity, in the way I'm going to talk about it, originates from our lizard brain: The behavior and attitude we've been carrying with us for thousands of years. This is the primal, deep-rooted brain that responds very unconsciously. This is the part of us that, when fight or flight kicks in, we fight; or confront.
The masculine "energy" we are accessing is really just old programming that we've carried from the time when we depended more on instincts and raw survival. It's become more abstract, and less physically dominating over the years (meaning, most people no longer settle disputes by clubbing or stoning their neighbors in the next cave… most people), but it still plays a big role in our lives.
Here are the qualities that are usually found in people utilizing their masculine energy (consider this list covering both physical and mental characteristics):
Strength, authority, decisiveness, determination, motivation, acting before thinking, confidence, physical, sexually driven, passionate, extroverted, visually stimulated, logical, driven by external circumstances, and probably a thousand other things. But for the most part, the masculine part of you is more of the thinking part – very action-oriented and externally motivated. Meaning, the outside world causes you to respond.
Here are the qualities that are usually found in people utilizing their feminine energy (again, keeping in mind that this list covers both the physical and mental characteristics):
Emotionally driven and stimulated, submissive, thinking before acting, introverted, driven by internal feelings, creative, instinctual, receptive, caring, nurturing, sensitive, and again, probably a thousand other things. But for the most part, the feminine part of you is very inward-focused, motivated by emotions and feelings, trusting instinct over rationalizations, and is the more creative part that helps you express yourself to the world.
If you are mostly one aspect and not the other, you will experience an imbalance. And I know this is not going to resonate with some people when I say this, but imbalance creates disharmony.
Now, disharmony isn't all bad, as long as you don't mind taking the bad with the good, but disharmony can be taken to extremes, and turn into a rollercoaster. One day you're happy and life is fantastic, the next, you're down in the dumps. Then the next, you're excited and on edge, then the next, you're tired and have no energy.
Some people love living life this way, but it does cause an imbalance. When you are more masculine, and you're not as concerned about people's feelings, and take action before thinking, you are like a bulldozer, just plowing people down as you go through life. You always get what you want, regardless of the expense and hurt it causes others.
When you are more feminine, you may be overly concerned about people's feelings, and think too long before making decisions. You stand back and let others lead the way, and probably don't ever get what you want.
There is strength and power in both aspects. When you are able to combine both and know which one you are utilizing at the time, you're better able to handle most situations that are thrown at you in life.
The problem that some people have is that they believe they are the way they are, and can't change it. For example, I once got a lousy raise at the company I was working for. I worked extremely hard all year, putting in extra hours, and volunteering whenever they needed someone. And my review reflected that as well, even including a promotion. But when they told me how much they were raising my salary, I felt my heart sink. It was something like 50 cents an hour. A year of hard work and dedication, and a promotion, and I got an extra $4.00 a day.
Now, I realize this is a lot of money to some people, and I'm not saying wasn't grateful for being appreciated, but I know what I'm worth. And I was already worth at least $5.00 more an hour than I was getting paid. So to get this tiny raise after I did everything I could to prove myself, was just a big letdown to me.
My feminine aspect kicked in. I became submissive, and let my emotions steer me. My emotions were telling me, "Just suck it in, and be grateful that you have a job. Just walk away, and try harder this year. "
Then my masculine side kicked in and said, "No dammit, you worked hard and deserve a lot more. This is a slap in the face, and you need to stand up and say something!"
So instead of siding with one or the other, I listened to both and came to a decision. I would utilize my masculine side to stand up for myself, and utilize my feminine side to talk to them with sensitivity and fairness.
And that's what I did. I said, "I am honored and thrilled that you like my work, and appreciate the promotion and the raise. However, I am not happy with the amount of the raise. I thought it would be a lot more considering the promotion and amount of effort I put in this year."
Well, that really surprised them (it was a two-person team giving me the evaluation). The scene did get awkward, which I knew would happen, but they understood and we talked for a little while longer. They said that is the amount they give to good employees, and I said "Well, I need to make some decisions about my future here then."
I knew my efforts were helping make the president and owner of the company millions, so I knew my work was important. After that meeting, I made the decision to leave in 3 months. They were understanding and were even nice enough to ask what amount of money would cause me to stay, but by then, I was ready to go.
And three months later, I did.
That scenario could have gone several ways. The first way, where I gave in, and just let them do whatever they wanted regardless of how much I thought I was worth, would have eaten away at me inside for the rest of the time I worked there. I would have held this resentment, and never let go of the grudge I held against them. And they'd have no clue why my performance was degrading. Eventually, they'd probably let me go.
Or, I could have yelled and asked them why I'm getting such a low raise. I could have quit right then and there, and stormed out of the office. This would have been over the top though, and I would have lost some good friends.
But thinking about how I handled it in hindsight, it was the best possible outcome. I was able to feel what was going on, then take action by carefully balancing both the feminine and masculine aspects of me.
This example may not be the ultimate perspective on masculine and feminine qualities that we all have, but I want it to help remind you to start checking in with yourself to make sure that you are considering alternatives to the way you typically respond to the world. Our automatic reactions are what sit in the background of our minds at all times, waiting to be let out when we are triggered by some life event.
But there really are feminine and masculine aspects of behavior that we access when we are responding to the world. And our awareness of which one we choose at the time will help us determine the outcome of many situations, and help us to shape our lives so that they are more fulfilling and richer.
This leads me back to what I said earlier about flexibility. When you are flexible enough to access both, you will have more choices and more options. Let's talk about some real-world scenarios that having access to either one or both sides can help us create the future we want.
***
One scenario that comes to my mind immediately is in an intimate relationship. Intimate relationships seem to work better when there is a more clearly defined masculine and feminine role. Ten or so years ago, I took on a more feminine role, and my girlfriend made the tough decisions and took action on things I was too fearful of doing myself.
Like I said before, it doesn't matter what gender you are. It doesn't matter if you choose one aspect over another. All that matters here is that both people are comfortable in their roles.
For the longest time, I was comfortable playing a more feminine role, and she was comfortable playing the masculine role. If there was an issue that needed to be dealt with, she was usually the one that dealt with it. I was OK with this because I was more of a passive person back then. I was more in touch with how I felt and allowed others to take charge. I followed instead of lead.
She was comfortable being independent and standing up for things that weren't right. We had our roles and were both comfortable at the time. One of the major problems in the relationship however was that I hardly ever accessed the masculine part of me, and she hardly ever accessed the feminine part of her.
This created a problem because there were times she wanted to be feminine. She wanted someone to be there for her, to stand up for himself, and take charge. She got tired of wearing the pants all the time. She saw so little masculinity in me, that she realized that this relationship would never grow. So even if she chose to be feminine sometimes, I never chose to be masculine, which couldn't work since we'd no longer complement each other.
In your intimate relationship, whether now or in the past, which role did you play? Were you the one who made the decisions and took action? Were you the one who had to take charge because if you didn't do it, it didn't get done? Or were you more passive and allowed the other person to lead most of the time? Maybe you were more nurturing and caring, making sure the other person's needs were met, even over your own.
Or, did you have more balance? In my opinion, the deepest and longest-lasting relationships will have people that complement each other, and make up for what each is less prominent in. If you are a more masculine person, and you meet a more feminine person, you will each seek and appreciate those qualities about each other. The term "opposites attract" really does apply when it comes to masculine and feminine. A masculine person usually seeks a person with more feminine qualities, almost as if to, and I really, really hate to say this, but "complete them". Ugh…sorry, such a cliche.
But that's not what's really happening. What's going on is that there is a strong desire to want the qualities you don't have in your life, so you seek someone who has those qualities.
You've heard of the sweet, innocent girl going after the bad boy right? How about women writing to serial murderers in prison? We almost always seek what we don't have in our lives. The more feminine you are, the more masculine you want, it seems. It's not always this way. But like I said, the deepest, most long-lasting relationships have a comfortable complement of both. If one is more feminine and the other is more masculine, and they are both comfortable with that, the relationship could go on indefinitely.
In my situation, I wanted to stay more feminine, but my girlfriend wanted to be feminine more often. Since doing that created a strain, she instead fell out of love with me. She was changing and needed someone to change with her. Or, maybe she was always this way, but was evolving and wanting to express herself more. Either way, I wasn't evolving or changing, and the relationship ended.
Of course, there are always other factors that cause the end of a relationship, but this can be a huge determinant on if one is going to last or not. If there is not a compliment to each other's less-emphasized energy, then the end begins. And unless you start looking at what role each of you is playing, you may have no clue why the relationship is starting to fail.
What is your role in a relationship? Do you seek the opposite? Or, do you want more of the same? And if so, do you find that more of the same enhances what you have, or causes more conflict and struggle?
This is obviously a personal decision because there is no exact science. But use some of your feminine intuition and let the answer come. You'll have it soon enough.
***
Another scenario is in a business relationship. When your boss is expressing more masculinity and leadership, and you are expressing the more feminine aspect of following and compliance, there will usually be a complementary relationship that creates a better atmosphere.
But you know what the opposite of that is, don't you? When you have a leader expressing the masculine traits and a subordinate who is also a leader and wants to express his or her masculine traits. There's usually a disharmony that takes place. One leader is actually in charge, and the other thinks that the leader would be better off unemployed.
I have to admit this right here and now, that's me. For the last few years, before I became self-employed, the people I worked for should not have been in the positions they were in. I remember a supervisor I had that simply would not address problems. He just hoped and prayed they went away. When I came to him with an issue, he would find every possible method of not dealing with it.
It drove me crazy watching this unfold. I would think to myself, "Why doesn't he just tell that employee to get back to work?"
I easily saw all the things I'd do differently, and I was pulling my hair out. Have you ever been a leader that had to follow a follower? It's no fun. But it happens all the time.
The masculine quality of leadership has to be present in someone that takes a supervisory role. And there has to be some acceptance of the feminine role for the follower in order for there to be a synergistic system. It's productive and healthy.
And to once again prove that this has nothing to do with whether you are a man or a woman, I once had a female superior, and she was absolutely an excellent leader. She was able to access her masculine side without an issue. When she needed to lead or be upfront with someone, she did. When she wanted to access her softer more feminine side and had to cry because things got really tough, she did. She was more well-rounded and quite frankly, more respectable than a lot of guys I've worked for that couldn't find the right balance. I'm not saying when you access your feminine side, you're going to cry, but when things got tough, she didn't have a problem expressing what came out. She of course did that in front of very few, trusted people.
I looked up to her and would follow her off the cliff if she said "Trust me, I know this will work." And even though I now consider myself more masculine than feminine, I am still able to access the feminine side easily when the situation calls for it. In this case, I was easily able to follow her. I respected her and looked up to her. I complemented her, and she complemented me. It was two perfect puzzle pieces. And, when she needed my masculine leadership ability to handle a project, it was there. It was a highly productive business relationship, and it benefited us both greatly.
In business, it may seem odd to consider masculine and feminine in a relationship. But it does play a role because we live in a hierarchical society. There are levels of leadership and followers in all areas of business. For example, I may be considered a leader to some of you, and to others, I am a follower.
I am a leader in the respect that when you listen and learn, there is a teacher-student relationship. I am a follower in the respect that when you write to me and tell me I was wrong about something or should have done something differently, I listen and update the show as needed. I also follow in the sense that I can see how the show is received by the number of people that listen to it.
My holiday blues episodes got hardly any listens. Even though I spent a lot of hours producing each one, I chose instead to follow what the listeners wanted and removed those from my episode list. I could have taken the masculine, ego approach and said, "Take it or leave it", but I chose the feminine, submissive approach of "You don't like them? They're gone!"
And don't mistake the word "submissive" for "obedient" in this case. We have access to so many qualities that we can choose to utilize. And when and if we do, it could create an entirely different vibe in a situation.
I like to compare it to two cats that have never met. Have you ever witnessed two cats just growling and hissing at each other? They are both taking on a masculine, and very defensive role by arching their backs, staring each other down, and moving so slow you'd think they were ninja turtles.
But, eventually, one takes on the feminine role of submission and decides it would be best to back off, so that cat looks away, and walks away, again slowly, attempting to avoid a confrontation. In this respect, it is this action that will keep the peace and avoid a fight.
But when neither will back down, there's almost always a loud, terrible-sounding fight that ensues. Both if neither one ever lets go of the masculine role, they'll just butt heads until they're both too torn up to fight anymore, or one finally concedes.
We are so much like animals, we really are. There are so many similarities in how we behave. We usually don't think of those similarities because we have different priorities than animals. Animals also don't talk to us using our language, so unless we pay close attention, we may think they can't communicate with us at all.
But if you have an animal, you probably know their behavior. You probably know when they're happy or unhappy. Well, unless you have a fish. But even then, a fish looks happy when it's eating. That could also be my imagination. But, either way, when you start observing nature and the way it behaves, you start to notice the commonalities. After all, we are all on earth and have most of the same survival needs, so it would be no surprise to me that deep down we are all pretty much the same, in a primordial sense.
Anyway, there is actually a time when having the same qualities as someone else is better for a relationship. So let's talk about that next.
***
If I met another guy, and we had similar qualities, and we both preferred the masculine over the feminine aspect of ourselves, we'd probably make great friends. This is where a common, shared aspect actually amplifies and strengthens a relationship. Whether at work or elsewhere, friendships are typically formed when there is a strong likeness instead of "oppositeness."
I'm sure you've heard people say "Men and women can't be friends!
In the context of masculine and feminine, if there is a complement to each other, this may hold some truth. Of course, there has to be an attraction as well, but even still, stronger, intimate relationships can form without a physical attraction mainly because of the masculine complementing the feminine.
And let's be fair here to all people, this is also true with homosexual relationships. I've heard people ask homosexuals, "Which one of you is the woman?" It's an odd question, but almost always, one will answer and say they are. It's the masculine attracting and complementing the feminine.
But when there are two people that are both masculine or both feminine, a strong friendship can develop. This means that men and women can "just be friends", assuming no attraction and no complementing of feminine and masculine. And of course, anyone who is attracted to anyone else can still be friends as well, but I'm just using that phrase as an example.
Friendships usually develop when there is a similar quality, not an opposite. And intimate relationships usually occur when there is an opposite quality.
I've met tomboy girls that have a lot of guy friends. They may have still been heterosexual, but they favored their masculinity over their femininity, making them feel more comfortable around people who showed more masculine traits.
Men are known, typically, for showing more masculine traits, just like women are known for showing more feminine traits, which is often why some people confuse being a man with masculine and being a woman as feminine. But they don't always go hand in hand, and sometimes are the complete opposite of what we think.
I know a lot of women who love shopping with effeminate guys. There's something about the same feminine energy that strengthens bonds and brings friends closer together. Just like there's something about the opposing energies bringing people closer together in an intimate relationship.
Take a look at your closest friendships, and I'll bet that you both prefer the same aspect. I had a great friend who had no problem accessing his feminine side whenever he needed to talk about his emotions. He was able to access both his masculine and feminine side easily enough, but some parts of his life were ruled by his more passive, feminine side and this caused him problems.
As I learned to embrace and utilize my more masculine qualities, I noticed he had trouble doing the same. As our friendship grew, it also grew apart. We didn't talk as much anymore and eventually, I lost contact with him altogether. I still think he's a great guy, but I could tell that his feminine side was taking over a little too much and it no longer enhanced and amplified our friendship.
If I were gay and attracted to him, then that may have been an intimate relationship that may have worked. But since I'm heterosexual and have no physical attraction toward other men, the relationship had no chance of developing.
The point is a strong friendship is usually accompanied by a strong preference for one shared aspect. You are both either more masculine, or both more feminine, but not opposite. And a strong intimate relationship is usually accompanied by an opposing aspect of masculine and feminine. Funny how that works huh?
***
Let's talk about balancing the feminine and masculine energies within us. The balance between both is one of the most peaceful, least stressful places to be. But to some people, it's boring as hell. Some people enjoy the ups and downs of life. They love the extremes: Happy one day, crying the next. It's not my thing, but there are some folks that want the drama and the excitement. It's like a rush either way.
If that's what works for you, or at least some version of that, don't change a thing. Never change what fulfills you, unless it is hurting someone else. Do what works.
If however you're tired of the disharmony in your life, and you want peace more often than not, it's time to examine what makes you, you.
Do you find that you take on the more masculine role or feminine role? I'm not even talking about relationships now, I'm talking about you alone. Or, we can look at it in the sense of a relationship with ourselves. When you think of a situation where no one is around and you stub your toe, do you scream a curse word? Or do you hold it all in suppressing what you really want to say? The first is the action-oriented masculine behavior of screaming. The second is the passive, more reserved feminine behavior of keeping things to yourself. One is outer focused, one is inner focused.
Think of another scenario such as being talked into an extended warranty. Does your feminine, "whatever you say, I'll follow your lead" aspect kick in? Or does your masculine, "Let me ask you questions, I want to know what I'm getting into" aspect take charge?
How about when your boyfriend or girlfriend or spouse is crying, do you take on the less sensitive, more masculine role and ask, "What are you crying for?" Or do you become more empathetic, and utilize the feminine aspect of yourself and ask, "Is there anything you need?"
Who are you most of the time? When you can identify certain aspects of your personality, you will be able to better gauge your role in any relationship. If you wonder why you're always butting heads with that guy or girl, maybe considering the feminine or masculine role you play will help you determine if that's what's going on.
I can see the different roles members of my own family play, and adjust my role around them to create the most amazing communication with them I can. I'm not compromising myself or letting anyone walk all over me, I'm just accessing some behavioral flexibility that I've allowed myself to have.
When I talk with my mom, she is more masculine more often than not, so I tend to lay off my own masculinity from time to time to get along better with her. We already get along great, but whenever I sense tension, I like to determine which role I'm playing and which role she's playing.
I'm not my mom's best friend, nor am I looking to be, I'd rather be her amazing son. I can be an amazing son, and communicate with her in the best way possible, or I can choose to always play a role that may or may not resonate with her.
I once had a female boss who was married to a somewhat effeminate guy. And I could tell that every time she was around me, she found me appealing. Not attractive, she wasn't trying to come on to me or anything, but she enjoyed my masculinity. I especially noticed it when I was with the both of them. I would tell them a story about something I did for my girlfriend at the time, and she would look at him and say something passive-aggressive like, "I wish things like that happened to me."
She wanted more masculinity in her life, but since she didn't get that from her husband, she became more masculine herself. The problem was, he was completely comfortable being feminine, but she wasn't completely comfortable being masculine. I believe they're still together, but not without the tension that stems from that disharmony.
When you think about the people you don't get along with, does masculine and feminine play a role? There is a multitude of reasons not to get along with someone, but sometimes you don't know the reason. You just have differences and you can't figure out why. I'm willing to bet it's because of the roles you are both playing. There's an incompatibility and neither one of you is willing to back down or try on a different role just to see what happens.
That would be an interesting test, wouldn't it?
***
Alright, let's wrap this up. What we know is that feminine and masculine simply represent how we respond in life. They do not inherently represent women and men. In fact, nowadays, you can't even go there. Everyone is open about their preferences and sexuality, along with their individuality, that the world has no choice but to accept that the liberty to be yourself is here to stay. People have become freer and more balanced, but there are many who still aren't.
The younger generation seems to have picked up on this much easier than the older generations. They may not know they are more balanced, but from what I've seen there is a homogeny going on in a sense. The term "Metrosexual" was created to describe people who are comfortable expressing both aspects of the masculine and feminine.
The problem might arise when you are looking for someone to love, and can't find another person that complements you because you are so in between that you don't have needs one way or another. Who knows, maybe that's where bisexuality comes in. After all, many bisexual people are probably perfectly comfortable with both the masculine and feminine aspects of themselves and are comfortable with the complementary qualities in either masculine or feminine people.
But it's good to remember that when someone is being more feminine or more masculine, it's perfectly normal. In fact, you can be mostly one or the other, as long as your relationships either complement or amplify your role. If however, they don't, that's when trouble sets in. And it's usually something you can't identify. After all, how many people consider masculine versus feminine gender roles in relationships anyway? It's not a common thought process.
Life can be so fulfilling when you are flexible in your behavior. You will of course have a preferred, or dominant role. You may be more feminine, and enjoy being that way. In which case, you can choose to be masculine when the time is right. This is when flexibility is so important. Remember, the one who is most flexible controls the system. If you can pull out behavior that is not very characteristic of you, you can more often than not get the outcomes you want.
But it doesn't mean you compromise who you are. If a moment calls for a masculine response, then you do it for all the right reasons. You allow that part of you to come out, and you take action. If it calls for a feminine response, you accept and embrace it, and utilize it as needed.
The most harmonious place to be is to have access to both anytime you need them. It's a balance.  By choosing what aspect you need at the time, you are defining who you are in the moment. Remember, sometimes it's good to stop and consider what type of response to have in a situation for the most productive outcome for all involved.
The masculine traits are once again:
Strength, authority, decisiveness, determination, motivation, acting before thinking, confidence, physical, sexually driven, passionate, extroverted, visually stimulated, logical, driven by external circumstances, and probably a thousand other things. The masculine part of you is more of the thinking part – very action-oriented and externally motivated. You are mainly triggered by external events.
The feminine traits are:
Emotionally driven and stimulated, submissive, thinking before acting, introverted, driven by internal feelings, creative, instinctual, receptive, caring, nurturing, sensitive, and again, probably a thousand other things. The feminine part of you is very inward-focused, motivated by emotions and feelings, trusting instinct over rationalizations, and is the more creative part that helps you express yourself in the world.
You always have both inside you and can access them anytime you want. Sometimes it may involve a little digging, but that's OK. You just dig it up, and utilize it. I didn't think I had the masculinity to stand up for myself when my boss was yelling at me one time. But, I found out it was always there and brought it up and out. I gained a lot of respect that day.
Embrace both the masculine and feminine inside of you, and you will live a much more fulfilling life.
***
So many years ago, I made the decision to embrace my masculinity. I finally became a "man" as my girlfriend of so long ago wanted. This changed my life forever. I started being more assertive. I took steps to make more money. I was starting to gain respect both at home and at work.
I had been nurturing my feminine side for so long, I never realized that I was not a very well-rounded person. And the relationships I tried to have were not complementary nor amplifying. In fact, they were the opposite. I was a feminine guy who found a feminine woman. When that changed, and I became masculine, our relationship changed. It was more authentic.
Every aspect of my life changed. My decisions changed. People just saw me differently, and they suddenly trusted me more. I learned to embrace both aspects, both the masculine and the feminine.
My philosophical outlook changed. I could see the world entirely differently. I wasn't just a one-sided thinker anymore. I quit my job, I wasn't afraid to take risks. It was a new way of thinking and living.
When I talk about the balance that happens when you can access and embrace both the feminine and masculine in you at all times, it is truly life-changing when you decide to choose which role to play in which situations in your life. It's like finding out that you have superpowers. They're in there, you just need to tell yourself they are and use what you need when you need it.