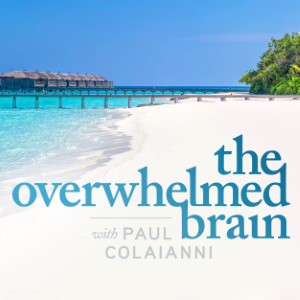 Does overwhelm and endless worry plague you? Do you ever feel like the plates never stop spinning?
My girlfriend and I went to a parade on July 4th that was so overwhelming we had to leave early. I know… a parade – overwhelming?
Yes.
It was a steam engine parade with nothing but steam-powered tractors blowing extremely loud steam whistles. You don't realize how a loud steam whistle is until you are about 20 feet away from one. When you're that close and it goes off, you better block your ears or you'll be sorry.
The spirit of the parade was wonderful. It was a fun celebration with good people. But the noise, well… "overwhelming" is certainly a good word for it.
After we got into the car to leave the silence was amazing. It was relaxing and more welcome than water in the desert (at least it felt that way in that moment). The overwhelm of steam whistle after steam whistle (with no end in sight) was over and we were on our way home.
Some people like to picture overwhelm as a bunch of plates spinning on sticks. You ever see that act? (I have to watch it in fast speed!) It's pretty intense. But if you have no experience spinning plates, it would not only be intense, it would be riddled with anxiety, fear, worry, and more.
It's the epitome of overwhelm: Too many things going on at once.
Have you ever heard or read about the acronym for FOCUS? Ever since I heard someone break it down to Follow One Course Until Success I realized that I had been going about things all wrong. I had been trying to finish multiple things at once because they all had to get done. This put me in a constant state of worry, fear, and overwhelm almost always.
At the end of the day, however, nothing ever got done, and even more needed to be done the next day.
"WHAT? I can't keep up!"
Then I decided to follow a single course of action and work on a single thing until I was absolutely done with it, no matter what. That meant saying "no" to a lot of things – and that was hard. But when I followed that process for the first time in my life, I followed a single course and got two ebooks written.
Those ebooks would not have been written had I not stayed single-minded, single-focused, and determined.
What course in your life do you keep veering off and never completing because something else always comes up?
I had some really important things come up for me while I was focused on something else but I decided to stay the course and follow my project through. And it worked!
Once that single project was off my plate I suddenly had more time for other things. Funny how that works.
There are lots of excuses we use (some very valid) to not finish a project or course of action, but maybe we are spreading ourselves too thin and spinning too many plates. We think we can't ever finish anything but the truth is we often won't or choose not to, finish one thing.
One way to define Overwhelm is the feeling you get where there is more than you can handle.
When you actually handle one thing to completion, you have one less thing to handle. So… is the cure to overwhelm focusing on one course until you're successful?
I know it can be!
So my challenge to you is to finish something… anything… even if it's tiny. Then celebrate that win. Do that and maybe you'll find that you have a little less overwhelm tomorrow than you did today.