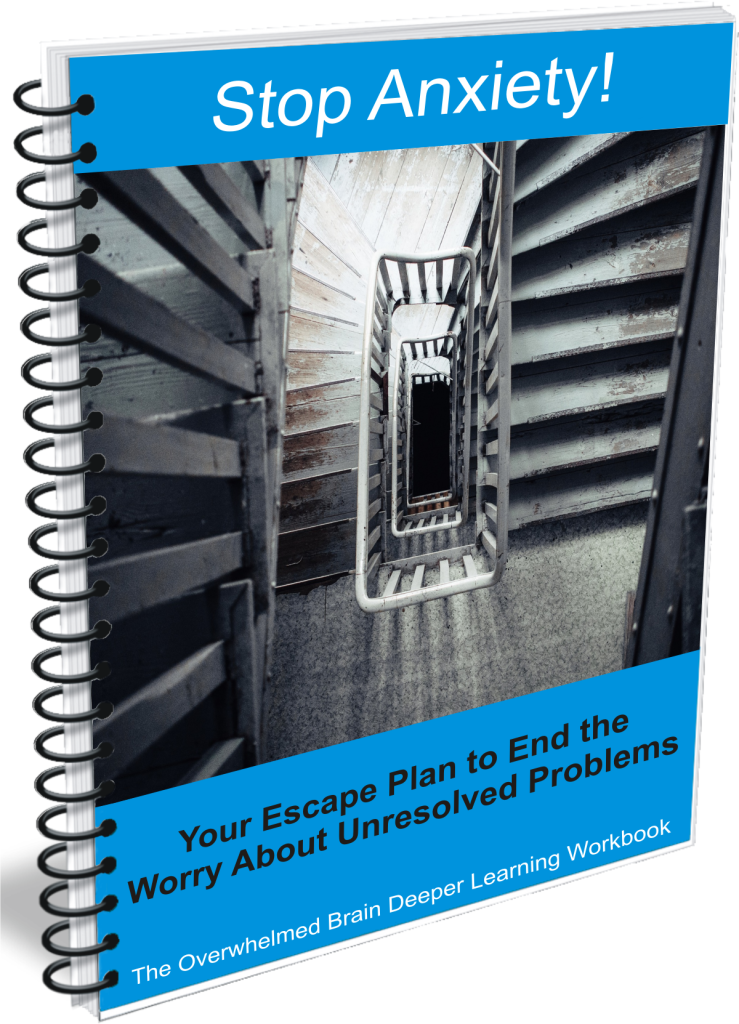 $5 – Click Here To Buy!
"If you can solve your problem, then what is the need of worrying? If you cannot solve it, then what is the use of worrying?"
-Shantideva
You can either suffer endless negative thoughts about the problems in your life, or move into a calmer, more centered place where you feel fine whether they exist or not.
Which path do you choose when problems appear in your life?
The Stop Anxiety! workbook walks you through how to eliminate or substantially decrease the negative emotions and suffering regarding the problems in your life.  We all know that problems will come and go (and some will never leave!), but that doesn't mean you have to suffer. 
I filled this 24 page guide with exercises and examples specifically designed to help you reach a conclusion about your problems. There's no reason to hang on to suffering when you feel like there's no way out of your situation.
You'll learn what's been stopping you from getting the relief you want regarding the problems in your life. 
This workbook won't resolve your problems, because every problem is unique with its own variables and solutions, but it will get you to a place inside yourself where you will have access to the resources you need to approach the problem with more clarity and insight.
Many times, you are so embroiled in problems that you simply can't see the possible solutions. But once you clear the fog of negative emotions surrounding a problem, you can make decisions and take action that lead you to the best outcome.
Some problems are unavoidable and may not have an immediate solution
It's true, some problems you won't be able to resolve – at least, not right away. 
You could have a friend or a spouse that won't stop doing something you don't agree with, or perhaps you're in a situation that seems like there's no way out, or maybe something else is happening in your life that you consider to be an unavoidable or unresolvable problem. Regardless of what it is, when you can't see an end in sight, this workbook will help you become focused on the next step you need to take in order to come to a more resourceful place inside yourself. 
The more resourceful you are, the more the solutions reveal themselves.
If you feel like you're in an endless emotional washing machine cycle of: Problem … Anxiety … Same Problem … Worry … Same Problem … Repeat then this is the perfect workbook for you!
If however you have problems that aren't resolvable but you aren't consistently worried or anxious about them, then you may not get what you're looking for from this workbook. Stop Anxiety! is for those who want to transform their consistent anxiety and worry into clarity. It works best for problems you've been suffering about for months or years.
"I like the way the worksheet helps the reader to organize their thoughts. One of worse problems I have is feeling like I have so many problems and decisions. I don't know where or how to begin to sort them all out. I can see how it would become a natural way of rethinking anything negative and changing the way a person thinks on a daily basis. -Lorie"
Below is a screen shot of page 1. Click the button below the image to purchase and download the workbook so you can start making empowering decisions right away.
$5 – Click Here To Buy!