Self-Compassion and Fearing Happiness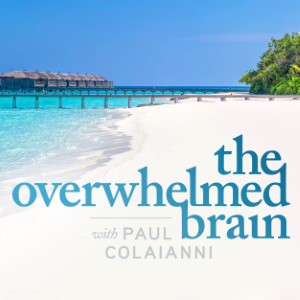 Today's episode is on self-compassion, which is what you give to yourself when you stop being overly giving.
This raises the question: Can you be too much of a giver?
Also in this episode, I talk about a listener email I received from someone who asked if it's possible to fear happiness. He seems to have the "perfect life", but still fears being as happy as he can be. These two subjects go hand in hand, and really come down to a way of honoring yourself as you've never done before.
Today's Quote
Today's quote is by Tara Brach, and it's this:
"Feeling compassion for ourselves in no way releases us from responsibility for our actions. Rather, it releases us from the self-hatred that prevents us from responding to our life with clarity and balance."
One of the most important steps in your personal growth, healing, and evolution in this life is the practice of self-compassion. I like to think of it as treating yourself as if you were helpless, where you step back out of your body and assess "you", in front of you, as a different person – then be compassionate towards that person.
If you really imagine this scenario, you'll treat yourself a lot differently. 
We only know our perspective from our perspective! So we take that viewpoint everywhere we go in life, and it becomes so well known that we don't think about it. We don't think about giving ourselves compassion because we are "us," if that makes sense.
It's like reminding you to breathe. I don't have to remind you to breathe, because it's something you do already. Breathing is ingrained and it's who we are, and unless we spend a lot of time underwater or in sports or activities where breathing is emphasized, we're not going to think about breathing.
Just like we don't think about when we need compassion. We are embroiled in the realities that we create, and sometimes forget that when times are tough that we need to show compassion to ourselves.
The exercise I like to teach is this:
If you could step out of your body for a minute and look at yourself as if that person were your best friend (which they should be!), what would you tell that person? What kind of advice would you give that person in the situation they were in right now?
Many of us spend a lot of time giving guidance to others, but forget that giving ourselves guidance can be just as powerful and enlightening. On top of that, the most important aspect of being self-compassionate is this:
You can't be truly compassionate towards anyone else if you are not compassionate towards yourself first and foremost. 
You can give compassion unless you come from a place of compassion. In order to come from that place, you have to practice self-compassion. You can't give what you don't have!
Just like…
You can't love from a place of no love.
You can't feel for others if you don't feel for yourself.
Compassion for others has to come from a place of knowing compassion for yourself. When you come from this place, then you are ready to be compassionate towards other people.
Ask Paul
This is the part of the show where I answer a listener's email.
Today's letter:
Hello Paul,

I stumbled across your podcast about a month ago. I have spent quite a bit of time listening to them and although it's hard to tell whether my life has changed already, I am very inspired listening to them.

A few years ago I relocated to another state for a job. The job was a fantastic opportunity but as I worked in this industry I started to become depressed by the kind of work I did, so I quit.

I decided to change my industry of work and do something that I very much enjoy doing. After another few years and several jobs later, I can officially say that I have a job that I really like.  I am married to a woman that I love, we own our home, and things seem to be going very well.  

The dilemma I have is that with everything going as well as it is, why am I afraid to be happy?  

Is it even possible to be afraid of happiness?   I seem to do just fine when I am at work, but on my evenings and weekends I catch myself being unhappy even if I am doing something fun.

Do you have any advice?

Thank you so much for your time, I love your podcast and I will support it any way that I can.

Bill (not his real name)
I answer Bill's letter on today's episode (see Play button above the image). I talk about how it is possible to fear happiness, and that even though you can have seemingly everything you want, you can still not be as happy as you'd like.
There are reasons for this, well, one main reason, and that's usually because of something you haven't dealt with yet. Our subconscious mind holds many memories, and some don't feel so good so they stay repressed and unresolved, creating an underlayer of unhappiness.
You may not even know you have this underlayer until you actually get everything you want. Then… it shows up to remind you it was always there.
There is a way to start eradicating this unhappiness. Listen to the Ask Paul segment in the episode for the rest.