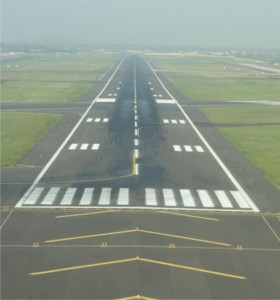 Whether you want to quit your job, quit your relationship, move to a new city, state or country, start a new venture, start a new adventure, or follow a passion that doesn't pay (yet), having a runway will make the transition much easier.
Your "runway" is the length of time and resources you'll have before you make the decision to do what it is you want to do.
For several years, I saved enough money to take a year off of work, and start doing The Overwhelmed Brain. I didn't plan for this in particular years ago, but I was extremely frugal until there was something I was so passionate about, that I'd invest what I had saved all these years into my passion.
That's passion! When you don't give a second thought to investing all of who you are and what you've earned over the years into something you want more than anything. Unless you already have everything you want, I think we should all have a runway. Set yourself up for the future!
It took me years to put myself in a position that I could quit my job to follow my passion, so it may not happen overnight for you. But, for the past several years, I haven't paid for cable TV, I haven't made any car payments (I didn't even have a car), I hardly ever went out to eat or for entertainment. Yeah, it was a big sacrifice for a while. But compared to hungry person in a third world country, I still had it made.
And really, the only reason I ever made the decision to build my runway, and save as much money as I possibly could, is because of the time I stood in line at a soup kitchen for months. And after that, I was in the government welfare system.  Soon, I was so sick of being broke, that I made a vow that I would never stand in line at the soup kitchen ever again.
That's what changed everything. After I made that decision, I stopped coming from a place of lack, thinking I could do nothing about it, and started putting all my effort into making money.
People say you shouldn't go after the money. I say, if you need it, hell yes, go after it. Do it legally of course, but do what it takes.
I fully believe a passion can lead to money, but in my opinion, because I've been there, money leads to passion leads to money. So usually money has to come first, so that you have enough to start pursuing a passion. I'm not saying that's the case every time, but it's a lot harder starting anything when you're living in a box in an alley eating from dumpster (that didn't happen to me, I fortunately got out of the hole I was in before it got that bad). But there are people out there that have no resources, no people in their lives, and no money, and all they're trying to do is survive everyday.
Some people say money is freedom. I don't disagree, but I believe more that money gives you options. Options for health care, options for healthier food, options for safer housing, and even the option to help others who are in need.
Your runway might need money, it might not. You might need a place to stay if you leave your relationship. You might need education if you want to pursue a new career path.
Building your runway may not be easy. It took me about 3 to 4 years to build mine. And I sacrificed sleep and family time to do it. I was actually gone for a good part of a year traveling the country working about 60 to 80 hours a week, all because I made the decision to never stand in line at a soup kitchen again.
I realized I'd rather spend almost all of my time working and making money than being broke. Because to me, being broke is:
Getting in line… standing in the cold at 6 AM… waiting to get inside where I got the opportunity to pick through expired food… and get served a meal. I realize how ungrateful that sounds, but it's quite the opposite of how I feel.
I am so darn grateful that that system is in place. Having people volunteer to feed hungry and homeless people is beyond anything I've ever done in my life. That place will always be special to me in that way, but it will also be a reminder of what could happen if I don't continue to be diligent and make sure that I, and the people I love, are always taken care of.
What is your runway? Do you even need one? Maybe you think you don't. And you could be right. But there's no harm in being prepared, even a little bit.
It's not that I want you to be paranoid, it's that I want you to avoid paranoia! After all, when the worst case scenario happens, and you're not prepared, it can be devastating. But having your runway in place means that you've made some preparations. At least you won't stuck in the middle of the ocean without a boat or life preserver. That's how it can feel.
Your life may never change and you may never have to use your runway, but it's there just in case you ever want to fly.
So think about what you would build your runway for. And if it's all about money for you, and you know you can't possibly save anything extra because you're living paycheck to paycheck, then here's a piece of advice I was given a while back:
Whatever you do for work, outgrow your position.
In other words, get so overqualified in what you do that you will have no choice but to move up. Sometimes we just get comfortable doing what we do, and taking home a paycheck, that we stop wanting to learn anymore because we're just not into what we do that much.
When I worked at a telephone company working on phone systems, I decided to create my own technical manuals. I was working on different phone systems all the time, and wanted to make it easier for me by carrying less, but had quick reference to the most used functions.
These manuals became invaluable, and soon, the other technicians were asking for copies. I realized I was going above and beyond what I was asked to do by creating these manuals and making copies for everyone else. So soon I was a lead technician. Shortly after that, I was hired on by a software company because they saw how good I was at my job (I did a lot of work on their telephone system).
You never know what opportunities are waiting for you when you outgrow your position. Learn everything you can about what you know, and learn more than anyone else around you. You will soon outgrow your position and your over-qualifications will show, and opportunities will appear.
Then, you'll be in a position to build your runway.
Sign up for your weekly personal growth tips here!
This post brought to you by www.gopodcast.com/paradise where you can create, grow and make money with your own podcast