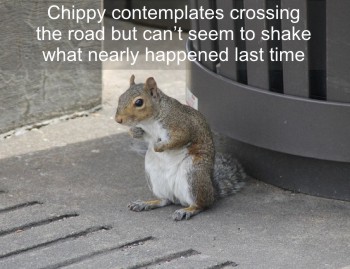 A few days ago, I received a newsletter as part of an email subscription* I'm on. The subject of the newsletter was The Road of Life is Paved with Flat Squirrels Who Couldn't Make a Decision.
I thought, wow, that paints the perfect picture of indecision.
One of the most effective ways to keep yourself from going anywhere in life is to travel over the same path over and over again until the rut is so deep that you have no energy to climb out of it. Much of your unwanted results don't come from circumstances (though they do play a role), they come from the steps you take when circumstances get presented to you. After that, your results come from your ability or inability to choose a path and follow it through to failure or success.
The moment of decision is the key to movement. But what stops so many of us from moving is the inability to decide, or the fear of the consequences for the decision we are about to make. Just this week, I had one of those moments of decision. I was sitting at a pool with my girlfriend and out of the blue, a man yells at a child really loud and very aggressively. He said something to the effect of, "Don't touch that pole! That's for the pool and it's not a toy!"
From a father's perspective, I might understand keeping your child from danger by letting them know that what they are about to do is unacceptable. The only problem however was that the man yelling wasn't the child's father. In fact, the father got up from the other side of the pool and yelled over to the man something like, "Listen to me, don't you talk to my child like that. If you have a problem with him, you come to me!"
Well, the man, I'll call him Bill, did not like that at all, so he started walking over to the other side of the pool. Then he stopped, pointed his finger at the father, whom I'll call Jack, and yelled something else to the effect of, "You need to watch your kids and what they're doing." Again, spoken with high aggression and lots of anger. Then Jack raised his voice too and a battle had begun.
As soon as I saw this unfold, I knew I had to make a decision. I was either going to sit there and watch it escalate, leave the pool with my girlfriend, or get up and try to stop what could turn into a cage match. Had I thought too long, things would have escalated, and then there would be no turning back once the fists were flying. So I took my own advice and made a choice right away. I put down my tablet and stood up. My girlfriend looked at me and asked, "What are you doing?" I said, "Whatever I can." And I started walking over to the two men about to clobber each other.
By the time I got around the pool, they were nearly at each other's throats. Words got louder with every retort and the father's two kids were crying. This had already gone too far. I decided to stand in between them and calmly tell Bill not to let it go any further because "you know what will happen if you do." I told him the father was just being a protective parent and you might feel the same way if the situation were reversed.
Surprisingly, Bill got calm and his body language shifted to a more passive state. He apologized to me and actually thanked me. But… Jack wasn't done. He was now getting in Bill's face making more statements about how Bill was wrong and to mind his own business. I was soon able to calm Jack down too, and I thought the storm had passed and all was well now.
However, Bill's girlfriend came running around the pool and got into Jack's face yelling at the top of her lungs. I thought, great, just when everyone was calming down! An entirely new scene was unfolding. At that moment, the quote "The road of life is paved with flat squirrels who couldn't make a decision" crossed my mind.
Each and every moment during this heated exchange could have led to disaster, or at least a lot of blood and bruises let alone the further traumatization of Jack's two children. I thought about how my decisions in every moment were changing the outcome and that any hesitation could lead to disaster.
It was almost surreal. Fortunately, Bill's girlfriend eventually backed off and things settled down once again, so my girlfriend and I left the pool for the evening. Afterward, we had to shake it off and talk about it for a while. No one got hurt, but the tension was high and the emotions were heated. I kept my cool the whole time but it doesn't mean I wasn't concerned about what I might have been getting into.
Fear is something that arises in you when you think too far ahead. It materializes when you take yourself out of the moment of decision. The delay to think about what might happen versus what you need to do in the moment is what flattens squirrels. It's the "should I do this?" or "should I do that?" mentality where the car is coming at you at 60 MPH and you're deciding which way to run. Had I delayed, even for a minute, I truly believed a fight would have ensued. And I did not look forward to the prospect of pulling two grown men off of each other. After all, this is not how I like to spend my days at the pool.
Imagine how your life would turn out if you made choices in the moment instead of thinking ahead about what you fear? Fear is a step towards procrastination which is a step into stagnation. Your choices should be motivated by doing what's right for you. If they're motivated by fear, you'll always choose the safest, easiest, most comfortable path. That path is typically the one that keeps you exactly where you are. If you're happy where you are, then by all means stay on your present course! If you're not, then it might be time to take steps to stop letting fear run your life.
Personal empowerment strengthens when you make decisions based on what's right for you in the moment. You lose your power when you wait for the circumstances of your situation to change (and the longer you wait, the deeper the rut gets). How long will you wait to go after what you want for your life? Maybe it's time to keep this "dead squirrels" analogy in mind the next time a moment of decision comes up for you.
Yes, you're going to make mistakes. You're going to decide "wrong" sometimes, but the clarity and courage you'll gain by making decisions over and over again will make help you to make more of the right decisions more often.
There was no fight at the pool that night and I'd like to think I had something to do with that. If I had really considered what might happen by stepping in, I probably would not have gotten involved. But I knew what was right in the moment so I chose my next step based on that, not based on the number of ways it could go wrong.
You still have to choose your battles wisely, after all, you don't bring a rubber knife to a gunfight. But you'll gain wisdom and clarity the more you make life happen in the moment. Don't let fear of the consequences stop you from doing what's right for you and those you love. Some of the most successful paths in life are forged by those who take a step into the unknown. Forge your path and soon the results you want will appear. Don't wait too long for circumstances to work in your favor though… that's what squirrels do.
*Thanks to John Lee Dumas of EOFire for inspiring this article.