Learning to control your own reactions and overreactions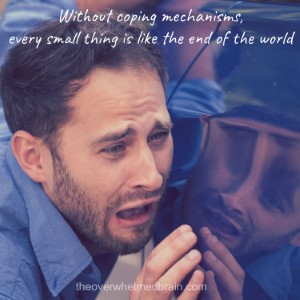 Some people might say you overreact and sometimes you agree with them but can't figure out how to stop doing it.
If you find yourself reacting as if you were in fight or flight, it's time to get a grip on your emotional triggers and change the patterns that create those reactions in the first place.
(The following transcription of this episode has been formatted for easier reading)
Somebody wrote to me from Uruguay, way down in South America. I'm in the US, so that is way down to me. She said, "I can't tell you how much each one of your episodes has helped me. After breaking up a toxic and abusive marriage a few years ago, it was amazing how much I could relate to your words and how they'd make me feel like I'm not alone or going crazy.
"My kids' father has been a lot of trouble, but I don't want to get into those details right now because I'm learning a lot from that experience. My focus today is on improving my own communication skills, hoping to be what I'd like a future partner to be: A good and healthy communicator.
"Coming from a family where I could say everyone is reactive, I've learned to do the same. So now that I'm in my 40s, I have to undo myself in this area. On the other side, there's you on this great podcast, making it sound so easy, which I love, because I feel like I can do it too. But I feel like I need my partner to be one step ahead of me, if not more, like he should be some sort of mentor so that he can point out the times when I'm being a poor communicator.
"Do I need to look for a coach or a psychologist as a partner? What's a quick way to practice? I feel like I need an app to be used instantly for every challenging situation that has all the possible healthy communication tools, the ones that disarm people who disempower. Hey, there's a business idea!"
She finished by saying, "Seriously, thanks for all you do, for all of us out here. Best regards."
Thank you so much for this message for your words. I am humbly grateful. I'm so glad that you have found value in the show and that you are working on yourself and trying to improve your life where you can.
I love the app idea. I think someday I might come up with it. I don't know if have you ever read Mad Magazine where they had these comic strips that say snappy answers to stupid questions? Sometimes I feel like that. 
I'm saying that not because I have snappy answers and that the questions are stupid. Not yours especially. I'm saying that sometimes people come along that are hard to communicate with and it would be nice to "snap" out an answer. It'd be nice to snap out a reply.
It'd be nice to have the appropriate thing to say to them so that they aren't bothering us anymore or finding a way to prevent them from being toxic or help them understand where we're coming from because we're able to communicate our message clearly.
I think that's a vital tool to have in your tool belt. It is neat that you say "Hey, we should have an app on it." I'm not making any promises here, but maybe someday in the future. That sounds like quite a complicated thing where an app tells you how to respond but hopefully, in the future, something like that can exist. 
Otherwise, let me get to your message. It's great that you got out of a toxic and abusive marriage and I'm so glad the show helped you. I'm sure you've done a lot of work since then. You said you're coming from a reactive family, and you're in your 40s and you want to "undo" yourself in this area. 
I totally get that. In fact, I had emotional triggers up until my 40s that ran my life. Emotional triggers can run your life. They can dictate what you're going to do and what you're going to say. They are intrinsic. They are built in. Or, they were programmed in at one time, whether by you or someone else. But when you're a reactive person, these are the emotional triggers that you're carrying around with you just waiting to be set off.
When you walk around with triggers, you don't really have too much conscious control or prediction that they're going to happen. You can't predict that you're going to react in certain ways around certain people because your fight or flight kicks in and your emotional trigger just activates. Those triggers are attached to a lot of emotions. They're also attached to certain behaviors that you do when you're triggered.
For example, an emotional trigger that I carried around was when people I love did something that I didn't appreciate, I would have an angry response – a protective response really. I carried around emotional triggers that caused me to protect myself.
In fact, I would say that most emotional triggers are protections. They're coping mechanisms. When you are triggered, you feel like you need to protect yourself. There are multiple ways to protect yourself. I can think of a few: 
You could withdraw

You could get angry and lash out

You could have a snappy answer

You could say or do something in retaliation

Or you could just lose your cool altogether and throw something out your dining room window
These are just some of the behaviors and patterns that have been ingrained in us over the years. It's how we've learned to respond. We respond this way typically to protect ourselves.
That's good to know! It's good to know that our emotional triggers are protective mechanisms because what happens is, in childhood, where most emotional triggers are formed, you will experience something where you'll feel endangered. You'll feel like you're experiencing a threat because you will want to survive or get through it without suffering or pain.
You will probably create a protective (or coping or survival) mechanism in that moment. That mechanism transforms into an emotional trigger that, during childhood worked quite well for you, at least from your assessment back then. You learned that in order to survive any type of bad situation that you had to behave a certain way. This is a coping mechanism being formed.
And as long as your coping mechanism keeps working and you survive, and you feel good that you survived, you solidify in your mind that you have an effective coping mechanism. That's not necessarily a child's perspective, but in general, that's how it works.
Unfortunately, that coping mechanism turns into an emotional trigger that you then carry with you for years because it worked in the past and while you were growing up. Then, when you became a teenager and started leaving the house more (if this is you, it was me for sure), and you developed other relationships outside the house, those emotional triggers didn't go away.
None of my family told me, "Hey, you've got these emotional triggers that you need to work on before you leave home and go out on your own. You need to heal from those before you develop other relationships! You've used those old coping mechanisms most of your life so let's work on them before you go out into the world."
Wouldn't that be the ultimate parenting? I didn't know this when I was a kid. I didn't know this when I was an adult either, at least until my 40s.
The person who wrote that email, she's in her 40s. She wants to undo some of this stuff. Her over-reactiveness, I would say, is a combination of emotional triggers. She's likely reacting because she wants to protect herself, as if she felt like she may get injured otherwise.
When you have a feeling that you feel like you need to address right away, you can be reactive to protect yourself and others. I do look at emotional triggers most of the time as protective mechanisms (again, also coping or survival mechanisms) but where I was going with childhood triggers is, as you grow up and you leave home and develop other relationships, you still have these same coping mechanisms you developed in childhood being activated. 
These are the programs that run in the background that are just waiting to be run. When they're run, and you react, you might surprise a few people, especially those you've grown to love and have an attachment or connection to.
When you surprise them with your emotional triggers, what do you get in response?  You probably get their emotional triggers. You probably get their protective mechanisms because they want to survive too. They want to get through that moment as well.
It does fascinate me that we can be in childhood and develop these background programs, if you want to call them that, and bring them into our adult life to share with somebody else who also has background programs. Then, if we're in a romantic relationship, for example, these programs don't activate until two to four months after the honeymoon period.
Two to four months go by, and then slowly but surely, our emotional triggers start kicking in. Sometimes people don't wait that long. Sometimes it happens right away, and you get to see the fully authentic person from day one.
That would be wonderful actually. If everyone showed their emotional triggers on day one, we could decide if we wanted to continue the relationship or not. But we usually get to see those triggers after we've fallen in love and get a house, get married, have kids, depending on the choices you make for your relationship.
These are all personal choices but each choice can affect one or both people's emotional triggers. Unfortunately, we usually discover emotional triggers in someone else after we get to know them and feel close to them.
At that point, we have a harder choice to make. We might see something we don't like and realize, "Whoa, I don't want to live with this person. If they do this thing or react this way. I don't want to get into an argument with a person that throws pots and pans at me. I don't want to have a conversation with someone who yells in my face when I'm just trying to be calm."
These are the types of reactions that can happen. We find out after we've developed commitments and attachments and things like that. At that point, the choices are more difficult. Once we're committed, we feel like we need to make the relationship work. It's great when you have a partner or someone else in your life that can say they agree you both need to work on this stuff and figure it out.
Wouldn't it be nice to hear someone tell you that they are going to work on their emotional triggers so that they aren't so difficult to deal with? They could tell you, "Look, I have a bad temper so I'm going to work on that." Or even better, "Let's work on this together."
Or, "Hey, you have a tendency to scream at me at the top of your lungs not even caring who's around. It's embarrassing when our friends or our kids are around. You do some things that are just hard for me to handle, so we should probably work on this."
I love saying "we". I think we is a good term to use when you're with somebody else. We should do this. We should work on this.
My friend Matthew said, "We're pregnant", meaning his wife and him are pregnant, not just her. That's great because he is committing to the relationship. He is committing to the birth and the raising of the child. He is fully "in".
When you have a relationship issue, I believe "We should work on this" is a good approach. I think it shows that you are taking responsibility for your role in whatever is happening in the relationship.
The trouble that I see (because people write to me and they tell me these things), is something like, 'my partner said that I am the problem and I need to work on it.'
I've said this before: It's not a relationship if it's all about one person doing the work. That's not relating at all. You're not in an equal partnership. You are in a roommate situation or a Friends with Benefits situation, or just something that I haven't heard defined yet. In a typical romantic relationship, you want to build a life together. You want to grow together. You want to heal together. You want to evolve together. You want to do everything you can together so that your lives are better when you are working together. 
When we have a relationship where both of you contribute to it equally and take responsibility for it equally, I believe it works out better. Actually, I know it works out better. I know that when you work on things together, and you both take responsibility for what's going on in the relationship so that you can work on resolving what challenges you run into, it almost always works out better.
It's so much easier than being assigned to do it yourself. I shouldn't even say it that way. It's not that it's necessarily easier because you're together, I just think it should be expected. Yes, I think it needs to be expected that you'll work on things together.
This doesn't include really personal challenges that one has to deal with themselves so let me give you the one caveat here: There are people that perhaps have to work through addiction or maybe some sort of dysfunction that really doesn't involve the other person and the dysfunction exists whether they're in the relationship or not.
If you are like that, or your partner or anyone else in your life is like that, then they may have to do the Lone Ranger thing as my girlfriend calls it. Sometimes you have to go through things yourself and get through the challenges yourself because your partner isn't there to help you. Your partner can't be your addiction counselor, even if they're an addiction counselor!
It's very difficult for your partner to be your addiction counselor. I'm not saying it's impossible. I suppose there are people out there that can do this. But when you're in the same fish tank as the other fish that are sick, you are likely to be sick as well. Maybe not in the same way, but you get embroiled and enmeshed in the toxicity of the tank, if I may use that metaphor because you're swimming around in the same water.
It's very difficult to see from outside the tank so that you can be helpful. The person that's outside the tank can get a net and pull you out and put you in the clean water.
That would be a lovely way for things to go. It doesn't always go that easily but you get what I'm saying. When you're in the challenge, it's hard to be objective about the challenge because you are a part of it. You are part of the formula that makes up the challenge.
To the person who wrote and said "Am I supposed to marry a psychologist or a therapist or coach?" I don't think it's always a good idea to rely on a partner or any person in the relationship to be the one you go to, to share everything with. That doesn't mean they can't help. That doesn't mean they can't mentor you or teach you. That doesn't mean a lot of things. It just means they can't be your source. They can't be your only go-to when you are dealing with dysfunction or a challenge or something even harder to deal with like an addiction.
If the person is in the relationship and is involved in helping you heal, acting as your primary therapist, coach, best friend, or whatever they show up as, it's a lot more difficult because you will not be able to say all the things that you hate about them to them.
That's an extreme example of course. I might be exaggerating a bit, but that can happen. My girlfriend needs an outlet besides me. I believe I can help her through a lot of things but I don't offer my help. Well, I rarely offer. Sometimes I do if she's in a big mess. I'll ask her, "Do you want me to ask you some questions?" (a coaching technique).
But if she's in "the mess" where she's upset and crying, and her upset has to do with me, I definitely stay out of it. If the problem has to do with another person however I will stay open and available for her. But in most cases, I think it's a really good idea not to offer help as a coach or therapist until they want the help. 
I'm not saying you have to stay out of everything, but if you're showing up for the person you're in a relationship with as their mentor or coach, I think that's not always a good idea.
Like I said earlier, when my girlfriend is in an upset space, I will ask her if she wants me to ask her questions to help her reach clarity. She might say "Sure, yeah. Let's go through this."
At that point, she is open and more receptive to anything I have to say. She is permitting it. She is allowing me to walk her through the process of figuring things out. She allows it because she trusts me. She knows that even if she said, "I don't think I'm in love with you anymore," I could probably handle it, even though it would hurt.
She also knows if she said, "I'm really angry at you for what you did," that at least I would still be objective. I wouldn't make it about me and jump into my old emotional triggers asking her, "What did I do? What's wrong?" I wouldn't do that because I've been practicing this (coaching) for a long time.
Yes, I would feel affected by her words but my focus is on her getting better, even if her challenge involves me. There are people capable of doing this, I believe I'm capable (most of the time) of doing this. It doesn't mean I don't have moments, but I also don't necessarily volunteer to coach her through anything,
Mainly, I'm addressing one of the questions from this person's email. I'm here to tell the person who wrote to me, No, it's not usually a good idea to get together with a coach or a therapist in order for you to seek guidance from them whenever you need them.
I think that most people are great coaches or therapists. I think everyone has the ability to help other people through challenges. Not all people and not all challenges, but we've all gone through our own things. If I had never been certified as a coach, if I had never studied anything that I studied and didn't have that academic experience, I have still gone through life experiences that I can share with others that they haven't necessarily figured out yet.
Just like you have probably figured out your own life experiences and can help someone else who hasn't figured theirs out yet. Most of us can show up as a guide or mentor to someone who is going through a challenge that we've been through.
As I said before, I don't think it's wise to offer to help every time you believe someone needs it, even if you know the solution. But you can be there for them. You can say, "Hey, if you ever need me, let me know!" But to say, "I know how to work on that. I can help you," you're traveling down a path that may or may not work out.
The only reason I say that is because I've done this in the past. When you offer to help someone and they're not ready to be helped, and you insist that you know how to help them, you may get a very resistant or reluctant person. You may not actually be able to help them because they're not in the space to receive it. They may think they want the help, but sometimes they don't. Sometimes people really don't want to be helped.
Sometimes people don't trust you to help them even though you may be a very trusting person. Sometimes you play a different role in their life and they can rely on you for that role, but if you suddenly show up as someone who believes you can help in a different capacity, they may not want it.
This is why it's much better to just say "I'm here if you need me," than to say, "I know how to fix that. Let's fix it." Again, unless that's the role you play.
I'm just talking about different roles here. Regardless if you're in a professional role or a friendship role, if that's how they want you to show up for them, that's different. 
But if you're in a relationship and you say, "I have a Ph.D. and I can help you so let's talk about this, " it's going to be a lot more difficult for them. They may not be able to receive the information you have to offer.
I hope I addressed that part of your message. I do think your question about getting into a relationship with a therapist or coach might have been a little tongue-in-cheek, but I get what you're saying. I totally get it because it's nice to have a person there for you to put forth your questions to get their wisdom.
But this is the beauty of any relationship. The other person in our life acts as a mirror that we can reflect upon by how they respond to us and how we respond to them. Our emotional triggers come up to be addressed and identified so that we can look at what's going on in our lives and learn how to respond and react to events so that we can make the right choices – if we even want to make those choices.
I know it doesn't always feel like we have a choice in some circumstances,  but when emotional triggers are presented to us, we do have a choice on how to respond. I know this is true because I used to have emotional triggers that caused me to be hurtful to the people I loved. My emotional triggers used to dictate how I lived my life and used to make or break my relationships. They usually broke them, unfortunately. 
When I had an emotional trigger, it was always unpleasant for them. And for me, it was also like a huge weight on my shoulders. It is weird to think that people do the hurting are carrying around a huge emotional burden, but most of them are. Most people that hurt other people are carrying around some big emotional burden that they don't have the coping skills to deal with. 
Maybe they don't have a therapist or best friend to talk to about it. Or maybe they just don't want to be vulnerable enough to share their emotions with others so they lash out at people they love, or become reactive toward others like this person who wrote.
I'm not saying that's where the person who wrote the email is, but a reactive person is usually one who has a few unresolved emotional triggers in them. 
In the next section, I'll share with you a little bit more about how you can react differently. It involves some reprogramming at a deeper level but it's easy. I'm not here to say that you need to meditate 20 minutes a day. It would be great if you do that, sure, but some people don't have time or can't make the time to do that (I sure don't have time to meditate 20 minutes a day!). 
But if you have the time to meditate, wonderful! Meditation is a great tool. But there are other ways to reprogram yourself. It has to do with "future pacing" in hypnosis. Future pacing is basically asking the client, "What's going to happen the next time the stimulus for that trigger comes up?"
What a hypnotist does is find out what causes the client to do some unresponsible or unwanted behavior, then the hypnotist will throw in some previously agreed upon suggestions to the client so that they don't have an emotional trigger next time.
Hypnosis is actually a very useful tool when it comes to emotional triggers. If you find the right hypnotist (because everyone's different), and you just have to have a good vibe with them, hypnosis can work wonders.
If you ever seek a hypnotist, I would just recommend that you get along well and get a good feel for them. Hypnosis can be a good way to help you through emotional triggers. Because if you find yourself as a reactive person, as this person I'm talking about today, and you've worked on your emotional triggers by listening to episodes of this show, or finding other content, or working with a therapist or a coach, and you're still reactive, then it might be time to have somebody else do the work.
All the subconscious work that might need to be done in hypnotism can do that. It's not just about quacking like a duck and barking like a dog. That is another form of hypnotism and that doesn't happen in a professional's office. I want to give you that practical tip just in case, everything we talk about in this episode doesn't give you the results that you want.
Next, I'll go over something that I do when old emotional triggers come up for me and what you can do as well to hopefully diminish or even dissolve them. Wouldn't that be nice, having unwanted, emotional triggers that aren't needed get dissolved? There are ways to do this. You will get through this.
***
The person who wrote the email asked, "What is a quick way to practice not being reactive?"
She wants to know what she can do to develop healthier communication tools. She also wants tools to "disarm" people who disempower her. 
You definitely have two different things going on here. There are healthy communication tools (or I should say helpful and resourceful communication tools) that lead to healthier communication. At least for you. It opens the door for healthier communication for them too, but not everyone walks through that door. 
Then you have tools to disarm people who disempower you. That's not something I get into quite often. I realize it's just a play on words here, but I think I know what you mean. What I like to encourage is that it's not about disarming them by doing something to them or telling them something.
Disarming them is about you showing up with the power to disarm people who disempower you. Show up with power. When you feel empowered, you honor your boundaries and say what's on your mind. You do what you need to do and you do what's right for you. That's the kind of stuff that disarms people.
It's a great way to look at that concept. Instead of saying you want to do something or say something to them that disarms them or puts them in their place, I like to look at it as showing up as the best version of you.
Show up as the healthiest version of you. Show up as the version of you that you love in yourself; that you would protect no matter what. Don't show up in an emotionally triggered way. Show up in an empowered way where you are confident and you love and respect yourself so much that you'll never let anyone put you down or make you feel unworthy or unimportant.
You are important.
That is the best way to disarm anyone. It's knowing your own worth and importance. It is having a healthy ego being proud of who you are.
There are levels of ego that are not healthy, but I look at ego as a tool that you can bring into your own awareness and say, "I'm damn proud of who I am and I'm not going to let that person knock me down."
When they say something that tries to knock me down, I'm going to see through that I'm going to make sure that I am aware of what they're trying to do, and not let that happen. That doesn't mean I have to lash back or be that reactive person. I can just observe what's happening.
When they're trying to disempower me, I'll access my power and say, "I don't deserve that behavior."
I could ask them that specifically, or suggest to them to never do that again. I could say, "Look, that is disrespectful. I am asking you not to do that, again."
I appreciate that when somebody says something like, "What you just did was disrespectful and hurtful. I don't want you to do it again," or "I ask you please don't do that again."
I think that's a very healthy way to communicate or "disarm" somebody who tries to disempower you because you're showing up in a way that isn't controllable. When you show up in a way where someone can't control you or get the reaction or response they want, that totally disarms them!
If you're dealing with a controlling or manipulative person, and you show up that way, they're not going to know what to do next because they may be used to being able to control you. They may be used to you submitting to their control or their manipulation.
When you have somebody in your life that treats you a certain way and you've always responded in a certain way, that seems to allow that treatment involuntarily. Meaning, you might submit. You might not say anything back. You might not honor yourself because you don't want to cause trouble or you don't want to get into a dangerous situation.
Maybe it's a perceived danger. Maybe it's a real danger. Either way, you may continue to facilitate that bad behavior because you haven't shown that other side of you.
But imagine if you showed up appreciating, loving, and respecting yourself so much that you'd protect yourself to the point where if somebody tried to knock you over, emotionally speaking, you would not allow it. Or, you'd choose to get away from it because you realized the other person was not going to listen to reason. That is an empowered response.
A response like that would certainly throw others for a loop, especially the people that think they know you. This is the best part about finding your own power and stepping into it. When people think they know you, and you decide to honor your boundaries, maybe for the first time ever with them, they're going to be so surprised. They're not going to know who you are they may even dislike you for it.
They may even get ticked off that you're doing this: "How dare you honor yourself when I'm trying to control you! How dare you stand up for yourself, when I want you to bow down to me!"
This is how I hear certain people sometimes. The controlling, manipulative, or even involuntarily hurtful people will act upset that they can't control you anymore. There are people out there that don't even know what they're doing because their emotional triggers are running the show, but when I see their behavior, I immediately rephrase or interpret what's going on. I can hear it in my mind.
If somebody comes up to me and says something that is hurtful like, "Your show sucks. I hate it. I don't like it because you take too long to get to the point," or whatever (I've heard all of the above), what goes through my mind is 'okay, if I were to reword that, how would I word it in a way that was empowering to me? How can I make it easier to digest?
I might reword it as "I have a problem in my life that you have not addressed in a way that is helpful to me. When I tune into a show where you talk about this problem, I do not have enough time or patience for you to get to a point that helps me with it."
What I've done is minimize the impact of their comment on me. I've interpreted their critical commentary in a more pleasant way. That may not be how they really feel. They may tell me, "No, I meant exactly what I said!" Which is fine. But since what they said is about me, I want to turn it around and not take it so personally.
I don't want to become defensive or even hurt by people's words, especially about something I pour my heart into every time I create a new episode or any new content that I create really. When somebody comes along and says, "I don't like what you do. You're not qualified to talk about this. What makes you the authority?"
Again, I've heard almost everything. It's important to have tools at our disposal so that we can turn these things around as soon as possible.
That was kind of a side note I wanted to make, about rewording what people say to you. When you are criticized, it's nice to put yourself in their shoes so that you can really understand what's going on behind the scenes.
If somebody comes up to you and says, "You're a jerk! You got the raise and I didn't. I can't believe they put you in that position and not me. I've been here longer," and you feel bad about that, and you don't know what to say or what to do, you can turn their words around in your head. Put yourself in their shoes for a moment and think about what they really mean.
You might reword something like that in your mind like this:
"I've been working hard to get a higher position. I feel scared that somebody came along after me and gave them the raise and not me. What does that say about me and how much I'm worth?"
That really turns things around. This is a minor example of what you can do, reword the things you hear so that you can understand someone else's perspective. You don't have to do this every time with every person. I'm just giving you a tool. It's something that I do every now and then when I need it.
When words are spoken or actions are taken, I put myself in their shoes. I ask myself, "Why would I feel or think this way? Why would I do what I'm doing right now?" Then I'd find a rational, reasonable, logical explanation for what is going on being that person.
I'd reword it in a way that reveals a vulnerability or an insecurity inside me. This is one of the things that, when you're going through life and people are coming at you and your emotional triggers are going off, it's nice to be able to reinterpret their words and behaviors so that you don't take everything personally.
What you end up doing is developing healthier communication skills, which this person wrote to me about, so that you can reply in a way that isn't coming from an emotional trigger, but more of an empathetic state of mind.
And I'm not saying everyone deserves your empathy or your sympathy. Some people are just hurtful. Some people want you to hurt, or submit, or comply. When we run into those people, that's when we have to look inward ask ourselves, "How much am I going to respect myself in this moment to the point I need to protect myself from this behavior and stand up to what's not right? I need to stand up for what's right and also stand up to what's not right."
That doesn't mean you face someone down and put them in their place. Not always. You might do that. But standing up for yourself could mean you just walk away. It could mean you choose to realize there is no way to communicate with certain people. Walking away may be your best option. You may need to come to an acceptance of that's who they are and they'll never change.
That's a wonderful resource to have: coming to an acceptance that the person is who they are and that they will never, ever change.
That is freeing! At the same time, it's hard to accept that they'll never change because we hope they'll change. But when they don't, where are we? Do we stay in hope? Do we pray? Do we wish they make different choices? Or do we move forward knowing they'll never change?
That's where I go. I like to move forward, knowing they'll never change. But if they do, it's a wonderfully pleasant surprise to me. Accept they will never change and be happy if they do. That's how I like to look at specific, toxic people in my life.
I'll be happy to accept the wonderful gift, that surprise, of their change. But until then, by choosing to accept that someone will never, ever change, it allows you to stay out of expectation mode, or wishful thinking. It helps you stop being reactive.
This is one little tip to stop being reactive. If you can stay out of expectation mode, and not expect anything other than what you've already seen from a person, you become empowered. You are no longer in an emotionally triggered state because you've chosen to accept that's who they are.
That doesn't mean they'll always be this way. But accepting it's who they are because that's what you've experienced all these months or years, it frees you from the expectations that they will be anything different than they have been.
It also frees you from expecting them to "get it" and understand that they are bullying, intimidating, or hurtful. It helps you get out of that frame of mind because sometimes we give people the benefit of the doubt, but then we get disappointed over and over again. Not only do we get disappointed, but we also get hurt. We can be emotionally wounded because they still don't get that they're hurting us; They still don't get how bad their behavior is, so we keep looking for them to find the light and see that they're hurting us.
But some people never see the light. So when we continue a relationship with them, we continue to feel the pain or suffering because they are unable to see their own hurtful behavior. Or maybe they don't think they're being hurtful at all, even after you tell them they are.
The lesson is that you don't want to see what's not there. Don't see any more in people than what you've already seen. This also applies to behavior you've witnessed from them in the past. If you saw something in them a long time ago, when they used to treat you nice and you believe that's still in there, you need to let that go. Because how they show up today is how they show up.
It's like something I talked about in my other podcast, Love and Abuse. In one episode, I talked about the "WYSIWYG" view on computers. That stands for What You See Is What You Get.
What you see people do today is what you get today.
If you look for anything beyond what you see, then all you get is your imagination, wishful thinking, or relying on the hope that they will return to who they once were or how they once behaved, instead of seeing them for who they are right now.
I like what my girlfriend said to me once. She said, "You are not your potential." I didn't like that phrase at first because I believed I was always more than my potential. But the reality is that the way I'm showing up today is my full potential right now.
Does that mean I can't be anything beyond my potential in this moment? Absolutely not. It means that I can do more and I can do better. And when I do, I will grow beyond my previous potential. But right now is my potential. If I fail now, that is my potential in that moment. If I succeed tomorrow, that will be my potential then.
She really helped me understand that concept, even though we're all capable of doing more and being more and improving ourselves. But we aren't there until we're there! And that means we continuously have to work on it. We can't look to the future and say, "That's me now," although some new-age teachers may teach you that.
If that works for you, great, I don't want to take that away from you. But for the rest of us who aren't getting the results we want with that line of teaching, I suggest looking toward the future and saying, "That's where I want to be. I know I am not there now because if I was there now, I wouldn't be motivated to get there. So that's where I want to be right now, but I'm not there now! I'll work on that now and I will get there…" or something like that.
That perception feeds me. It pulls me along and motivates me to continue to improve myself because that's where I want to be: Over there. That's who I want to be.
***
Getting back to emotional triggers, as I said, they are a protective mechanism. We really have to understand what we were doing at the time we developed them. It will help us to learn why we have them now.
For example, I became highly resistant to anyone that drank alcohol around me at a young age. I was in an alcoholic family. My stepfather drank alcohol every day. He became, at first, an obnoxious drunk, then turned into an aggressive drunk. Then finally into a violent drunk.
I've seen a lot of sides of him. My mom has seen even more sides of him. Other members of my family have seen even worse sides of him. I consider myself lucky. I was only exposed to the minor stuff as opposed to some other members of my family.
The point is at a young age, I decided that drinking alcohol was a bad thing and decided that anyone that did, it must not love me. After all, "If they loved me, they'd stop drinking alcohol because they knew it hurt me."
I took it personally as many friends and family of alcoholics do. I see this now. But looking at this as an adult, in hindsight, thinking about what I was thinking as a child, it helped me see how my emotional trigger to alcohol developed.
Think about what triggers you today and where they came from. How did they develop? What was going on at the time? What were you thinking then? Put yourself in your shoes as a child and look at it from that perspective.
My triggers had to do with my reactions to people drinking around me. I believed if they drank, their actions were against me. Not only did I believe they didn't love me, but I also thought they were dangerous to me.
I witnessed when people I loved drank, they turned into someone different that I was afraid to be around. When I grew up and developed my first relationship in my late teens, my girlfriend told me one day that she drank alcohol. She said she enjoyed it one night after work.
It wasn't a lot of alcohol. It was one alcoholic drink. It was something normal that most people could do and tell their partner and not expect the reaction that I had. My reaction was, "You drank?" To me, it was forbidden. It was like some huge offense that she had no idea she was committing.
Of course, she wasn't committing an offense at all (aside from being under the legal drinking age, but I'm talking about an emotional offense). She had a drink and I couldn't handle it. I was awful! I became judgmental. Actually, I became judge-mental. I was psychologically and emotionally affected. It was an old trigger that developed in childhood coming back to haunt me.
As soon as she told me she had a drink, I said, "I don't want you to drink. You shouldn't drink!" All because I was carrying this childhood belief that people who drank are dangerous and they don't love me when they are drinking. I become self-protective and didn't want to experience that trauma all over again.
As I aged in years and wisdom, I started analyzing my childhood emotional triggers, trying to understand why I reacted to certain things the way I did. My emotional trigger regarding alcohol was definitely right on the surface, ready to explode if someone drank. It was a fight-or-flight response. It was what I believed I needed to protect myself in that moment.
When it came out, it hurt the people I love. This is one of many triggers I've had to deal with, but my process was figuring out why I developed them and what was going on during that time.
Getting triggered was getting old and I needed to develop a new strategy. So I finally started asking myself, "Is this still a valid belief to have?" Whenever I got triggered, I'd pose that question to myself.
I think that's a great question to ask yourself when you're triggered:
Is this a valid belief to have?
Is this a logical belief to have?
Does it make sense?
Does it make sense that I get upset that someone drinks around me?
When I asked those questions, I think the only answer I could come up with at the time was, "The belief that people don't love me when they drink only makes sense if they become dangerous."
The problem was I wasn't even letting people get to that point! I didn't want to find out what happened when they got a little "tipsy." I wasn't allowing myself to see what happens after their second or third drink.
I wasn't allowing them to go any distance with their alcohol intake. I just created a belief in my mind that drinking alcohol was bad so people shouldn't do it. I "knew" people who drink are dangerous in some way.
Understanding my emotional trigger around alcohol and the beliefs I developed because of my childhood experiences with it, asking myself the above questions helped me dissolve that trigger.
My answer to, "Is it logical to have this belief?" was "No. How could it be logical? It doesn't make any sense."
The problem was that there were still emotions attached to the thoughts about people drinking. I still had fears attached to the thought of someone drinking. But when the logic, which is the first step of this process, kicks in, and I remind myself that not logical to have this belief, I started to realize there was no point in becoming triggered when people drink. This started the shift in me.
Another question I asked myself is, "What am I trying to protect?" That's a good question! I thought, am I trying to protect a scared little child? If my girlfriend gets drunk, do I honestly believe she is going to be dangerous or even attack me?
I was drilling into and drilling down into the emotional trigger to try to figure out why in the world it still existed in my life. I asked myself why I even needed this anymore. It made no sense.
When you're a child, the triggers make sense. But do they still make sense today? When dealing with emotional triggers, ask yourself why you react the way you do. Tell yourself that you don't want to react this way.
I asked myself that question, too: "Do I want to react this way?" That's another great question. My answer was "No, because I hurt people. I saw their face. It was like I drained them of happiness."
When I told my girlfriend she shouldn't drink, I drained her of her excitement and happiness of telling me about her fun night after work. I drained that from her. I took that moment away from her. I took away her happiness. I don't want that on my conscience. I don't want to make people feel that way.
That was a huge step forward for me when it came to alcohol because I used to be so against it. I wouldn't touch it myself. I hated it when other people touched it too. But after a few months or so of working on that in myself, I decided to try alcohol. Not because I wanted to get drunk, but because I thought it was important for me to face something in a personal way to show me that perhaps it wasn't everything I thought it was.
I wanted to solidify that it wasn't the tool of destruction that I have known it to be. I learned that I liked Pina Coladas. I learned that I like Margaritas. I started enjoying the flavor, but not the effect (I still don't like the effect alcohol has, but I do enjoy the drinks when I have them).
Drinking has become a once in a while thing for me. It's weird to say drinking helped me get over my emotional trigger, but in this case, it did. And it also added something to my life that I enjoy once in a while. I don't have the burden of the emotional trigger anymore.
That was just one trigger in my life. I've had many others that I've had to deal with as well, but I'm telling you about this one to give you an example of what you can do if you find yourself to be a reactive person, or at least reactive in some ways with certain people or events that happen in your life.
Another thing you can ask yourself when it comes to emotional triggers is to ask yourself if the emotional trigger still needs to be there anymore. Let's just say you said, "Oh, yes, it still needs to be there. I need to protect myself."
If that's the case, my question to you is, "Does that serve you?"
It probably does, because you said it needs to be there. But how does it serve you?
You may respond, "It serves me because it protects me from certain people that I don't want to be around." That could be it for sure. But maybe there's an inner warrior inside you that, when the emotional trigger comes up, it can protect you instead?
Your emotional triggers can become a part of your power. They can be a part of the fire inside of you that keeps you protected and shows you that you matter; That you are important.
Your inner warrior has no problem stepping in when you need them. Think of your emotional triggers as a signal for them to appear.
We have to remember that fight or flight kicks in and activates the appropriate emotional triggers to protect us. But we also have something else to protect us as well, if you allow it to happen. I said it earlier, when show up as the version of "you" that you love in yourself, that you want to protect in yourself, where you respect yourself so much that you'll never let anyone put you down or make you feel unworthy or unimportant, you are empowered. This is the person that needs to show up instead of allowing the old reaction or trigger to take over.
***
Let me share with you one more question you can ask yourself if you feel that you are a reactive person or you're carrying around emotional triggers. The question is, "What would really happen if this played out?"
In other words, when you become triggered, something is happening and you are reacting to what is happening. What would happen if whatever is going on continued? For example, in my case, I would have asked, "What is going to happen if she continues to drink? And what would happen next? Then, what would happen after that?"
This is a road most of us don't ever travel down. We may not consider what happens next, then what happens after that and after that. We are just triggered in the moment and we want whatever is happening to stop.
In my case, I would think 'if my girlfriend drank, I would get upset. I don't want her to drink, but if she drank anyway, and she drank every night, what would happen next? What would be my next step? What will happen to me? What will I do, then?'
I think it's important to think about all the possible scenarios that could unfold or you believe will unfold when you force yourself into that position. When I was younger, and I was affected by people drinking around me, I was so blinded by anything outside my thoughts and beliefs of not wanting people to drink that I never got past that wall I put up.
The wall was resistance. It was my resistance to their drinking which caused me to never let any other thoughts in. When I decided to look beyond the wall and find out what else was over there, the wall changed position and size. I was starting to allow other thoughts in, and it was helping.
I asked myself the Why questions and got answers like:
I don't want them to drink because it's dangerous to me.
I don't want them to drink because they won't love me.
As I answered the questions, the wall got shorter and farther back. I was allowing other thoughts in. Instead of resisting their behavior, I explored my beliefs.
When the wall didn't disappear, there was more to ask myself and more to discover. I asked myself questions like, "If the people I love continued to drink, what would happen to me? What would I think? What would I do next?"
The answers might be not knowing what I'd do next. I might think I'd go crazy. Maybe I would pull my hair out. Maybe I would get angry. I don't know. Perhaps I would scream.
Sometimes we can't get past the question, "What would I do next?" Sometimes we don't know. And that's why we keep having the trigger.
The "I don't know" can be a big part of the wall too.
I want you to get past that wall. I want you to climb over it so that you'll know what you'd do next. I really want you to explore that because typically what causes us to not heal from certain triggers in our life is not exploring what's beyond the "I don't know" wall.
If you don't go past that wall by climbing over it or digging under it, getting beyond it in some way so that you do know what you'd do next, you may not be able to release the trigger right away (that's going to be different for everyone) but you might squash it enough to stop reacting.
For me, when I kept myself what would happen next and what I'd do after that, I thought, "If my girlfriend keeps drinking, I might have to cry in a corner by myself. I might have to leave the relationship."
I started admitting some things that were very scary for me to admit to myself. I started considering all the things I might do or think. I wanted to know just how far this went. I wanted to know every step to the end result.
When you get past the "I don't know" wall, you start to loosen the grip the emotional triggers have on you. We're usually stuck at the "I just don't want it to happen" wall. And when you're stuck there, you have no clue how to stop the trigger because you never thought beyond that.
This is where I'm sending you next. If you are having a challenge dealing with any type of emotional trigger, or you feel very reactive, go through the worst-case scenario:
What is going to happen if this continues? What if it doesn't stop? What is going to happen next?
What if what I believed were true actually was true? Then what? What if there was absolutely nothing I could do about ti? Then what? What would I do next? What would be my next step?
The steps will start revealing themselves to you and you'll get past the "I don't know" wall. You may even have some sort of revelation.
All I mean by that is you could have a thought you hadn't had before. You may freak out a little bit too, but you could also realize that your fear is based on something that maybe isn't valid anymore.
If your belief is still valid, then this questioning exercise prompts you to do something else with your life or make different choices now.
But if you never get past the "I don't know" wall, you never give yourself another choice. Your only choice is to react. If your reactions aren't serving you in some way, then you're probably better off exploring what does serve you so that you have more choices.