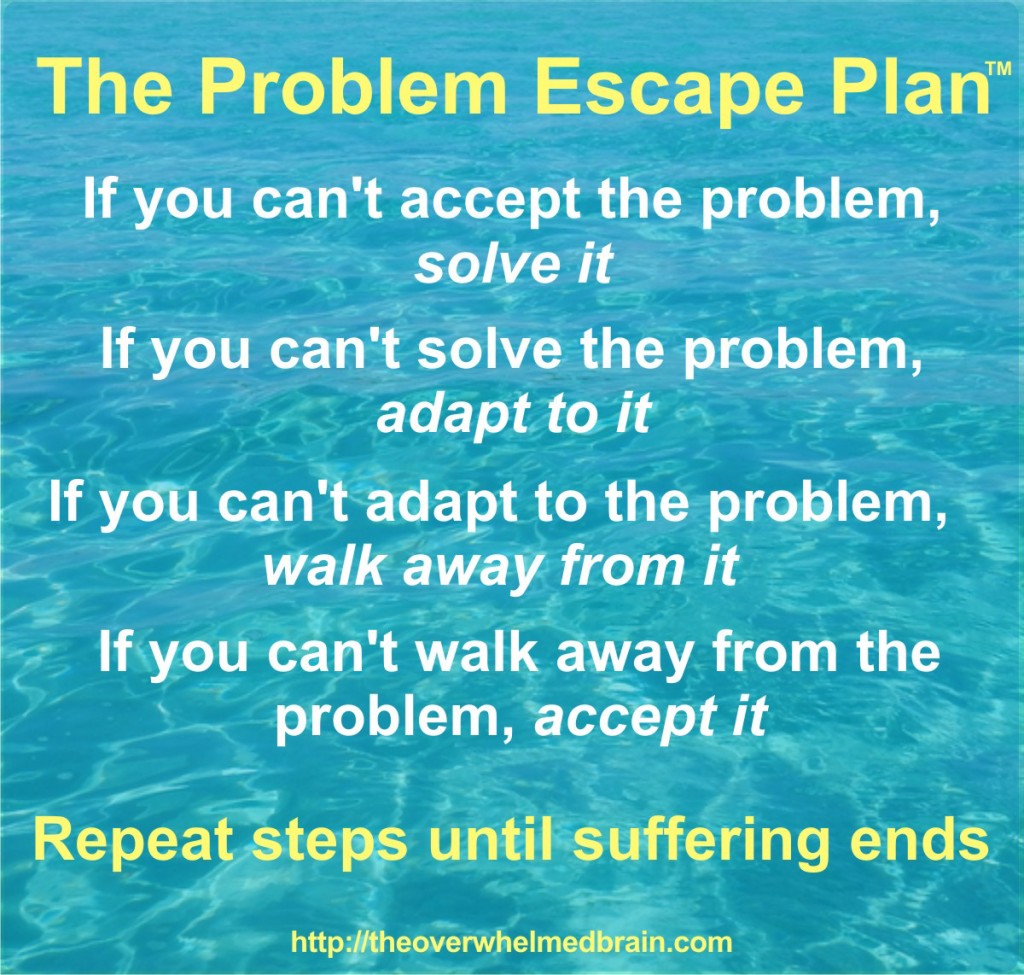 Resistance to your problems is very similar to denial. Both delay closure, and both create suffering. However, resistance creates denial, after all, you wouldn't want to suffer any more than you are so you resist facing your issue and coming to a hard decision.
Regardless if the problem goes away or not, there is a way to end the suffering typically involved with problems. And that's what today's episode is all about. 
Today's quick quote is by Peter M Senge, and it's this:
"People don't resist change, they resist being changed"
I had someone write to me lately and tell me that they get "sad attacks". You know what those are right? Those are the times when everything's going along fine, then you get an "attack" or sudden onslaught, of sadness.
Whether it's sadness, anger, or any other negative emotion that makes you feel bad in some way, these sudden feelings can come out of nowhere. You can be in the middle of a fun, happy moment in life, and Boom! You get struck with a strong, negative emotion.
I remember in the 90s, I spent most of those years with an underlayer of sadness, and I didn't even realize it was happening until one day I was driving along in my car and I suddenly had energy, and I was actually free of all negative emotions. It was the first time in a long time I felt… happy. I felt at peace.
And in an instant, it was gone again.
It was like the scene in the movie Matrix: Revolutions near the end where the two main characters are flying their ship toward the "Machine City". They're being chased and attacked by thousands of killing machines and the only way they can shake them is to leave the wasteland and break through the cloud cover above, taking their ship as high as it can go.
They shot upward, through the never-ending layer of pollution, and came out the other side to a blue sky and yellow sun. It was the first time Trinity, the female lead saw the sun in her life.
Time slowed and she felt peaceful. And for that instance, nothing else mattered. Shortly after, because their ship wasn't designed to travel too far off the ground, it started to sink into the darkness again, back into the hectic chase that would almost certainly be their demise.
I realize it's a dramatic comparison, but when that peace washed over me that day in the car, I realized how much I'd been missing in life. I knew right away that all this time I wasn't in a place where I was truly at peace with everything in my life.
My life wasn't chaotic, but I just wasn't happy.
Then after that moment, I never felt anything like that again. Actually, there was one time I felt that, and it was the time I got food poisoning. I ate some bad ham that day, and that night, I couldn't stop vomiting.
About 40 minutes into my sickness, I really thought I was going to die. I was like, "Oh my god, I'm so sick, I might actually die."
And right when that thought came to my mind, I was suddenly at peace.
It's weird, I realize because it would seem that at that moment, I should be stressed and worried and in fear. But "knowing" I was going to die actually took away all my worries.
This doesn't mean I wanted to die, it just meant that I felt at peace once again. And I really enjoyed that feeling. I enjoyed it so much that I wanted to keep it if at all possible.
So I focused on it and made it my reality. Then, as I started getting better later on that night, the way I always felt creeped back in. I was soon reminded that I have bills, work, obligations, and responsibilities.
I tried to reach for that peaceful feeling again, but it was gone. I couldn't get it back.
Only a few years ago was I finally able to reach a state of peace that was as close to those two moments as it could possibly be. In my book, Clear the Path to Happiness, I talk about that, and how happiness is really inside of us, and it's just a matter of eradicating the emotional obstacles from the path so that we can attain it.
When the obstacles are removed, happiness forms naturally. It's never something you seek, it just arrives on its own. But you must go through clearing the pain and hurt from the past in order to feel it.
I also believe that more people want peace more than happiness because with peace comes happiness.
It's fine to be happy, but would you want to be consistently happy every hour of the day?
You may say "yes", but think about when you're sleeping. You don't necessarily want to stay happy then too. Or, how about when you're sympathizing for a friend?
"Hey, I know you're upset, but I'm happy so I really can't relate to your struggles at all"
But when you're in a place of peace, you have more control of which emotions you want to feel. You have more choices because you don't have to take yourself out of one emotion to get into another one.
In other words, you don't have to take yourself out of sadness to be happy. All you need to do is learn how to bring peace into your life.
So how do you do that?
All it takes is one easy to say but challenging to implement a philosophical viewpoint:
Remove resistance from your life, or accept fully what you resist.
That's it. Just remove anything that causes you to resist, and you bring more peace into your world.
If you have a spouse or a boyfriend or girlfriend that treats you great most of the time, but that other 3% they're impossible to be around, address that 3%.
If you love everything about your job except for that one person you can never get along with, address that one person.
How about if you really love the house you live in, but don't like the kids blasting their music up and down the road at night? How do you address them?
I suppose you could wave them down and tell them to turn their music off, but it probably wouldn't do any good. You could call the police, but they'd be long gone by the time they got there.
You could move, but would you really want to do that? Well, I suppose if it was bad enough, you would. But what if you simply can't do anything about what bothers you?
What if you're in a situation that simply cannot be resolved, no matter what you do? And every time you think about it, you get that feeling inside. You know that feeling, it's how you feel when you think about confronting someone you don't want to confront. Or the debt you don't want to think about it.
It's that huge resistance you feel to doing something you don't want to do.
When you resist it, you suffer. The more you want something gone, the worse it makes you feel. But, if you accept things the way they are as unchanging and never-ending, you let go of the suffering.
But where's the relief in that?
Accepting something like parents meddling in your personal life all the time is possible, and you can come to peace with it, but do you really want to keep something like that in your life?
Here's where the fine line is drawn. It's the one that borders on the verge of acceptance and intolerance.
What can you accept, and what can you not tolerate? What will win, and how will you feel? What course of action should you take when going down a path of accepting, not accepting, tolerating, or not, and seeking peace and satisfaction in life?
What sacrifices must be made? What choices do you need to make in order to bring more peace into your world?
These are all very valid, and very loaded questions. What brings peace into my world won't be the same as what brings peace into yours.
For some people, bringing children into their family brings more peace and satisfaction. To others, they would go nuts having to deal with not only their own life but having children too!
Let's explore this topic a little deeper. What is the path to peace and satisfaction… really? Is there a single path, or is it unique to our circumstances?
I have some thoughts. Stay tuned.
*****
What you resist, persists.
We've probably all heard that, or at least a variation of that. What it means is that anything you don't want in your life, the more you complain about it, the more you gripe about it, and the more you hope it goes away, the more abundant and prevalent it becomes.
I use this example all the time, but it's so perfect. The more my mom complained and stressed about her husband, my stepfather, living in the house, the longer she suffered. Essentially, he would never leave because she spent more time hoping he'd leave then taking action to change her situation.
Resistance is inaction toward a problem.
Resistance is a defensive position where you're always trying to survive. Whereas when you take action toward a problem, you get on the offensive and move toward a solution.
Solutions are not found when you're always taking steps backward. My mom took steps backward by hoping instead of doing. She wanted her husband to leave because of his bad behavior but he wouldn't.
And why would he? He had someone who enabled him consistently. She would clean up his messes, pay his bills, and put up with his behavior.
I'm not saying that to put down my mom because she is so much stronger now that he's gone.
She is a great example of "What you resist, persists". Every day she resisted my stepfather and wanted him to leave. And every day, he would make no effort to leave or change. He was something that would persist and there was no motivation for him to change as long as she didn't change either.
The problem in her life wasn't the alcoholic, it was her fear about what life would be like without him. It was her choice to stay and suffer than to leave and maybe not suffer. At least leaving gave her the option of not suffering, but staying was a guarantee that suffering would persist.
Some people might be in a situation where they can't leave so they just stay and suffer. That's definitely a problem, but even a problem like this has some semblance of resolve. Some problems seem unavoidable, with no way out. Those are the types of problems that people have where, when they hear someone like me say, "All you need to do is leave and your problem will go away!" they yell back into their computer or at the TV and say, "It's a lot harder than that!"
So I came up with a quick, four-step action plan for those in tough situations like this.
I call it the Problem Escape Plan. This is a very condensed version of it, but because it's short, you can run any problem you have through this exercise and it will help you minimize or eliminate the suffering you may be experiencing.
So, before I read you the steps, I want you to think of a problem you have right now. Think of anything that you believe is a problem in your life at this time.
Got it?
Now, think of the problem as I read these. Let me read the whole thing before you say anything like, "Well of course! If I could, I would, but I can't!" because all the phrases have to be read at least once for this to work.
Agreed? Let's start:
The Problem Escape Plan:
If you can't accept the problem, solve it
If you can't solve the problem, adapt to it
If you can't adapt to the problem, walk away from it
If you can't walk away from the problem, accept it
The PEP – Problem Escape Plan is a philosophy I've adopted in my life and it's something I use when there's a problem that I'm dealing with. It helps me come to a solution pretty fast, because it forces me to take a direction.
For example, when my marriage was coming to an end, and divorce was inevitable, I did something very similar to PEP, I just didn't realize it until I thought about it only recently.
At the time, I thought "I can't accept divorce as a reality. What can I do to make my marriage work? Or, can I be okay with getting a divorce?"
There was no denying that divorce was inevitable. I could resist my feelings about the divorce, which would cause my suffering to persist, or I could just let things go.
But that's the worst personal growth advice I've ever been given in my life, so I never tell anyone to just, "Let it go! Think positively! What you think about, you bring about!"
Grrr… it's like telling the person who just lost his legs to "walk it off, it'll feel better soon."
I ran the situation of my divorce through the Problem Escape Plan, and here's what I came up with. I'll read through the sentences one by one again, explaining my thought process for each one:
If you can't accept the problem, solve it.
Okay. I will do whatever I can to solve this. I will seek therapy and I will grow and evolve to become the man I need to be for her to be happy.
That didn't work. She was already too jaded by the man I was and she didn't want me in her life anymore. Wow, that hurt. "No matter what I do then, you wouldn't want me back?"
Nope.
Alright, what's the next line…
If you can't solve the problem, adapt to it.
"What? No way, the pain is too great. I just can't adapt to being divorced. I am still hurt, and it's possible she could change her mind. What if I do become a "greater" man and she sees the changes in me and wants me back in her life? If I adapt, that would mean I've accepted the divorce, which I don't. So I don't want her thinking that I am actually okay with this situation."
So I crossed off adapting to it. There was no way I could move through this by simply getting used to the new situation. Jeez, what if she started dating? How could I possibly adapt to that?
So what's the next line?
If you can't adapt to the problem, walk away from it.
"Now that is just nuts. Walking away is not an option. I'm hurt, still in love, and don't want to walk away from something that could be."
What's next?
The last line is:
If you can't walk away from the problem, accept it.
"What? That's it? Just bring me back to acceptance? I can't. I won't. I refuse."
And this is the most important part of the exercise because it helps you reach a conclusion. That conclusion is a choice between suffering and releasing.
Do I continue rejecting every suggestion in the exercise, causing me to hold on to my suffering? Or do I reach a conclusion I don't want to accept?
When going through another round of this, I learned that no matter what I want, it seems that I will hold onto my suffering until I choose an exit.
But which exit do I choose? If I don't choose one, I suffer. If I do, the healing can start.
And that's the most important component of the PEP equation:
Healing starts when you choose an exit.
Hanging on to what could be is one thing that drives suffering and keeps it alive. The "What ifs" in life are what keep us guessing and holding on to possible outcomes.
Did you come up with an exit for your problem? Did you come up with an entirely different solution you didn't think of before?
Possibility, potential, hope, and desperation, in the context of a problem, keep suffering alive. But action, forward momentum, and closure are what start the healing process. That's why it's so important to get closure with problems as fast as possible.
When I found out my wife no longer wanted to be married, I ran through this exercise, or at least the gist of it back then, and realized that if I am going to stop this pain I feel inside, I need to find closure.
The day after she said she wasn't coming back to me and confirmed my fears about an impending divorce, I went down to the courthouse to file papers.
I wanted closure. It was the day after we talked about divorce. She confirmed that there was no way back, so I decided to start healing as soon as possible by getting the process started.
I suffered for two years the last time a long-term relationship ended on me, and I wasn't about to go through the same thing. Before, I got sad, then mad, then depressed. And recovering from that was something I never wanted to go through again.
That was the bottom of the barrel. So I decided that if divorce was inevitable, that I'd make it happen as soon as I could so that I could move on with my life.
That was the first step, of course, because I still had grieving to do. And I also had some more healing to do which I talk about in other episodes. But taking action toward closure helped to keep my suffering down to just a couple months as opposed to a couple of years of depression then a few more years of recovery.
When you know what you don't want in life, you make sure it never happens no matter what!
I did not want a divorce. I wanted to stay with her and fix things. I said and did everything I could think of to make that happen, but it was already too late and there was no turning back for her. Instead of prolonging what was already true, I just faced it head-on.
I knew it would hurt like a punch in the stomach, but I also knew that the pain would dissolve in time. Whereas, if I chose to prolong it by pining and longing for her back in my life, and delaying getting the divorce processed, it would be like getting mini punches in the stomach over and over again until I got closure.
You ever feel like that? I'm sure there are times where you do.
What's the exit for your problem? Let's talk about what it takes to exit a problem next!
*****
How do you exit your problem? What does that even mean?
You can exit a problem in several ways. One of those ways is resolving it. If you can't accept the problem, then you solve it. That is if you even want to!
You may have a problem that you don't want to accept, and don't want to, or can't, solve. But if you do want to solve it, then my advice is to do whatever it takes to make it happen.
If that means paying someone to help you – do it. If that means staying up an extra few hours every night working on a solution, do it. Solving a problem is about taking action and doing whatever it takes so that if and when the chips fall, you can say you tried everything.
You'll know when you've tried everything because either the problem will be resolved, or you'll be so exhausted you can't continue. And that is also an exit because sometimes you simply don't have the energy to continue dealing with it. In which case, you might walk away.
But we're not that far yet.
Line one says if you can't accept the problem, solve it. Alright, let's say we tried and that didn't work.
Line two says, if you can't solve the problem, adapt to it.
Adapting to a problem means finding a way to make it work regardless of its existence. A good example of this is something a girlfriend in high school did for me. She was a smoker and she knew I couldn't stand the taste, so after she would smoke she would use mouthwash and chew gum to get rid of the flavor of nicotine.
It worked, and I never tasted smoke on her. The problem was that I didn't like the taste or smell of smoke, but she found ways to adapt so that we could both enjoy our time together.
Another example of adaptation is when I had to live with family shortly after my divorce. They only had a basement room, which was completely different than my wide-open, bright, and cheery apartment in Oregon.
At first, I felt a little down knowing that I left paradise and ended up in a basement with a tiny window. But I decided to adapt and make the best of it. This stopped my suffering and I could move forward in other areas of my life.
Can you adapt to your problem? If not, walk away from it.
This is line three of the Problem Escape Plan. Just get out of the situation. My ex-wife did just that. She couldn't stand how judgmental I was back then and it wore her down year after year. Finally, she had enough.
She couldn't accept it because it kept triggering her.
She couldn't adapt to it because she was in pain that her husband wouldn't support her and only judge her and make her feel bad.
So her escape plan was to walk away. Walking away gave her freedom from suffering. And while she was gone, she relearned what it was like to think thoughts without having me in her life. I wasn't there, even passively, to influence her thought processes.
She felt more free and alive, and she realized that this was the perfect decision for her. It was hard, but she knew she had to do it for herself.
Can you just walk away from your problem?
I owned a condo in Florida once. When the mortgage crisis hit, and my renter stopped paying, I couldn't pay for it anymore. Then, the bank wanted their money, and so did the housing association. The bills were starting to rack up.
The last thing I wanted to do was lose the place, but by hanging on to it, I was more stressed than I'd ever been in my life. I was placing monetary value over my own peace and tranquility in life.
Then my girlfriend at the time convinced me to file bankruptcy. I was like, "Are you crazy? No way! I'm honest and always repay my debts."
But the more I thought about it, the more I realized that this was only going to get worse. In the end, I filed. And the day after, my stress and anxiety disappeared.
I lost a lot of money and a home, but I was free of worry and stress. Suddenly I realized that my priorities haven't been in order. After all, I couldn't enjoy what I "owned" if I was constantly stressed about it. So when I let it go, it was one of the most liberating days of my life.
Don't get me wrong, I did try to work with the bank and the housing association, but neither would budge. I tried what I could by exhausting all my resources to make things work. But it was not meant to be, and I filed.
And it was a good decision, because today I am a healthier person, both mentally and physically. Without the constant anxiety about losing my condo and increasing debt, I was free of all the bad feelings.
It just washed away. I walked away from the problem, having done everything I could to resolve it, and I was free.
If you can't walk away from your problem, you loop back to the first option:
Accept it.
Now the reason you circle around to "Accept It" again is because it provides closure. It closes the door and tells you that these are your only options – either accept one, or suffer. Period.
This is like asking you if you want a ten-dollar bill, or this brownie. When you want both, I come back to the same question and ask "Do you want ten dollars, or a brownie?"
And you finally buckle and make your decision. This is the breaking point.
When you break and have to make a decision, the suffering starts to wane and you are on the road to healing.
That's why I loopback because you realize how futile it is to keep going through the process over and over again. It's endless and infinite, so you might as well make the decision and take action so that you can move forward one way or another.
Suffering is resisting. Resisting a decision is suffering. You cannot know freedom until you take a step toward it. And the longer you resist taking the step, no matter how painful it looks like it's going to be, the longer you suffer.
The hard part is taking the step, but I want you to look at it this way:
What will bring you peace faster, the suffering you prolong, or the choice to get it over with right away?
The answer is obvious, but sometimes hard to implement.
I did not want to get a divorce, but more than that, I did not want to suffer any further, so I took the hard step and got it over with.
Your solutions are going to be unique to you. Your exit is going to be unique to your situation. Whatever problem you have, run through the process, and explore every path that presents itself.
The exit is almost never easy. I know this is true because I've talked with people who are still in the loop of choices they never take, and they're still suffering.
They're still complaining and in the drama of things. It's almost like they've gotten used to the infinite loop of indecision and inaction so they don't know there's a more peaceful path when a choice is made.
It's hard at first, and you have to deal with the reactions of all involved, but once you're past the biggest challenges of the exit, you get to stay above the underlying cloudiness and move toward the sun, if I may use that analogy.
I just shared what I did and what worked for me, so it's important for you to remember that all of our circumstances are different. My marriage ended in divorce, but it doesn't mean that's a good exit for you.
I lost a lot of money and my condo, but that doesn't mean my choices will work in your situation.
This can be tricky, and I don't go over every step of the process in this episode so if you want to learn more about the Problem Escape Plan, I'm creating a downloadable mini workbook with an accompanying video at theoverwhelmedbrain.com/worksheets.
The workbook should be ready by Tuesday or Wednesday, July 1st, 2015. It's only a few dollars but I'll walk you through this process more slowly and methodically. I'll also present more questions that will help you understand why you can't get out of your problem loop so that we can find you the right exit strategy for your problem.
Does it work with every problem? Well, I haven't tried it on every problem yet, so you'll have to tell me. Is it incredibly easy? No, this stuff is hard to do because sometimes hard decisions have to be made.
But if you didn't get what you needed from this episode to eliminate the suffering around the problems in your life, get the worksheet. And if you don't want to go that route, at minimum, take some time to yourself and think without anyone influencing your decisions.
A good way to do that is to go somewhere alone and ask yourself this question, "If my problem didn't exist, what would I be doing instead?"
When you do this, it brings out some interesting ideas, maybe even thoughts you didn't think about before. If you're problem is debt, don't pretend you're suddenly wealthy, just think about what it would be like if that debt didn't exist.
All you're doing is eliminating the problem in your mind. When you do this, you clear up your thought processes and allow new ideas to come to the surface. Ideas that wouldn't have surfaced while you were in that foggy state.
Anyway, I'm so glad you joined me today. It's time to end the show. You know, I've been told I come to an abrupt ending on this show, but that's okay I think. Sometimes what needs to be said is said, and I just have to end it because of time.
So if it's alright with you, I'm going to close the show now. And if you ever have a problem, run it through the Problem Escape Plan either by listening to this episode again or downloading the workbook.
Either way, I want you to know peace by knowing what it's like to be free of the pressure you put on yourself because you aren't able to let a problem go.
I appreciate you. Thanks again.
*****
If you are sabotaging your own happiness in life, get the Values Workbook, and learn what it takes to get into alignment with your values. 
There is a threshold of emotional pain that we usually never let ourselves get to, and that causes us to stay in the repetitious loop of pain, repress, pain, repeat.
Sounds like a wash cycle, doesn't it? Pain, repress, pain, repeat. The pain is the unexpressed, unresolved emotions from the past – or even the present. It's the stuff you don't want to deal with, so you stuff it back down to have it come up at another time.
I know there's some hard stuff in your life. I've talked with people that told me they how tortured and abused they were as children, and it pains me to hear they've been through so much.
So the question for you, and for anyone who's been through the wringer of life's challenges, who are you going to be right now to get through this?
Are you going to be the younger you who is still in fear of what happened, or are you going to be the adult that steps in and says, "I got this, don't worry"?
Yes, the past can hurt us in the now, if we choose to hold it in. But what if you didn't hold that past in? What if instead, you decided to find someone safe… a friend, a group, or a professional, with whom you could spill all your emotions onto the table just to say every single thing that comes to mind?
I went to a therapist at least three times in my life and looking back, I realized how much I still repressed even though I had the opportunity to speak my mind freely. Don't let the same thing happen to you.
Most resistance comes from fear of what might happen if we say something or take action on something. Most of the time, it's just a fear of how we'll feel, not what will happen.
You don't want to feel the pain, but you also don't want to prolong the pain. So which is it? Do you feel it, express it, and release it? Or do you feel it, repress it, and repeat it?
It's a challenge for sure. For the longest time, I wouldn't let anyone know how angry they made me. Then I decided to trickle it in, slowly, letting people know how I was feeling.
Now, I just tell them how I feel. I got through the hard part and now it's not hard at all.
Don't let the hard part stop you from moving forward. The hard part is the door to peace. Or at least, closer to peace than before.
That's what I want for you. So step into your power and be firm in your decisions and actions, so that you can create the life you want. When you do this, you'll discover what I already know to be true about you, that you are amazing.