Those intrusive, invading and disturbing thoughts that you try to resist and repress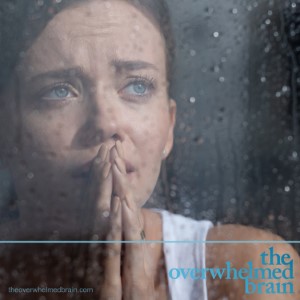 When your thoughts make you feel bad because you believe you shouldn't have them, you might repress them and stuff them back where they came from. However, doing this might be exactly what keeps those negative, intrusive thoughts alive.
My girlfriend and I recently faced a challenging issue related to our mental and physical well-being, specifically involving depression. I'm sharing our experience because it may introduce a component of being well that you may not have considered in your own mental health journey.
Over the past several weeks, perhaps longer, I began to feel overwhelmed, burdened with too much to handle, and devoid of energy. Although I slept adequately, I awoke feeling groggy and disoriented, leading me to suspect the onset of depression.
Let's Not Talk About Depression
Having battled depression in my twenties, I'm familiar with its symptoms: suppressed thoughts, repressed emotions, and a complete lack of passion or interest in almost anything. This familiarity made my recent feelings all the more concerning. Despite my background in helping others overcome depression, I found myself starting to think it was returning.
Generally, I consider myself a good example of emotional expression and regulation, mostly free from triggers. Yet, I felt an inexplicable void, a loss of energy and emotional connection.
But rather than discuss this with my girlfriend, I chose to internalize it. I feared appearing weak and didn't want to bring her down. Despite my attempts to process these emotions independently, they persisted, and my unhappiness grew. This emotional state even manifested physically, hindering intimacy in our relationship.
Finally, I opened up to her about my struggle, suspecting it could be depression. To my surprise, she had been experiencing similar symptoms. We both found this odd, given that we're in a stable, loving relationship and were happy that we recently acquired a home together.
After much discussion, we identified a common variable: a gasoline odor in our home. Located above our garage, our living space is directly affected by our garage's air quality. We initially suspected a recently acquired used pressure washer, then gas canisters, and finally, our lawnmower. After removing these items, the smell disappeared, and miraculously, our symptoms lifted. We felt emotionally reconnected, and our energy levels normalized.
We realized that the gasoline fumes had severely impacted our emotional and mental states. Although we didn't experience typical symptoms associated with inhaling fumes, we did feel an onset of depression and emotional disconnection. Once the source was removed, our well-being drastically improved.
I share this as a cautionary tale. We had been unknowingly inhaling toxic fumes for over a month, attributing our declining mental health to other factors. Be aware of your environment; it might be affecting you in ways you'd never expect.
I share this experience not merely as a dramatic anecdote but to broaden the understanding of the potential causes of depression. My realization is that one's emotional state can be affected by factors outside of what is commonly considered, such as environmental toxicity. If you're grappling with unexplained depression, scrutinize your surroundings for toxic elements. These can be chemical, dietary, social, or environmental.
I'm not suggesting that you become paranoid; rather, consider this as another avenue to explore. You may discover that the source of your emotional disconnection is external, as it was in my case. Some medications, for example, can have a similar effect, detaching you from your emotions.
I was aware that chemical imbalances could lead to emotional disconnection, but I hadn't considered environmental toxicity as a contributing factor. This realization has been illuminating for both my girlfriend and me.
We're much better today. We've moved the lawnmower out of the garage and are no longer experiencing symptoms.
I share this as a public service announcement. If you find that therapeutic approaches and self-help are not alleviating your depression, consider environmental factors as a possible cause.
This philosophy applies broadly. Emotional or mental disturbances can arise from various sources, sometimes unexpected. Thus, your inquiry into the cause of your mental state should be expansive and not just limited to the usual suspects like suppressed thoughts or repressed emotions.
Our experience with gasoline fumes, for instance, has expanded our understanding of potential causes of emotional distress.
Next, I want to discuss the importance of addressing intrusive thoughts. Such thoughts plagued me when I was grappling with my symptoms, and I initially tried to cope alone. Having a confidant can expedite the identification of the problem. In our case, we could have determined the cause sooner had we communicated openly about our symptoms.
Our encounter with environmental toxicity extended our perspective on potential contributors to emotional and mental issues. I hope this serves as useful information for you if you are dealing with similar struggles. Now, let's get a bit deeper.
Those Dark, Dark Thoughts You're Not Comfortable Having
This next segment originates from an email I received last year concerning a person troubled by intrusive thoughts of a sexual nature—specifically, imagining committing rape. These thoughts disturbed him deeply.
Contrary to some assumptions, someone confessing, "I have these unwanted thoughts; what do I do?" is unlikely to act on them. The key point I wish to emphasize in this episode is the distinction between thoughts and actions. Thoughts reside in your mind, free to be as distressing or benign as they may turn out, but they are not manifested behaviors. They are not tangible "things."
This perspective diverges from certain "law of attraction" teachings you may have encountered. I urge you not to believe that negative thoughts will materialize into negative outcomes or that having a malicious thought makes you a malicious person.
You are not defined by your thoughts; your actions define you.
"Badness" is a relative and subjective concept that can be interpreted in multiple ways. For instance, if someone were to break into my home and attack my girlfriend and me, I would categorize that as extremely bad, even evil, behavior.
Thoughts can indeed be motivating and may lead to actions that create outcomes in your life. I don't intend to undermine any belief systems; if you believe thoughts are tangible things, take my perspective as an alternative viewpoint that may liberate you from a limiting belief that equates bad thoughts with being a bad person. A negative thought is just that—a thought.
In previous episodes of my show, I've discussed that any mental imagery you conjure is acceptable. I've guided you through exercises where you visualize people in your mind's eye and interact with them to achieve emotional closure.
For example, I held a lot of resentment for my stepfather. Years later, as part of my personal healing process, I visualized confronting him. I verbally and physically vented my frustrations—all within the confines of my mind. This mental exercise significantly reduced my anger and negativity toward him.
That brings me to my initial point: The thoughts you attempt to suppress might be the very thoughts you need to confront for your own healing.
Thoughts vary greatly; they could involve doing something to someone else, doing something alone, or simply thoughts that make you uncomfortable. When such thoughts arise, the first step is to remove the resistance to them. I remind you if these thoughts are turning into problematic behaviors, consult a professional. It is crucial to do so. The insights provided here are based on my own experiences and those I've helped. This guidance may or may not be applicable to you. There's my disclaimer – now let's continue.
When intrusive thoughts emerge, and you suppress them, you generate internal resistance. This resistance might manifest as "I shouldn't be having this thought; it's wrong."
Such resistance amplifies the negativity within you. For instance, you may think, "I want to punch that salesman." While you probably wouldn't act on this thought, the act of resisting it creates a mental tension, leading you to feel bad for even having the thought.
The cycle compounds when you try to forcibly erase that thought, effectively doubling the negative impact on yourself. This process of suppression and resistance intensifies the negative emotions you're trying to manage. It's akin to sealing a pressure cooker; you may think you're containing the problem, but the lid is loose. The repressed thoughts will resurface, often with increased force, requiring even more mental energy to push back down.
This continual suppression generates a self-perpetuating cycle that not only drains you emotionally but also manifests in other, perhaps more harmful, thoughts and behaviors.
It's important to recognize that thoughts and behaviors can stem from unexpressed emotions. For example, if you harbor anger towards a family member with whom you've not found closure, that unresolved emotion will manifest as intrusive thoughts or visualizations. These imaginings may cross ethical or legal boundaries, causing you further distress.
People often believe they must maintain a consistent aura of positivity, pushing down anything that doesn't align with this image. However, failing to address your negativity allows it to fester and manifest in increasingly destructive ways. When suppressed emotions can't find an outlet—be it through a candid conversation with the concerned individual, in therapy, or with a trusted confidant—they become embedded in your subconscious, leading to troubling visualizations.
The key to managing these thoughts lies in understanding their root cause. Identifying the unresolved issues in your life enables you to work towards closure. Granted, closure is not always feasible due to various circumstances, such as the person in question no longer being alive or being too hazardous to approach. Nonetheless, self-awareness and ongoing personal development can aid you in processing these challenges.
Finally, remember that thoughts you suppress require closure. You cannot cease to think about what you're actively trying not to think about.
When advised not to think of a specific object, like a red balloon, it becomes challenging to direct your mind away from it.
Where does that thought go when you attempt to suppress it? It may disappear for a time, but it usually resurfaces, illuminating the difficulty in permanently repressing any thought—be it about red balloons, pink elephants, or emotionally charged topics.
This leads to a philosophical query: Is there a physical realm where suppressed thoughts reside?
While I'm not an expert in neuroscience, it's plausible that our brains create neural pathways serving as storage units for these thoughts. Once a thought has a "physical" location in your brain, it tends not to disappear; it waits for later retrieval or processing.
When a thought carries negative emotional weight, it becomes crucial to address the emotional component. Stored thoughts connected to past trauma can trigger feelings of reliving those events, fueling conditions like PTSD. These thoughts are stored in specific regions of our minds, and when they resurface with an emotional charge, they can be unsettling. The options are to process them, discuss them, or repress them once again—something I do not recommend.
One effective way to process these thoughts is through journaling or meditation. If they persist in affecting your behavior or emotional state, consider discussing them with a trusted individual. The goal is to process and hopefully heal so you don't find yourself continually suppressing the same issues.
Next, I want to clarify that thoughts are not inherently evil; only behaviors can be classified as such. Even if a thought might be considered "evil," it remains just a thought until acted upon. If you've been successful in controlling your behavior despite having negative thoughts, you've already demonstrated your ability to manage your actions.
However, if you find your thoughts are leading to undesirable behaviors, then those thoughts need processing and healing. They must be addressed to prevent them from manifesting into actions that you'll later regret. Like in my personal experience of confronting potential depression, it was difficult to admit even to someone I trust. Yet, to heal, one has to confront one's thoughts, fears, and vulnerabilities.
If discussing these matters with someone you know is not an option, professional help is available. Therapists provide a safe space to discuss deep-seated fears, shame, guilt, and other negative emotions that you may not feel comfortable sharing with friends or family. It's a daunting step, fraught with the fear of judgment, but essential for healing.
Again, thoughts themselves are not evil. It's the behavior that arises from the thoughts that warrant attention. If you find yourself struggling to manage your thoughts in a way that affects your life negatively, it may be time to seek help.
Unaddressed Thoughts Proliferate Like Weeds
This notion is supported by feedback from those I've coached and from correspondence I've received. People often express an inability to stop obsessing over various matters—be it a person, a job, or a past relationship. Left unexplored, these thoughts invade your mind and life, leading to obsessive patterns that can inhibit personal growth and well-being.
A compelling example comes from a BBC documentary on individuals in the UK who harbor inappropriate thoughts about children. One interviewee, an adult male, openly discussed his struggle with such thoughts. While he didn't elaborate graphically, he conveyed his dislike for having these thoughts.
Society often demonizes individuals with such thoughts, but it's crucial to recognize that some people can't help it. It's akin to asking a twenty-year-old heterosexual male to suppress thoughts about women; the pull can be similarly powerful.
I'm not defending or condemning anyone; rather, I'm presenting facts that have helped me understand human behavior. Repression often intensifies the very thoughts one wishes to eliminate. There are individuals who have inappropriate thoughts about children but don't want to have them. When these thoughts are repressed, they grow stronger, underscoring the importance of addressing them.
If you find yourself struggling with uncomfortable thoughts, it's crucial to face them rather than repressing them. Repression can serve as a ticking time bomb, leading to undesirable behaviors. While you might successfully control your actions despite repressed thoughts, the question remains: Are you truly happy or fulfilled? Are your relationships flourishing?
The documentary featured a man who decided to speak openly about his thoughts, a step that likely aided his self-control. While it's a delicate issue to discuss, the principle remains: expressing what's on your mind can mitigate the chances of acting on negative thoughts.
I urge anyone wrestling with troubling thoughts not to label themselves as irredeemable or incurable. Thoughts are just that—thoughts. They become problematic only when acted upon, which is why addressing them is essential.
The term 'denial' takes on significant meaning when discussing the suppression of thoughts. Say you have a thought about physically harming a parent—a thought you'd never act upon in reality. My advice is not to deny it. Allow the thought to surface, examine it, and even exaggerate it. When you suppress a thought you don't wish to entertain, it tends to fester and grow.
For instance, imagine you're angry at a step-parent. In your mind, you yell at them and strike them, and they fall, injured. But then you abruptly halt the thought, feeling it has gone too far. Stopping yourself from visualizing the scenario unfolding anymore may prevent closure. To achieve closure, you might have to extend the thought even further, especially if residual feelings linger.
Note that this approach is not for everyone. If you're grappling with psychosis or another mental health issue and believe you will act on your thoughts, consult a healthcare professional. The point of what I'm saying is to stretch the thought to its limit, reducing its chance of manifesting as harmful behavior in reality.
Taking a negative thought to the extreme in your mind can result in a form of mental satiation. Your mind eventually grows bored with the initial thought, loosening its grip on you. For example, if you're angry at someone, envision a series of escalating actions against that person. You may reach a point where you feel you've gone too far. That's alright; you can mentally 'rewind' and choose a different course of action.
This exercise is about exploring avenues for closure and healing. The ultimate goal is to weaken the thought's hold on you. If it no longer possesses that grip, it won't keep reoccurring with the same emotional intensity. There is a form of closure achieved because you've allowed yourself to explore various possibilities without self-criticism.
Remember, your thoughts are your own and are not reality until acted upon. View your mind as a sketch pad, constantly drawing and erasing. Not every drawing will be a masterpiece; some you might deeply dislike. However, it's a process that can lead to a healthier mental state, freeing you from oppressive, recurring thoughts.
You don't want to be trapped in a cycle of repressing the same thoughts repeatedly. That becomes a continuous irritant, affecting both your mental and emotional states. By allowing these thoughts room to breathe, you open avenues for healing and fuller enjoyment of life.
Consider That Anything is Possible
I began this article by discussing the impact of gasoline vapor on our well-being, likening it to the draining effects of depression. One morning at five, my girlfriend awoke and opened all the windows, activating the attic fan to circulate fresh air. The vapor's influence was so potent that we had to air out the house to breathe comfortably.
This experience raises questions about long-term exposure. Could it make us sick in the future? While we've aired out the house, we can't undo any immediate physical effects. It serves as a reminder that sometimes external factors beyond our control or awareness can impact us even when we're diligently working on self-improvement.
My girlfriend practices energy work, a concept I've always approached with skepticism. Yet, she's alleviated symptoms for me—headaches, fatigue—that defy easy explanation. Initially, my skepticism led me to attribute these improvements to the power of suggestion.
But there have been times when she's conducted energy work without my awareness, and I still felt better. This challenges my logical mind to accept that there may be elements beyond my comprehension that contribute to well-being.
Take the gasoline vapor, for example. While its effects are grounded in science, I've never heard of it causing depressive symptoms. It prompts me to consider what other environmental factors in our home could be affecting us in ways we don't fully understand. It's a reminder that if I'm stuck on a problem and can't seem to move past a certain emotion, the root cause may be beyond my understanding.
I'm not advocating a complete overhaul of your belief system. What I am suggesting is the value of holding your beliefs and thoughts with conviction while simultaneously being open to the possibility that you could be wrong. Being open-minded enables you to tap into your own power and feel comfortable in your own skin. This duality of conviction and openness is what I'm inviting you to consider.