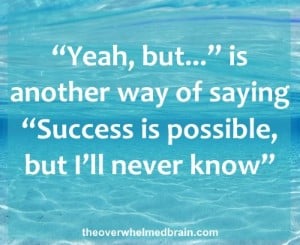 I think about some of the friends I've had in my life and wonder what happened to my "Yeah, but…" friends.
They were goodhearted people that would do anything for me, but couldn't shut off their excuse machine. No matter what I said to them, Yeah, But was their answer. And they couldn't figure out why nothing ever worked out for them. 
You know the type:
"Yeah, but…
…if I do that, he might get mad at me"
…I don't want to try that, I might not make it"
…if I try that, I might fail"
…that won't work"
…I'll never make it anyway"
The list could go on indefinitely.
I had one friend that would not take my work advice no matter what. That's okay in itself, I mean, just because I give advice doesn't mean anyone has to take it. But this friend came to me almost daily and complained about the same things over and over again. So I would give him suggestions to try to make his life better. I'll give you one guess what his response was almost every time…
He was stuck in Yeah, But mode. And "stuck" is the perfect word that describes the level of progress in many areas in the life of a Yeah, But person.
Stagnation is rampant amongst Yeah, But people. 
I kept hearing excuse after excuse from my Yeah, But friend and it was wearing me down. It's one thing to complain and do nothing, it's another to complain and try something. 
I hate to disagree with Yoda, but I really believe in trying no matter what, just so that you'll know what works instead of guessing what might not.
Do or Try. Either Way is a Step Forward.
Do something just to learn what happens. Staying in "Yeah, but…" mode forces you to tell yourself stories and even lie to yourself just so you don't have to try. And not trying keeps you the same. If you're miserable now, you'll be miserable later.
However, if you choose to be an I'll Try person, at least you'll know what works and what doesn't. You can't look up the mountain and say, "I won't be able to climb that" until you try to climb it. And if you've exhausted every effort to make it to the top but didn't quite make it, at least you can tell people "I tried" instead of "Yeah, but…"
Try those on. There's a completely different feeling for both.
If my friend came back to me and said, "Hey Paul, I tried your advice and my boss yelled at me", I'd apologize then congratulate him (I'd also probably hear about it for several months after!) But at least he couldn't make up stories anymore. He wouldn't have to wonder what might happen because he would a solid reference of what did happen, which is a big step out of stagnation.
What happens when you don't try? Nothing.
What happens when you do? Anything. But only the "I'll try" people will get that chance.
Listen to my episode on the Yeah But mentality here.