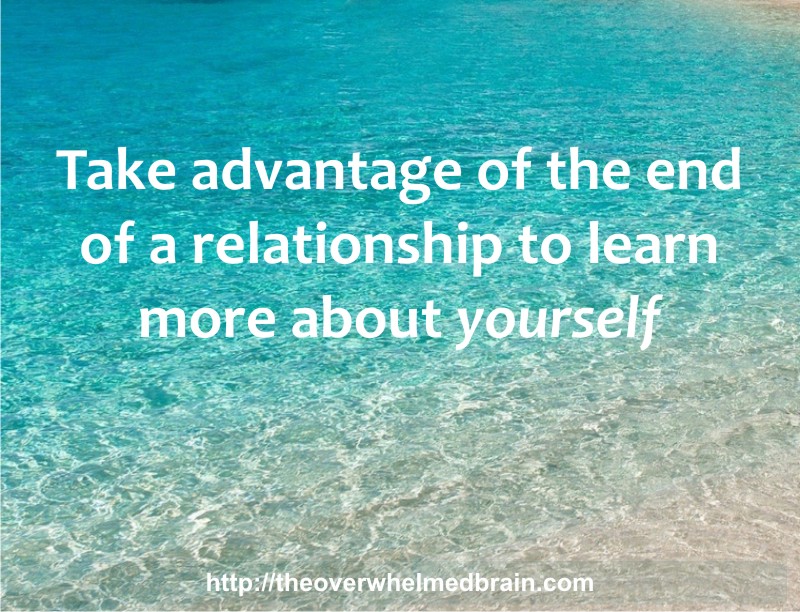 Relationships end, unfortunately. But sometimes what you think is the hardest part (the breakup) turns out to be tame compared to what follows. Your ex may not want it to end so they do things that make you uncomfortable. Or, the one you "dumped" is still friends with your friends and family, so the ties are harder to break and the distance harder to attain. What do you do when this kind of stuff happens? I address a couple of emails asking these very questions on today's episode.

Today's quick quote is from Bernard M Baruch, and it's this: "Those who mind don't matter, and those who matter, don't mind."
Remember there are people in your life that simply don't matter. You don't have to be kind towards everyone all the time, especially if by being kind towards them causes you to be unkind towards yourself.
I know this idea is against many teachings in the world today, but kindness comes from a deep place of love and caring within you. If you can't feel those things, then it's harder to give those things.
Those who mind don't matter, so if you have a bad day and they don't like it, just keep moving on. And those who matter won't mind if you have a bad day every now and then, because they will support you no matter what.
Well, today I'm going to base the show around two emails that I received that I've been working on replying to for a while now. 
Every week, I receive personal questions from those looking for advice or guidance in one or more areas of their lives. Typically, I respond directly and offer my opinion on how to learn, heal and grow through a situation. The answers I provide are usually only directed to a single person. But recently I had the idea that it would be more beneficial to more people to provide my replies on the air so that others who might be in the same situation may also benefit from what's discussed.
So today I'm, going to read you a couple emails, changing the names and other identifying information so that you won't know who wrote them, or who they're about. After all, there aren't many people who want their personal lives played over an international radio show. Then we'll go where we need to go with the answer, hoping I can guide them with their specific challenges.
I don't want to make this episode only about the two people that wrote these questions, but more about what to do in general when similar events happen in your life.
Today we have two questions about the end of relationships. One is about how the person who initiated the breakup can't seem to get away from their ex and doesn't know what to do. The other question is about a breakup that led to a new relationship where the family just can't seem to accept the new partner.
If you've ever broken up with anyone, you may relate to either or both of these. So let's talk about this today. Even if you can't relate specifically, there's a little something for everyone today.
I look forward to sharing my thoughts with you.
Let's get into an email I received all the way back in January. Again, I will be changing a lot of the details so that the person's identity and situation is protected.
The email goes like this:
"I have a situation in my life that remains unresolved, so I'm hoping you can help. I broke up with an alcohol and drug user a few months back. Since then, I have done what I can to avoid this person but the problem is that we have the same friends, so everyone knows everyone. This person tries to contact me and has even threatened me. I've come to believe that there is no rationalizing with them.  
How can I just get this over with? I want my life back and want them out of it so I can be at peace again. I want to avoid getting the police involved at all costs as I feel it would make matters much worse, especially from our mutual friends."
First off, congratulations on taking a step towards creating a better life for yourself. You realized that the person you were with was toxic, and decided to take a stand and break up with them. Now you're dealing with the fact that the other person was quite dependent on you for their needs. Perhaps they were loving you in an unhealthy way.
In other words, when you love someone, and I mean really love them, you want what's best for them. This includes recognizing yourself as toxic to them, if that's the case. For the letter writer, I'll call her Sarah, her ex is toxic to her, but he or she probably doesn't realize it, so they are doing what they can to keep her in their life. Or, they do realize it, but want her to continue loving them and being there for them no matter what.
Sarah, your ex depended on you to fulfill their needs, and you may have enabled that dependency while you were together creating a codependent relationship. Enabling-type behavior is characterized by supporting an addicted person's use of drugs or alcohol, or whatever the addiction is, by not allowing them to face the consequences of their actions.
This happened with my mom and stepfather. My stepfather has been an alcoholic my entire life, and was married to my mom up until last year. During that time, every time he got drunk, he'd become helpless, or aggressive, or combative, or just plain embarrassing. My mom however would do everything she could to neutralize the situations he created.
When he threw his drinking glass against the wall, it would smash into hundreds of shards. She'd clean it up instead of leaving it for him to clean up when he got sober. When he threw eggs all over the kitchen one day, she cleaned it up instead of allowing it to dry and having him deal with it. She would cook for him, clean up after him, and take care of almost everything else because he was completely unable to do so while intoxicated, which was almost all the time.
This is pure enabling.
Now this could have been you or not, but what enabling does is allow the person with the most dysfunction to become more dysfunctional and the enabler to work harder and harder to make the most dysfunctional person's life easier. In other words, pretty soon the enabler is doing all the work while the other one gets to do anything they want.
When you are in a situation where you get to do anything you want, you begin to enjoy it. You get used to it really quick, and you realize how easy life is. After all, everything is taken care of for you! You can stop paying your bills because someone else will work two or more jobs to make sure they get paid!
You don't have to clean the house because someone else will clean it for you. In fact, you can break things and those things will get cleaned up. Who would want or need anything else when you are taken care of like an infant.
That's really what it comes down to, the enabler tends to treat their loved one like an infant. Except for one glaring difference… the enabler knows that the other person is an adult. This creates a building resentment that can turn into utter hatred for the person who is allowed to get away with anything they want.
And what's strange is that the resentment that builds isn't enough to drive the enabler away. In fact, it almost seems as if it builds up a false hope that things will get better. The enabler doesn't realize that their resentment has gotten stronger because they likely are relying on the "hope" that things will get better.
And year after year things don't get better, they get worse. And, the enabler gets only more resentful. You know why? Because…
Resentment is a bottomless pit!
There is no maximum level to reach when it comes to harboring resentment. Well, let me rephrase that. If there are enough emotions involved and most of the enabler's life is a living hell, then they may reach that breaking point.
But the enabler has found ways to avoid that breaking point by continuing to clean up and cover for the problem person in their life. That's why enablers are able to stay in abusive and toxic relationships for so long: They never let it get so bad that it becomes intolerable.
The author of the email I read to you, I'm calling her Sarah, may have been an enabler or not, but the good news is that she got to a point of maximum toleration, and let go of the problem person in her life.
I know "problem person" isn't the best description, but I don't want to call them a "dysfunctional person" because you wouldn't be able to tell when I was talking about the enabler or not. Yes, enabling is a dysfunction too, but I'm sure you know that by now. They are both dysfunctional, it's just that one person has a really hard job and the other is having everything taken care of for them while they get to do whatever they want.
I'm not saying that every addict or enabled person has it easy, as there are real struggles they are going through. But it's just important to keep in mind that enabling someone is very close to feeding them their drug of choice. After all, when there is no consequence to your actions, there is no empowerment.
Now isn't that interesting? If you or someone you know isn't given the option to be accountable for their behaviors, they will never feel empowered. With empowerment comes the choice to change and better yourself. But without it, it's a lot harder to get out of the space you're in.
Empowerment allows the opportunity for change.
And empowerment comes from accountability.
Now Sarah probably felt some empowerment by taking a stand and breaking up with this toxic person. But now she is facing a different set of variables that is creating a problem in her life. So the first thing I want to ask you Sarah is this:
Do you value yourself?
What answer do you come up with? Do you value yourself? I'm thinking you do because you want more for your life than a bad relationship. From your letter, you're worried about what your friends might think or say and don't want to cause any waves because you share friends with your ex.
So knowing that you value yourself, ask yourself this:
What's more important, my happiness, or my friend's wanting me to stay unhappy?
Now, I realize the way I worded that doesn't leave much room for too many ways to answer the question, and it also implies that your friends want you to stay unhappy, which may not be true. But what is true for you? Do you fear that by upsetting your mutual friends that they will all turn against you and side with your ex?
And if that's the case, are they really, truly people that you want to be around? Most people can spot the dysfunction in others, so it's very likely that they already see that your ex is unhealthy and is probably not the best relationship material at this time.
If they can't see that, then let them know. If they are supportive friends, they will listen and honor your request to keep that person away from you.
I don't have enough information about your situation to give you any definitive answers, but from what I am reading in your message, it seems that it is very important that you don't upset your friends.
I wonder if this thought was also prevalent in your relationship too? Meaning, you never wanted to upset your partner, so you did or said things in a way that devalued and dishonored you.
Listen to that statement carefully, because when you are more concerned about the thoughts and feelings of others over your own mental health and well-being, then you are going about it in a way that will continue to make your life miserable. Sure, you may realize that the relationship you had was not good for you, now realize just how good you are for taking the steps to give yourself a better life.
True friends stand by true friends. There will be those that stand by your ex, and those that stand by you. But the first thing you need to do is realize what you want for yourself. Your friends could be the most amazing people in the world, and each and every one of them could bring something special into your life.
But maybe they're not. Maybe you have lots of fun with them, but that's all they want to do is have fun. Are your friends supportive of you and what you want for yourself? I'm talking to everyone here, not just Sarah.
Don't let the attitudes or behaviors of other people dictate what you know to be the healthiest decision for you.
A friend will always find it in their heart to support the one they love even when they disagree with their behavior. If your friends disagree with you, that is their choice. But if they don't support you, then you have a choice to keep them in your life or not.
And Sarah, if you really feel that your life is being threatened or made uncomfortable in any way by your ex, then block them everywhere you can. Almost every device has a way to block numbers or messages from specific people. If they are getting to you through your friends, then the only way to stop that is to ask your friends to support you in your journey back to health and wholeness.
If they can't support you, then make the decisions that are right for you, the decisions that honor you. When you honor yourself, which is really honoring your personal boundaries, you will attract people into your life that also honor you. And there is no stronger network of friends than those that want to see you thrive.
*****
The next message I received is about another breakup. I love relationship questions because relationships are almost always the best and worst parts of life. When love is involved, so is hurt and pain. It's just the way it is.
Some choose to never have loved so that they never feel the pain that can sometimes come with it. My take on that is if you love someone for them, there will never be pain.
In other words, if you love someone, you want the best for them. You want them to grow and thrive and be successful in everything they do in life. It's a selfless place to be – to want the person you love to be happy.
When the person you love doesn't want to be with you anymore, that is also their way of wanting to be happy. It hurts, absolutely, but it's what they want. It doesn't mean you don't talk, or seek therapy, or try to patch things up. But ultimately, the person you love makes decisions that will make them happy. And sometimes those decisions include leaving you.
What makes us unhappy is thinking about how sad we are without them in our life. When someone no longer wants us, we feel rejected and less worthy than we did when we were with them. But them leaving us does two things:
It gives us a chance to practice love. To tell someone, "I want you to be happy. If that means leaving me, then I honor your choice." Again, it doesn't mean we don't try to work things out, but in the end, a person's decision to leave is their decision to be a happier person in some way. When you really love someone, you let them make decisions that empower them.
The second thing that happens when someone we love leaves us is that we get to explore how we can grow within, without the influence of them. What I mean by that is when someone you've been close to for so long is suddenly no longer there, you get to explore your thoughts without their influence.When my wife left our marriage over a year ago, I found thoughts in my head I didn't even know were there. I found myself coming up with ideas I didn't know existed. I even found parts of me in there that wanted the marriage to end.Now that last part was shocking, because all of my thoughts all of the time during my marriage supported our life together as a couple. But when she was gone, I found that I had simply never allowed them to bubble up from the depths of my mind. It's sort of like learning that you suddenly like a food that you never liked before. You think, "What the heck? I never liked olives! Where did this come from, now I like them?"That's how I felt. I never had a single thought of getting a divorce, yet, after she left, I had some realizations come up that proved that wrong.So when someone leaves, it's hard and painful, and you will likely grieve, but afterwards, you can visit your thoughts and find out what you can do to grow within. After all, if you thought you had it all together while you were together, you might find that you had so much more inside you that got locked away.
I really thought I was a great catch for the longest time. But it turns out that because I was so judgmental, I could have been great in every way, but my judgments about my partner's behaviors would always drive a wedge of resentment between us. When I judged, my girlfriend or wife would resent.
You remember resentment right? It is a bottomless pit, and it never ends. This pit of resentment creates a life of unhappiness and always wanting things to be different.
My wife leaving was a great choice for her, because I never would have known how to get out of my dysfunctional state had she not shocked me. I realize "shock" is a powerful word here, but I really did collapse onto the floor when I learned that my marriage was ending.
I was like, "I thought marriage was supposed to last forever!" but I was shocked to find out that it doesn't always end up that way, especially when there are problems you aren't addressing. Or in this case, problems that I wasn't addressing in me.
My marriage ending hurt bad, but I chose to see it as an opportunity to grow instead of be miserable. I grieved for sure, but focusing on my growth helped me heal fast. I explored what I was doing that contributed to the ending of my relationship, not just my marriage, but in all my relationships.
After all, you soon figure out that when people leave you time and time again, there must be something they see that you don't. That's what happened to me. Every woman I've been with, except for maybe one in high school, left me. Logically speaking, I am the common denominator in all those scenarios, so I must be causing the problem.
That's hard to admit! But back then, I decided to admit it anyway and explore what I could be doing to cause my relationships to end. Also, after my divorce,I decided not to date anymore until I was healed. And that's what happened. The major step forward was the day I wrote the letter to my wife taking responsibility for my role in the demise of our marriage. Writing that letter was so healing for me, because I admitted my role, truthfully and wholeheartedly. This expression of truth, and admission of what I did to cause us issues was what helped the pain to release completely.
So, on that note, let's get to the email. Here it is:
"I got a divorce not too long ago, and my family still has ties with my ex. I'm in a good relationship now, but my family doesn't want to get to know this person because of how this relationship started. My new partner is trying to create a relationship with them, but they are not reciprocating.
How can I respect everyone involved so that they all get along, and my family can get to know my new partner? I believe my family is judging this new person and not giving them a chance."
You didn't mention it in your email, but I get the sense that your new relationship started while you were still married. If I am incorrect, I apologize. Still, it won't change how I respond.
Here's the thing: Close relationships build more close relationships. When you fall in love with someone, and your family gets to know them, they can fall in love with them too, in their own way of course. Then you all start doing things together and really bonding. And sometimes best friendships develop with your siblings or parents or other relatives.
But the problem starts when you break up with that person. It's like telling your family, "You know that person you really love? Well, they're not going to be around anymore. Sorry if it feels like I'm taking your best friend away."
That's somewhat of an exaggeration for sure, but that's what it can feel like! I used to see my brother in law all the time and we had a great time together. Now, I never see him.
This isn't just your boyfriend or girlfriend, it's also your family's friend too. And what you do affects their relationship with that friend for sure. Now you can't all be together in the same room without some discomfort.
I remember many years ago when I went ballroom dancing with my girlfriend quite regularly. We had friends that were couples and also dancers. It was so wonderful to see them every week and do "couple" things together.
Then one of those couples separated and got a divorce. And soon, all we saw was one of them and not the other. Then sometimes in other places, we would see the other and not the one. So on and so on. It became awkward, because we all knew them both as a couple. I didn't know either one of them as an individual without the other person in their life, if that makes sense.
My girlfriend and I had a hard time relating to each one as an individual because everything we did, we did as couples. It made get togethers harder because we loved both of them very much, but now had to see them separately. We even felt bad for inviting one person over the other anywhere, because we didn't want it to seem like we were playing favorites.
Regardless, your family sounds like they really like your ex, and have done their best to keep a relationship with them. Unfortunately, your new partner gets to fill the role that someone else filled for however long, causing hardship.
It is hard to fill someone else's role… in fact, it's impossible. He or she will never be able to replace your ex, which means only one thing: Your new partner has to earn a position in their hearts – if that's even possible. Your family may not be open to letting someone else in because they're comfortable with the way things are.
You could bring home the sweetest, kindest, most gentle person on the planet, but that person still needs to earn a spot in their heart. It could take a long time too, because some family members are very set in their ways.
So what can you do? Really, be the best person you can be and allow your family to love at the level they are comfortable with. If you push at all, you will only create more resistance to them loving, or even liking, your new partner.
Anything you want to happen that doesn't happen on its own will cause things to get worse, not better. If you beg, plead, or try to convince anyone that your new partner is a wonderful person and they should give him or her a chance, you will only feed into any resistance they already have.
Persistent convincing leads to resistance. But patience and letting go leads to empowerment.
There's that word again: Empowerment. Empowerment is when your thoughts and behaviors are yours. It's when you make decisions because you want to, not because someone told you to.
The best way to empower someone is to let them get to those decisions on their own. And the best way to do that is to just be the person you are. And in this case, your partner needs to be themselves and allow whatever to happen, to happen.
It's possible the family may never like this new partner. Or, when they get to know him or her, they love them and start bonding with an open heart.
Either way, it has to happen naturally, not forced, or you'll create resistance. You can do all the convincing you want, but I guarantee your family already has their radar on and is watching your partner closely.
People love to come to their own conclusions and make their own decisions, not be told what's good for them. If your partner is truly a good person, then he or she will rub off on everyone they're around. But no matter what happens, actions will always speak louder than words.
If I were to give you practical advice, I'd make sure your partner was always eager to help out whenever the family needed it. When one of them has a flat tire, make sure your partner responds. When someone needs help moving, let your partner help out there too.
The trick is to be there for others without wanting reciprocation.
If your partner helps out where they can without expecting anything in return, even if it's just wanting to be liked, then they are doing everything possible to allow others to make their own decisions.
Empowered decisions are the most hardcore, long-term decisions that can be made because they are done so under no false representation or convincing. They spring up from within, and are a truth being expressed and acted upon.
Now you did mention that your family was judging this person, so it's possible they have already decided not to like them. This is where some hard personal decisions have to come into play. If your family can't even ignore your partner without causing problems, whether that's due to snide comments or dirty looks, then there has to be clear boundaries presented to your family – in a loving way of course.
One way I'd approach them is to simply state that "If you love me, you'll support me, even if you think I'm wrong. If you love me, you'll want me to be happy, even if you disagree with what I'm doing."
That's it. That's all that needs to be said. They may certainly come back at you and tell you how terrible your decisions and actions were and how their lives are worse because of you, but just "kill them with love" (not in a literal sense).
In other words, any type of response from them can lead to a loving response from you, "I love you so much. If I hurt you in any way, I am sorry. I know I'm not perfect, so I hope you can find it in your heart to forgive me."
It's possible you don't need to be forgiven for anything, but I'm just speaking words that will help squash the difficult situations to show that, really, you aren't upset with them for not supporting you.
This is key because their upset is probably a way for them to show you that you are wrong in some way. But when you show them that you are not upset that they feel the way they do, and even ask for their forgiveness, you are laying all your vulnerabilities on the table.
You are showing them your heart and trusting that they will not stomp on it. This can be a hard place to be, because you are being vulnerable, and vulnerability is a direct path to revealing people's deepest thoughts and intentions for you as a person. If you can be vulnerable when it feels like you are going to be hurt, you will know exactly what you need to do from that point on.
In other words, if they stomp on your heart when you are being vulnerable, you'll know what to expect from them from that point on. It reveals what's going on within them. And once you know that, you'll know where you stand.
This is a very challenging step to take, but it's also showing them that your defenses are down and your heart is in their hands. It could get stepped on, or it could resolve a lot. Either way, you'll know soon enough.
That doesn't mean you need to show your vulnerability immediately. Certainly a "wait and see while being friendly" attitude is a great starting point. Learn to just be kind and don't push your partner onto them. It's like telling someone who their new friend should be.
Everyone needs time to connect. But if the judgments and the awkward and unnecessary comments or looks don't stop, it might be time to be brave and be vulnerable.
I realize this is supposed to be all about your new partner building a relationship with your family, but it really does start with you. They will see what they see no matter how much positive light you put your partner in, so it's time to show that you feel absolutely loving towards your family, and you understand that this will be a big step for them.
It's probably a terrible analogy, but remember how excited a parent gets when they see their child walk or do something else amazing for the very first time? Parents typically don't look down at their children for not walking yet, or not talking yet, or whatever they're "supposed" to do by a certain age. Parents support and encourage, and help out, while the child has to get where they are going at his or her own pace.
That's how adults can be too. We all need to get to a new place at our own pace. Your family will either grow to love your new partner, or not. But all you can do is be the happier person you are, while letting them learn and grow at their own pace.
Another reason to be vulnerable with them is because they probably see your new partner as the one who ruined your previous relationship. By being vulnerable, you are exposing your back and ready to take your lashings.
Let them express and be angry if they need to be. Be a sponge and just let all their angry or hurtful comments come out. You can squeeze yourself out later, but bad feelings not expressed continue to come out in hurtful ways over the weeks, months and years, so you might as well tell them it's okay to be angry or sad and to yell and scream at you if they feel the need to do it.
The trick is to be resilient like a sponge and not react to anything, no matter how painful it is to hear. Be open to them with unconditional love, even if they hate what you did and call you the worst names.
Once all of it is out on the table, then the healing can begin. But healing can't begin while negative emotions are being held back. Your family has more to say, so let them say it. And don't react! Every time you feel a reaction, it's because what they are saying feels truthful to you in some way.
That's hard. When someone puts you down, and you feel hurt, it can be because there's a part of what they're saying that has some truth to it. It might not be direct truth, but being hurt by someone's words reveals what we might unconsciously believe to be true about ourselves.
That's a loaded statement and we'll talk on that subject in another episode, but the point is when the emotions are expressed completely, there's no more pain beyond that. Let them express themselves without interruption. All of us can only be angry for so long, but after we've said it all and there's nothing more to say, peace and healing can begin.
I realize it will be hard if they stomp on your heart. But remember it's not about you or your partner, it's about what's left unresolved in them that's causing so much resistance. Not everyone has an easy time letting go of what is, so they cling onto it, wanting things to not be different.
When you realize that many people don't want change, you can show compassion for their struggles.
I know you're struggling with this situation, but by showing your compassion for their struggles, and being open to all the criticisms they have without reacting yourself, you might just resolve all of this faster than expected.
After all, anyone who directs angry or hurtful comments towards you is really expressing unresolved anger and hurt in themselves. Know this, and you can allow others to be who they need to be to resolve their own fears.
Once those internal fears are resolved within themselves, they can open their heart to new ideas, and maybe even new people.
*****
Alright, if you haven't noticed already, the theme of today's episode seems to be centered around empowerment. In the first segment, Sarah did not feel empowered to get out of a situation where an ex was more or less stalking her. She felt like she was doing everything she could to prevent them from intruding in on her life, but didn't want to affect friendships or exacerbate the situation by involving the police.
When you feel unsafe, you feel unempowered. Sarah felt unsafe, and wanted to move on with her life. But there was another person who kept finding ways to get involved in her life so she couldn't live peacefully without them continuing to pester and maybe even threaten her.
But would you risk your own tranquility for the sake of keeping your friends happy? Is it worth it to live in irritation or even fear just so your friends can have it easy?
Empowering yourself is all about doing what's right for you, and allowing others to do what's right for them. When your priority is your own health and well being, you start to focus on what's most important. After all, you are worthy and deserve to be treated with kindness and respect. True friends will agree and support you in that belief.
You become empowered when you truly believe that you deserve to be treated this way. It's not arrogance, it's honoring yourself. When you really honor yourself, others will honor you too. When they don't honor you for honoring yourself, they want to drag you into their fears and keep you where they are.
That's harsh to say, I know, but anyone who doesn't want the best for you all the time must want something else for themselves. Know what's best for you, and honor that.
With the second letter, I realize I said some things that seem contrary to honoring your personal boundaries. So give me a moment to explain why I wanted this letter writer, I'll call him Bill, to allow his family to express all their hurt and anger without him defending and honoring what he knows to be truth.
Sometimes it's better to find the path that will lead to peace the fastest.
If I was in a situation where I entered into a new relationship and my family didn't like the person I was with, I'd probably say, "Too bad". After all, I'm an adult now and can make my own decisions. I don't need anyone expressing or projecting their own fears onto me.
And, if I get hurt, I'll learn what I need to learn. When it comes down to it, I don't really need anyone telling me who's good for me and who's not. This really is honoring my boundaries. I'm comfortable enough with myself and my decisions to honor my boundaries and not let people cross them.
If my family decides to reject who I bring into my life, they'll have to deal with it, or I'll simply not visit them anymore. I know, it sounds so terrible when I say that! And of course, there'd be discussions with them and figuring out why they don't like so and so, but in the end, I won't let other people's fears dictate my direction in life.
But in the case with this Bill, I told him to not react while allowing his family to speak their mind. This sounds like it may cross personal boundaries, but in reality, if your boundaries are strong enough, they will never be violated, even in this case.
In other words, one cannot hurt someone who is confident in who they are.
But why wouldn't I just give the advice of telling Bill to say, "Too bad. It's my decision, it's my life. I'm happy! And you either support me or you don't."?
The reason is because sometimes the fastest way to a resolution is to let people express everything on their mind. It's also sometimes the path of least resistance. You can stand up to someone and honor your boundaries, but it could create a fiasco. You could also just face the music and allow a person to yell, scream, complain and call you every name in the book, and just wait for them to drain all that emotional energy so there's absolutely no charge left.
When you do this, let them drain their emotional energy, you'll find that suddenly they don't know how to feel angry or hurt anymore, because they let most or all of it out. It might sound weird, but letting someone express and express until they're exhausted, actually does eliminate the negative energy inside them.
It's like one time, when I was married, I let my wife just yell and scream and say anything she wanted to say about me. She was mad at me, she said she hated me, she yelled at me. Everything came out of her mouth. And I sat there and took it all, without reacting.
When she was done, I asked, "Is there anything else you want to say? I'm open, say anything you need to say." She looked at me kind of funny, and said, "No, I guess that's it."
After about a half hour, she felt great! She didn't have the anger anymore, it was gone. Weeks or months of that buildup was simply gone in about ten minutes of expressing, all because I gave her the space to do so.
It's that safe zone we give to people to allow them to express what they want to express. When they feel safe enough to say anything they want, they will say everything that they've been holding back.
How do you get someone there? You tell them, "Say what you want to say. Anything that comes to mind. I'll just listen and let you speak. I'll give you all the time you need."
If they agree, let them say anything, and I mean anything so that afterwards, they know they can trust you to give them that space. If you react because they accuse you or call you names or even make stuff up, you are going to take away their safe zone, and they will file you under "untrustworthy". Or, at least a little less trustworthy from that point on.
Believe me, that's not where you want to be.
After you've given them that safe zone, and they express everything they need to express, thank them for being so honest. That's right, thank them! And if you're feeling anything and want to respond or react, don't. Just don't. This is their time and their space.
You may have some negative feelings come up, but that moment is not the time to express them. Take your turn at another time and even another day. Also, take some time to reflect and introspect. After all, anything that you feel a reaction to is going to have some truth to it. If you feel hurt, then something they said did matter, and you might need some time to be honest with yourself and figure out what it is inside you that is causing you to react.
But, that subject is for another episode.
*****
Thank you for listening to another episode of The Overwhelmed Brain. I thank Jenna, Cou, Melissa, Katie, Amy, Rob, pm, Kim, Share, Kristin, Miguel, and Erin for subscribing to the newsletter. I thank Craig for reaching out on Twitter, Stephanie, Marc, Maria, Gabrielle, Lizzy, Kathy, Greg, Brian, Racheli, Michael, Maria, Debra, and Brian for connecting with me on Facebook, David for following me on Google+,  Carol, Lonny, Erin, Jon (yes, you Jon!), Farooq, Nooshinso, Michael, and Tricia for their direct messages, and Deanna for subscribing to my youtube channel.
Keep up with the show by heading over to theoverwhelmedbrain.com and sign up for your weekly personal growth message. Feel free to reach out to me through the contact link on that site as well.
I want to thank the listeners who are using the Amazon link to support the show. If you find this show valuable to you, just say Thank You by using the amazon link before you make your next purchase from them. The link takes you directly to Amazon, and you purchase directly from them. Then Amazon thanks me for sending you their way.
You shopping habits are making a difference. And, they're going towards a good cause: You.
If I didn't call your name in this episode, just know that I appreciate you and thank you for being there for me, listening, learning, and growing.
My favorite subject in personal growth is personal boundaries. So many problems could be resolved if you would just honor your personal boundaries more times than not.
I know, I know, it's hard to honor them every time, but you do your best. If you get that feeling you're getting walked on, check inward and figure out why you don't want to honor yourself and take that kind of behavior.
I'm a little extreme where I'll just tell someone, "you need to back off", but you may not be ready inside to take such a step. However, when you develop confidence in yourself and honor who you are at your core, you'll find that people no longer walk on you because they will sense that they can't.
You've met those people right? Those people that stand out and know themselves so well that nothing wavers their faith in who they are.
That's what I want for you. So step into your power and be firm in your decisions and actions, so that you can create the life you want. When you do this, you'll discover what I already know to be true about you, that you are amazing.