Podcast: Download
Subscribe! Android | RSS | More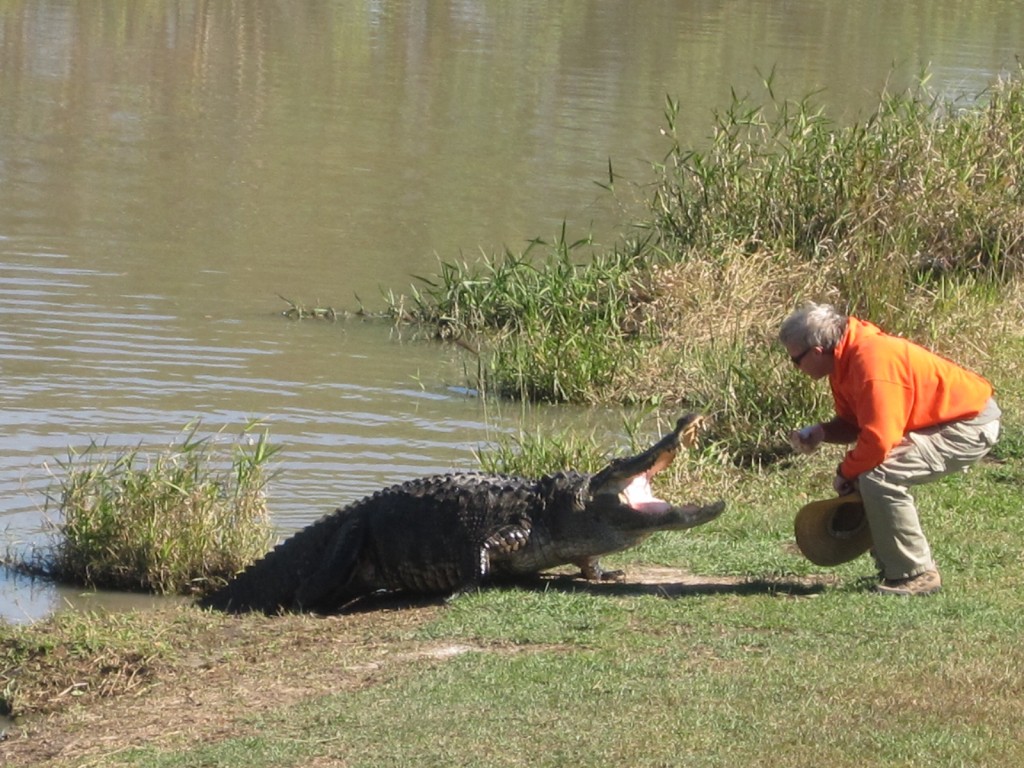 This article is based on the book of the same name for Kindle and other eReaders.
Download it here:
How To Deal With Irrational People: What to do When Common Sense Fails and "Crazy" Behavior Prevails
Irrational behavior is one of the most difficult behaviors to deal with. When someone is being irrational, they don't listen to reason, logic, or even common sense. They are laser focused to fulfill a need.
And until that need is fulfilled, or they snap out of it, the irrational person can be unpredictable and sometimes even dangerous.
In this article, I'll share with you ways to communicate and even "reel in" irrational people to bring them back to a calmer, more rational state of mind.
Everyone knows or has met at least one irrational person in their lives. Whether it's a relative, a co-worker, or even a friend. Heck, even someone who is completely rational most of the time can suddenly "lose it" because something triggers him or her.
But unless they have some sort of psychosis, there are ways to bring an irrational person back to rational thought. For all intents and purposes we'll call rational thought "reality".
So when we are confronting an irrational person, the biggest challenge we run into is that the meaning they give to a situation is different from ours. Their meaning may not even be accurate which gives them a much different perspective than us.
For example, a restaurant patron could be yelling at the waiter about how cold his soup is. Most people would consider yelling in this context to be a tad irrational. I know I would – as there are people starving right now who'd love a cold bowl of soup. But the patron could be thinking that the staff is incompetent or that maybe they have something against him, or who knows what? The bottom line is that his belief – the meaning he attached to the situation – transformed into his behavior.
If I saw someone yelling at the top of their lungs in a restaurant, I would certainly think it was irrational behavior. Perhaps the patron felt like he was being disrespected and cheated. After all, if he paid eight dollars for a bowl of soup, I'm sure he expected it to be hot. However, what we see from our perspective is someone yelling inappropriately and seemingly out of context.
In other words if he was at a rodeo, then his yelling would seem appropriate for the situation. But since he's at a restaurant, his behavior is definitely perceived as irrational. There are a number of reasons someone would go off like that. In the end, what he's really yelling about isn't usually obvious.
***
In this article, I want to teach you some useful strategies you can use to deal with irrational people.
People acting irrationally will not usually listen to reason. They won't won't listen to rational explanations. They only want to fulfill a need within them usually right away. So they behave irrationally until that need is fulfilled.
The problem comes when they can't fulfill that need so they continue to act irrationally. And that, unfortunately, can sometimes go on for years. But hopefully you'll have some tools under your belt after reading this article to be able to deal with irrationality and all that it entails.
I won't lie, it isn't easy. And speaking of irrational behavior, let me share with you what happened to me on a flight a few years ago.
***
In around 2010, I got to pursue an adventure. But not the type of adventure where I was zip-lining in a rain forest.
No, it was a career adventure. Before becoming a personal empowerment coach, I had a career in computers and technology, I was fortunate to be chosen for an IT project that allowed me to travel all over the US to install computers for a major financial institution.
The work was easy, and everything was paid for, including my food and lodging. I did have to give up much of my family time for about a year, but the work was fun and it allowed me to make and save a lot of money to get me out of some serious struggles.
Well, during this time, I would fly a lot. During one flight (I forget to where I was flying), I sat across the aisle from a woman who seemed a tad more expressive than most people.
"Expressive" in the sense that she had no problem telling me all the problems she's had in her life even though we just met.  This is actually something that happens to me quite often, and most of the time I don't mind at all. But today, I would have preferred a quieter flight.
Anyway, we talked most of the trip about different things, and she mentioned how she's usually a little claustrophobic when she flies. After I found this out, I made sure not to talk about things that would remind her of being closed in or surrounded. I made sure that my communication included words like "open" and "free" and "breathing easily".
I guess some people might think I was manipulating or influencing her in some way, but my primary goal was that she was able to get through the flight without getting any negative feelings.
So the flight was great. I sat there, sometimes a tad uncomfortable because of the amount of times she talked about my looks. Not that I wasn't flattered, but at the time, I was married, and not interested in other people.
Well, we started coming in for a landing. Like I said, she was doing great. No fear or anxiety about being inside a plane.
We touched down, slowed, then taxied up to the terminal.
At this point, people started talking, pulling out their cell phones, and shifting in their chairs, waiting to be given permission to get out of their seat so that they can be the first one to stand in the aisle and wait another twenty minutes.
Well, as the plane came to a stop and everyone got up, the woman I was talking to suddenly appeared agitated and worried. She was started to breath faster, and she was clearly showing physical symptoms of fear. I asked her if everything was OK, and she talked about how she was suddenly feeling claustrophobic, and had to get off the plane now.
I said, "Well, alright. The good news is, we're safely on the ground, and we can just relax until this line starts moving. Everything is going to be great. So in a few minutes, they are going to let people get off the plane and you'll be great."
She looked at me nervously, I can tell she was trying to comprehend what I was saying, but she was getting more fearful. She said, "I really have to get off this plane now."
I asked her, "What do you think is going to happen?"
She said, "I gotta go, I'm gonna die if I stay on. I really gotta go NOW"
She became irrational.
No matter what I said, her "fight or flight" response kicked in, and she needed a low-level, primal need fulfilled right now."
She needed to get off the plane, right now.
She became laser focused. And if she didn't get what she needed right then and there, she was either going to scream, or… I'm not sure what else. But I remember her telling me she was definitely going to scream.
Knowing that a screaming woman on a plane would start to freak people out, I told her to look directly into my eyes. Then I said in a calm, but assertive voice, "Alright, here's what I want you to do. If you really want to get off this plane, I want you to calmly tap people on the shoulder and tell them you have a medical emergency. Do this calmly, and give people the time to let you through, so that you can move your way to the front of the plane. Once you get there, you'll be first in line to get out. Will you do this for me?"
By this time, I had already talked to this woman for a couple of hours, so we already had good rapport which assisted in "commanding" her to do something that would help her. I gave her a mission – one that would fulfill her need.
Before I gave her those "commands", I forgot to mention that I told her the following:
"If you do exactly what I tell you to do, you will be able to get off the plane."
Since her primary goal was to get off the plane, I gave her the exact instructions on how to do so without causing a scene. Or worse, getting arrested from an overreaction. Her irrational behavior was suddenly replaced with a specific, logical process that allowed her to focus on anything but her claustrophobia.
And like a good soldier who follows orders without question, she started her mission by tapping the shoulder of the first person she saw doing exactly what I told her to do.
***
We've all had to deal with someone who was irrational at one point in our lives. We all have the capability of being that way once in a while. And when we've been irrational, there was usually someone who told us to calm down, or look at things a different way.
But a funny thing happens when you become irrational: You get focused. Your responses and reactions become more primal than logical. You start getting tunnel vision and doing things that you believe will fulfill a need.
And that's what irrationality really comes down to: Fulfilling a need.
Or something you think you need. After all, someone who is heavily intoxicated usually thinks they know what they want, but they are almost always just a little confused in some way. But someone who is more or less in a "normal" state who is acting irrationally is going off a belief system. They believe they know that what they want is rational, and sane. They usually believe there is only one way to get what they want, and will do whatever it takes to get it.
Hence, the term irrational comes in. After all, if you'll do anything to get what you want, then you'll do things that others might find offensive, stupid, or just plain crazy.
So what can you do if you come up against someone displaying irrational behavior? What's the best course of action, especially if yelling "Stop, stop!" has no effect? Well, I will say this: If they've gone over the top, there may be no stopping them. Meaning, there is a point of no return.
Just think about someone who's getting chased by the police. He drives faster and faster. It's irrational to think he can possibly get away, as police officers can call ahead to their buddies and eventually capture the suspect. The irrationality goes into full-gear, no pun intended, when the suspect drives faster and thinks he or she can keep control of the car while going way beyond the speed limit.
No matter what the police do to convince this person, they will not pull over. They are not listening to logic. They have crossed the line, and will not stop until they get away.
This is what I mean by over the top and beyond the point of no return. At that point, there is no communication.
You want to do your best to catch someone before they go over the top, when there's still a chance to communicate with them in hopes to bring them back to a more rational place.
So the first thing we need to do is define what "irrational" is. My definition is this: An overreaction.
When you are overreacting, that means you are making up stories about the situation you are in. You are fabricating your own meaning to something that is likely not at all what you think it is. Overreacting usually stems from letting emotion cloud your logic.
It's okay to be emotional about something, but when it actually clouds your logic, and you respond solely from a place of emotion, you are closing off rational thought. I realize this skirts along the lines of gut instinct, but even gut instinct has a path of logic when you respond. Irrational behavior usually does not. The path that is followed is typically not logical, it is solely emotional, leading to any number of possible outcomes.
Logic usually guides us to a more beneficial outcome, with knowledge of consequences. But even logic has an emotional foundation, because we won't do something that isn't driven by an emotion of some sort.
I know some of the analytical people are probably yelling at me right now, but it's true: Logic is driven by emotion.
And the way you can test that is to think of something that needs logic in order to process it. Whether it's a math problem, or fixing your car, or even tying your shoe – all things that seem to be only logic based. But the "why" is the driver for the logic. Why you do something is the motivation for the logic, otherwise, you'd have no reason for the logic.
Without emotion, you would not need logic. Why solve a math problem if there's no meaning in solving it? Even if just to prove to yourself that you can solve the problem, that is based on an emotion.
So when someone becomes irrational, they are overreacting to an event or situation, causing them to respond from a place of raw emotion, what some people may label as the "Lizard Brain".
Our lizard brain is the lowest level of behavior, or the closest we get to responding to life's events like an animal. Very survival driven. An overreaction can be seen as an attempt to survive.
We've all seen someone overreact. Just watch any road rage video online. Someone merges in front of someone else, and the person they "cut off" gets out of the car and wants to fight. It's a reaction of pure survival: "You could have killed me, so now I'm going to teach you a lesson because I am in fight or flight mode."
That's not exactly how it goes, as there is usually a lot more swearing, but you get the picture.
So now that we talked about what irrationality is, let's talk about how we can deal with people when they are being irrational, or when they are overreacting. There actually are proven techniques to doing this. You might be surprised by one of two of them, because you probably don't want to do them.
But overall, there are really only two reasons you may need to learn deal with irrational people to begin with. Here they are:
1. You have to.
You might be in a situation where you must be involved in order for things to work out as you need them to work out. So you better learn to deal with it.
2. You want to.
You want to keep a friendship, you want to protect someone, you want to protect yourself, or maybe you just know that the person being irrational is not normally like this and you are there to bring him or her back to reality.
And you remember what I said about reality right? It's when we can experience life without adding our own meaning to it.
And this leads us to the first step in dealing with irrational people:
Do you have to deal with this person? Or, do you want to?
That's it. Plain and simple.
If someone starts overreacting in front of you, just ask yourself, "Do I have to deal with this right now? Should I just walk away and come back when things are better? Or, just walk away and never come back? Or do I really need to stay and make sure all goes well here. Or, am I sort of stuck here and must deal with it?"
The reason I start off with that question, is to remind you that most of the time, you do have a choice. And if you don't see a way out, then you must deal with it. But here's the trick, if you believe you don't have a choice, then you must accept it, and choose to deal with the situation and the person rationally.
What usually happens though is that someone overreacts, then we react to their overreaction. This is usually called arguing or fighting. And the toughest part about that is what leads to our second step in dealing with irrational people:
Don't take anything they say personally
When they are being irrational, then basically anything they do or say is not personal. In fact, what's coming out are usually repressed emotions of some sort. But, even if what they say hurts you, this is the worst time to respond to what they are saying. I realize it's a challenge to not get triggered, because the person could be saying some very mean things. But the time to talk about anything they say is when you can bring them back to a calmer place, when the topic can be discussed more reasonably.
Of course, don't confuse a raised voice or a highly emotional state with irrationality. Sometimes people just get heated or excited, and really need to discuss something. I'm talking about when people say and do things that seem excessive for what's really going on.
For example, when I was a teenager, I had a friend who sold me some tires for my car. I remember he said he'd take ten dollars for each tire. So the next day, he asked me when I was going to pay the forty dollars for the two tires. I said, "You said they were ten dollars".
He replied, "No, I said they were twenty dollars each" I laughed, because I thought he was joking. Then he ran up to me, with anger in his eyes, and his body tightened up and said something to the effect of, "If you try to rip me off, I'm gonna punch you in the face."
I stopped in my tracks, and the first thing I said was, "Whoa, we don't need to do this. I remember you said ten, but if you really believe you said twenty, then I'll give you twenty each. We're friends, I don't want this to come between us."
He calmed down pretty quickly, then apologized he got so angry. It doesn't even matter who was right in that situation, because the point I wanted to make was that he was just under the line of irrationality, but his body and temper were on high alert. He was still listening and responding to reason. If he wanted to, he could have simply punched me right then and there.
And even though he was angry, he was still rational. If he had just swung at me, that would have been a different outcome for sure. But, he was just really heated and was still open to communication. And, it wasn't personal. He was protecting a part of himself, but his anger wasn't about me. Sure, I was there to trigger it, but him wanting to hit me was protecting himself, not a true assessment of who I was at that time.
Don't take it personally. Keep your level head as long as you can to keep the peace as long as you can. All emotion is personal to the person anyway, not to you. Someone else's emotions cannot define who we are. If someone gets angry at you, it is anger they feel inside due to the story they convinced themselves of. If you take it personally, then you get sucked into that story and emotion.
I realize that's easier said than done, but just hearing this now may help you next time you are about to respond to someone else's behavior. Someone else's behavior is not about you, it's about them. And when you see that exactly as that, you will respond differently. It may not work to say, "Well, this is about you, not me, so good luck with it." But just being cognisant of this fact will help you to stay in a more objective place when they overreact to something.
Trying to figure out if someone is overreacting is hard when you get triggered and react yourself. But if you can learn to exhibit some self-control when someone gets into this more excited state, you can usually calm the situation and help them fulfill whatever need they have in them.
With my friend and the tires, since I preferred to keep the friendship, and especially not get into a fight, I chose to submit. It wasn't a threat to my masculinity, it was a reasonable course of action to get to the best possible outcome.
And it helps to keep a level head in order to get that best possible outcome. Otherwise you do more hoping that the situation will get better instead of doing to make the situation better.
Now let's get into some more effective, practical steps that will help us deal with irrational people.
*****
Just a quick note… You can download the digital book, How to Deal with Irrational People through Amazon today!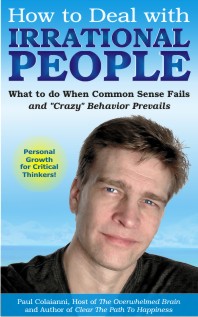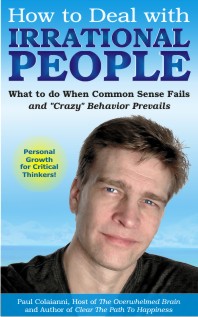 *****
Step three is:
Don't disagree with them
Yes, even if they are completely wrong. If they overreact and are now acting irrationally, don't disagree with what they believe to be true. I'm not saying out and out agree with them, I'm saying don't disagree.
Remember, we want to respond a certain way only after they've become irrational so that we can keep a line communication open with the person. When they're in an irrational state, reason is thrown out the window, and logic takes a back seat.
In an irrational state, a person has a need to fulfill, and they are beyond logic. So if we don't disagree with the person's point of view, this will help us figure out where they are right now, and will also help bring them back to a more rational state.
There's a technique called pacing and leading that I want to teach you. It involves understanding the person's point of view first, then slowly guiding them into another point of view.
Pacing is when the other person knows you understand their world, and what they're currently experiencing. If someone is angry at someone else, acknowledge that they are angry at them. "So you're pretty angry with them, aren't  you? What happened next?" Pacing is showing them that you are with them every step of the way. You aren't judging what they're saying, you're just along for the ride. You're letting them know you're absolutely listening to what they're saying, and you understand everything they're saying. You might even ask them to tell you more.
"And after he said that, what did you say?"
The whole point of pacing is to be curious and act interested in everything they have to say. It shows that you care and want to learn everything you can about their situation.
Have you ever talked to a customer service agent who just didn't understand why you were so angry? Or didn't seem to care that you were angry? You know the type, they always answer with, "I'm sorry, that's our policy. There's nothing I can do."
And you respond, "I'm telling you that your company caused the problem, so it's not about policy, it's about you correcting the issue!"
And they say something like, "I apologize, but there's nothing we can do."
If you're in customer service, the first rule of thumb should be to first seek to understand the customer. That's it. Just listen, and explore all the reasons they are upset. So many problems would be rectified a Lot easier if you just seek to understand the person.
Stephen Covey talks about this more extensively in his book "7 Habits of Highly Effective People". Everyone who communicates (which is everyone) wants to be understood first and foremost. Otherwise, why communicate?
So when you meet someone who makes it a priority to understand you, and how you feel, and what your beliefs are, you connect with that person. You bond in a way.
So pacing someone means to understand them. Ask them questions. Really be, or at least act, interested in everything going on. It goes a long way, and it's a great way to develop a rapport with them. Rapport is a shared trust in one another's company.
When someone is being irrational, or even just really excited or agitated about something, it's hard for others to communicate with that person because most people around them aren't in the same space. So when you come along and just want to know more of what's happening inside of them, it does a few things:
1. They feel like someone cares
2. They no longer feel like that they have to tackle this problem by themselves
3. They get to release some emotions. They get to vent
Pacing allows the other person to ease back a little because they get to release some steam on someone else. I won't lie, you gotta be ready for it. You might take what they have to say too personally and won't be able to handle it. But if you are resilient, and really want to help this person come back to reality, then listen to them and seek to understand them.
When you can tell that they've eased up a little, or that they now seem to trust you a bit and you have a good rapport, it may be time to start the second part of this technique called Leading.
When they feel understood, and know they aren't alone in their struggles, and you can sense that you are now getting along well and have good rapport, now when you say things, they may start to agree with you. You will notice that they are now unconsciously pacing you.
Leading is when you behave the way you want them to behave.
Just like the story I told of that lady who wanted to get off the plane. I listened and related to her. Then when she knew I understood her, I then helped her get back into a calmer state. But if I never first paced her experience, or chose to seek to understand her first, and just said, "You need to calm down right now", she may have completely lost it.
Who knows actually, maybe if I had yelled at her, she would have been more scared of me than anything and would have acted differently from that point on. But I'm glad to chose the path I did for obvious reasons.
Another example is a time I worked with someone I didn't like at all. He had a superiority complex and believed he knew what was best for everyone. Well, our supervisor yelled at him, really putting him down. He told me about it, and I did exactly what I've been talking about: I paced him. I listened to him and related to him. I really chose to understand his version of events. And after he shared everything with me, I started asking him questions like, "What do you think you did to make him so mad?"
At this point, we already had rapport, so that question wasn't offensive. To him, it felt like a genuine question that made him think about his own actions. He thought that maybe he could have acted a little differently. And realized that his own behavior might have been over the top.
In this case, even though I didn't like the guy, I chose to relate and understand him. By doing this, he opened up to me. By the end of the conversation, he wasn't as agitated anymore. Though, I really wanted to say, "Why don't you just quit?" ha ha, actually, I may have ended up saying something like that later on down the road.
There are other ways of pacing and leading, but when it comes to bringing people out of a hectic or frantic state, it's a good tool to keep in your toolbox.
Which leads us to the next step in dealing with irrational people.
***
The fourth step in dealing with irrational people is:
Act more irrational than them
Yes, now we're really diving into how flexible you can be. I recorded an episode of my podcast a while back where I talk about how the more flexible you are, the more you can control the system or situation. Well, when dealing with an irrational person, the more flexible you can be in your behavior, the more likely someone will snap out of theirs.
It's like they become rational when you become irrational. It's almost a reverse psychology. The example I shared earlier with that coworker I didn't like, I did this very thing. He was upset at our boss, and was saying things like, "He's a nobody, he doesn't have a right to talk to me that way."
I came back and said, "I would totally go in there and punch him square in the face. Who cares about your job? Who cares about a stupid lawsuit? It's worth the risk and it saves your dignity and respect."
Well, now he had to calm me down! He became more rational noticing how irrational I was getting. It's a really neat trick, but you do have to be careful how you use it. Because if they are already in an excited state, it's possible they would actually do the things you're suggesting. In hindsight, I should have said, "I'm going to go in there and punch him in the face! He has no right to talk to anyone like that. I just paid off my house, but I don't care. It'd be worth getting sued and going to jail just to see his face when I do it."
Of course, I'm not serious about all this. It's just an act! But to an irrational person that you're trying to reel in, it could be what calms him down.
Act more irrational, and they may just snap out of it and figure out a way to calm you down. Again, just be careful with it. In fact, you want to be careful with all of these steps because someone in this kind of state where they are acting irrational has the ability to do irrational things.
They could be so upset or distraught that you may be in danger. And this leads to the final step in dealing with irrational people.
***
The final step is:
Above all, get you and anyone else involved out of danger
Irrational behavior is brought on when something snaps inside someone. I know a woman whose husband got mad at her one night. She said she never saw him look at her that way before. Ever. She saw him disconnect from her completely and focus entirely on his anger. He was livid, but also illogical. He let go of rationality and reason, and grabbed a gun. Fortunately, he didn't shoot her, but just the fact that he grabbed it was enough to send a message that this person has the ability to not be himself if he feels angry enough.
You've probably seen this in people yourself. Someone gets pushed so far, they snap. They actually become unconscious and act out of pure animal instinct.
This happened to me when I was 11 or 12. My friend and I were play wrestling, trying to keep each other on the floor (yeah, we were boys). Well, when we were done, I sat at the table. He decided he wanted to keep wrestling, so he said, "Come on, let's wrestle!"
I was like, "No, I'm done"
He said it again, "Come on! Let's wrestle!"
I said, "No, I don't want to"
"Let's go, let's wrestle!" and he started lightly pushing on me and tapping me in the face.
I said, "No, I don't want to!"
"Come on, let's go. Let's wrestle!"
I was getting more and more angry, and no matter how many times I said "no", he insisted on wrestling. My blood was beginning to boil. Now, when I was 11 or 12, I had never gotten into a fight, nor had I actually ever gotten this angry. So this was the first time I had felt this rise in me.
And when he pushed me one more time, I snapped. It was almost a blackout, because I don't remember consciously making the decision to snap, but I did just that. I swung my fist around, and connected with his jaw. He fell to the floor, holding his mouth.
I felt all my anger disappear right then and there. And I calmly sat down and said, "I told you I don't want to wrestle anymore."
It seemed like an eternity before he got back up. But finally he did. I don't remember if he looked at me or said anything, but he did leave and go back home.
We all have this ability to snap. We all have the capability of becoming irrational. When you are pushed and pushed and pushed, you eventually "snap" and push back. I believe it's hardwired in us. In fact, over the thousands of years of our adapting and evolving psychology, we've learned to repress and be more tolerant when people are pushing us.
Good thing too! We don't just want to reaction hastily in every situation, because we could hurt people when we don't mean to. You have the ability to snap, even if you are the kindest, most sincere person in the world. You can become irrational, just like everyone else.
And let me throw this little surprise at you. The more subservient you've been, the more submissive you've been in your lifetime, the more likely that if and when you do snap, it'll be like a nuclear explosion. Typically submissive people have a lot of repressed anger. This buildup continues to build over the years, and becomes a ticking time bomb.
So it's not the hotheads I worry about, it's the quiet ones. You've heard things like that on the news right? "Oh, he was always so quiet and nice. He couldn't have killed all those people."
I'm not trying to generalize quiet people, because I'm typically a quiet person, though you probably don't believe that. My quietness comes from the enjoyment of the present moment, and not getting wrapped up in everyday drama. Of course, in the past, my quietness was usually the time I was swallowing anger or sadness. This was building inside of me, and it caused behavior in me that I'm not proud of. Once all of that was released, and I became more of an individual who honored his personal boundaries, that behavior I wasn't proud of disappeared.
So there are quiet people who are quiet because they don't have much to say, then there are quiet people swallowing anger and feeling resentment, and believe they can't speak up for one reason or another. These are the ones that have a lot of power stirring in them. But that sounds like a topic for another show.
So let's go over what we talked about today
***
You know, irrational behavior is nearly impossible to deal with when it gets down to it. You ever watch those cop videos, where the officer is trying to talk rationally to a really intoxicated person? The officer is doing his or her best to communicate, but the conversation always goes nowhere. Too much alcohol will create that irrational behavior.
I know this first hand, as one morning I woke up to find smashed eggs all over the kitchen. We're talking on the floor, on the ceiling, on the walls, everywhere. It was like a chicken exploded. But it was really just my step-father being irrational because of too much alcohol.
When alcohol or drugs are involved, it's almost pointless to deal with the irrational person. Either get out of the way, or do what you can to keep them from harming anyone. And, consider not having those people in your life. Because anytime a person is irrational, they can become dangerous.
I realize there are different levels of rational and irrational behavior, and we have to judge in the moment if the behavior we see is actually irrational, but we're all pretty observant enough to know when things don't seem right. So just remember, even irrational people are just trying to fulfill a need. Even in their irrational state, they have a need to fulfil.
Be curious, find out what they need. Can it be fulfilled? Can something else placate them for now?
And that's what irrationality really comes down to: Fulfilling a need.
If you've tried to calm the person down and it's not working, remember that irrationality is a state one is in when they are overreacting to something. If a person is over-reacting, then you know they've already gone beyond logic, and  cannot be reasoned with. It's just not going to happen, well, not easily that is, because reason left the building a long time ago if the person is irrational.
Irrational people let emotion cloud their logic, and the lizard brain kicks in. So real quick, here are the steps to see if we can get through that cloud and get a message into their brain:
1. Ask yourself, "Am I dealing with this because I want to, or because I have to?"
Remember, just because someone is going off, it doesn't mean you even have to be involved. Walk away, or stay. But you do have a choice.
2. Don't take anything they say personally
We tend to remember the mean thing that some irrational person said to or did to us, more than the nice thing that some completely sane person said or did to us. Remember to consider the source. You are doing the best you can, and you are worthy. Anyone who thinks less is simply irrational. Period.
3. Don't disagree with irrational people
Hey, if they are already irrational, then it's time to get a little irrational ourselves. Don't disagree with what they're saying, at least verbally. This is where pacing and leading comes in. Pace their experience by seeking to understand where they are and what they believe right now. Once you do, they will tend to trust you.
Then when you develop a good rapport with them, you can start leading them back to reality. It's hard to get an irrational person to just listen to your commands. But if you build a trust with them, it will be less work for you to get them to follow you back.
Remember that seeking to understand someone tells them that you care, that they are not alone, and helps them to vent a little. All in efforts so that they feel a little less frazzled, and a tad more in touch with reality.
And finally, when all else fails, act more irrational than them.
This is where your true acting skills come into play. I figure if they are so irrational, they won't listen to anyone, be even more irrational. It may be the thing to snap them out of it. If you don't think you can do that, or decide that it might be too dangerous, then just make sure to get you and anyone else involved out of danger, before anything else.
When people snap, it may seem hopeless. Sometimes you can reel them back in, sometimes you can't. But maybe some of these tools will help you the next time you need to deal with that kind of situation. Or, if anything, help you to communicate on another level, in order to get through to some people that are hard to get through to.
***
As the woman on the plane tapped on shoulders, making her way to the exit, calmly telling people that she had a medical emergency, I eventually lost site of her. We were near the back, and it was a long plane.
People were letting her through though. It probably wasn't a real medical emergency, but it could have turned into something much worse. After all, a woman screaming uncontrollably on a plane, to then perhaps get tackled by an air marshall and handcuffed, might have made the situation much more unpleasant, that's for sure.
By the time I got off the plane, I saw her standing there. She gave me a hug and said she felt so stupid, but wanted to thank me for helping her. I told her she did great, and that we all have moments that pop up that we think we can't handle. But she did it. She handled it.
I never saw her again, but I'd like to think that in the future, if she's ever in that kind of situation again, she will believe that she can get through it, just like she did that time so long ago on a plane next to that tall, handsome guy (her words, not mine, ha ha!).
We all know someone who can get a little irrational every now and then. The trick is to reel it back in, so that it doesn't escalate. And if you find yourself as the irrational person, well, it might be challenging to remember these steps and perform them on yourself. So hopefully a friend has heard the show and will save you from any future, embarrassing situations.
***
This article has been updated, revised and formatted for Kindle and other eReaders. Get it here!
Even though this article was about how you can help others, it really does end up helping you. Everything you can do to help someone else creates a better world for you. It sounds selfish I realize, but you are allowed to feel selfish. Especially if it benefits others.
Isn't that great?
When you feel good about something you helped someone through, people feel good because you feel good.
So, being selfish can be a good thing. Your happiness creates happiness.
Learning what you can to help others creates a better world. I'm all for that. And I'm all about your learning and growth. So I want you to know that you have what it takes to create the life you want. You are unique and powerful, and have so much more potential than most people believe about you. 
Keep learning. Keep growing. And keep that fire burning, because you aren't done yet. The world is just getting to know you. You are amazing.