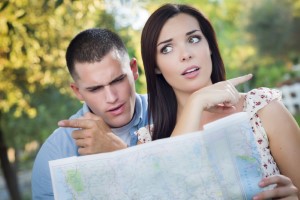 What you perceive to be true and what is actually true aren't always the same.
In fact, those two things can be so far removed from each other, you might wonder how you ever thought what you thought in the first place.
You are not always right, this you already know. But what about when you know you're right and you decide to take action on that "knowledge"?
Who is affected by your behavior when you depend on a belief that may actually be incorrect?
Your perceptions define your reality, and your behavior is based on what you believe to be real. This article is a reminder that what you think is true may just be an alternate reality that you made up.
How perception controls your emotional state
Jim Brown said: 
I'm not interested in trying to work on people's perceptions. I am who I am, and if you don't take the time to learn about that, then your perception is going to be your problem.
I love how much confidence there is in this quote. Mr. Brown is saying if you can't accept me because of some false reality that you created about me, that is your fault, not mine.
I want to work on your perceptions and help you see that there is always more to what you see and that your life can be so much less stressful if you just decide to expand your perception.
Perception is powerful and creates what's true for you. It is the path to belief, and you will almost always act upon what you believe. 
Jim Brown says "your perception is your problem". It doesn't get any more direct than that.
On a previous episode of my podcast, I talked about how a male gym teacher was arrested in Virginia for sexually harassing a young female student. She said he brought her into an equipment room and attempted to force himself upon her on top of some tumbling mats.
However, she was lying.
None of her comments turned out to be true. And later on, it was found that she made the whole thing up.
The man lost his job, his reputation became tarnished, and his family went through hell all because a student made something up. All of this happened because almost everyone believed that young girl's story.
There are real cases of molestation so things like this, unfortunately, do happen. But without even talking to the girl, police investigators came into the school and arrested the teacher.
Our perception is that if a child says that an adult touched them in a sexual way, it must be true. In most cases, it probably is and in all cases, an investigation should definitely ensue.
But what about when it isn't true?
Even after the teacher was acquitted of all charges by a jury in a record 47 minutes, there were still protesters that absolutely believed the girl was molested and that he was guilty. This was even after the girl told her Facebook friends that the whole thing was a joke!
In other words, there were still people whose perceptions created the alternate reality that made this teacher's life hard even when the rest of the world knew he was innocent.
Our perceptions are what define our behavior. When we refuse to allow any flexibility in our perceptions, we close our minds to possibility and sometimes even the truth.
Child sexual molestation and abuse is a very awful and painful reality, and there are simply too many children that fall victim to it. So we are almost always ready to believe a child when they claim such a thing.
The idea behind any accusation however is to keep an open mind to all possibilities. If we are to truly seek justice for those who deserve it, remember to save our opinions until we hear all sides of the story.
Perception is created when we decide what to believe. When there's a lot at stake, even when you want something bad enough, seek to be objective and balanced in your observations.
When Jim Brown says, "I am who I am, and if you don't take the time to learn about that, then your perception is going to be your problem" I'd go one step further and say that it could be everyone's problem when you are dealing with hot button issues.
In the case of this gym teacher, people wanted to bury him before they heard any of the facts, all because the welfare of a child was at stake.
Believe me, when I see news stories where people are caught doing heinous acts like that, I want justice as well. But I have to step back and tell myself, "I don't have all the facts yet."
I want to believe that they caught the bad guy. And I'm certain, in most cases, especially when it comes to child abuse of any sort, the bad guy has been caught. But because there are so few people that turn out to be good in these cases, the ones who are truly innocent end up suffering and going through the wringer until they are cleared.
And even then, they are never cleared because there are still people out there that believe the person is guilty.
It's like the reviewer who thought I was talking about my ex-wife's issues without permission. She thought I was very selfish and just plain mean. The reality she created, her perception, caused her to take action by writing a review and sharing with the world that I was not in integrity.
In my opinion, when you jump the gun and make the assumption that your perceptions are correct, without asking if what you believe is true is actually true, you're traveling a dangerous road where people's names could be tarnished and their reputation corrupted.
Imagine if someone thought that you smacked their kid and they showed up at your door and just started yelling at you because they believed without a doubt that you smacked their kid.
It's not a good feeling to be accused without even having a chance to defend yourself. Our emotions get involved. And once that happens, our logic tends to take a back seat.
Let's bring some of that logic back into the front seat and see if we can create a better perspective of perspective ourselves.
(Update: Since I created this article, the gym teacher I mentioned above has been accused of more inappropriate behavior, bringing to light that he may actually be a threat to children. I left the original article unedited because the point I made about jumping to conclusions is still valid, even if those conclusions later turn out to be correct).
In my book, How to Deal with Irrational People, I talk about how all irrational behavior has a root cause. Actually, all behavior has a root cause, but my main focus in this article is on what causes us to do the things we do.
In the case of irrational behavior, what causes someone to act so irrationally? Irrationality is what happens when you have faulty beliefs. In the book, I talk about how irrational people attach an inaccurate meaning to reality. And when one person looks at something and thinks, "Isn't that nice?", another person might look at it and say, "That's awful and should be destroyed!"
How do two different people have such vast, differing opinions? Why does one person believe everything is fine and another one thinks life is chaotic and out of control?
The environment is the same, but the one thing that will almost never be the same is our perception.
Someone walking uphill might complain about the hard climb ahead while the other person might get excited about the chance to build muscle and reach the top.
Your perspective defines your experience.
It's good to keep this in mind because just this one statement can redefine your entire mood.
Have you ever seen a homeless person and felt really bad or even guilty? As you're driving or walking by, you get that twinge of pain or feeling bad and your heart goes out to them.
If you do feel this way, you are likely a compassionate person and don't like to see others suffer. However, think about this: 
How do you know they're suffering?
I mean, how do you really know they're suffering? I'm sure the first thing that comes to mind is that "Of course they're suffering, they live on the street!" But does living on the street automatically mean someone is suffering? I know from personal experience that it's not always true.
In fact, there are many facets of homelessness you may not be aware of. After I spent a couple of months in a soup kitchen and a few more months on welfare, I met a lot of homeless people. Some of them fell into a series of bad circumstances, and others, believe it or not, wanted to be homeless.
I learned this after I got back on my feet. When I was no longer trying to survive, I started a business and wanted to donate some of the profits to a homeless shelter or organization of some sort. So I visited one in San Diego and got a tour.
The director of the shelter told me they take a van out every night and they give to the people sleeping on the streets food, water, and directions to the shelter.
What they heard more times than not was that these people were perfectly content living on the street. Their begging at street corners was keeping them paid and well-fed and they loved being out of the system of taxes and government.
This really shocked me because up to this point, I didn't think people chose to be homeless. I thought they were all victims of circumstance and/or poor decisions in life. But it turns out so many of them were content living this way.
I'm not saying being homeless is easy for them, but they are making a lifestyle choice that perhaps many of us would not make. And of course, it's not a choice for many others.
A lot of homeless people don't want to be where they are just like I didn't want to wake up at 5 AM every morning to stand in line at the soup kitchen.
There are all kinds of homeless people. Some are mentally ill, some just want to be detached from society and rules, and others have their own story and certainly don't want to be in that predicament.
But can't you say that about many segments of society? I've met middle-class people who hate their jobs, hate where they live, and want a new relationship.
Then I've met poor people who are happy as can be living in a shack, alone in the woods.
There is no standard that defines happiness for everyone, there is only your personal definition of what happiness means to you.
You don't really know someone's story and you don't know if they're actually suffering or not until you talk with them. You may only be perceiving that they are suffering.
And of course in the homeless population, there definitely those that are suffering. When you see someone pulling food out of a trash can, that's a lot different than holding a cardboard sign asking for money or food.
That's either mentally ill or really, really down on your luck. Or both. But because we wouldn't want to be in that position, we call it suffering.
Suffering is labeled by what we wouldn't want to go through ourselves, more or less. If we saw someone hit their thumb with a hammer, we would imagine what that would be like and immediately empathize with the person suffering.
When there's pain involved, there's usually a point at which suffering takes place. Suffering however doesn't have to last, but pain can last for days, weeks, or more. And when someone is in pain, we usually empathize because most of us are compassionate. We might think, "Oh that poor person!" because we ourselves wouldn't want to go through their experience.
However, feeling sorry for someone comes from our perception of what suffering is to them. And when you see a homeless person lying on the street, your first thought might be that they're suffering. And you may be right!
But you also may not be right.
In fact, have you ever actually sat down long enough to watch some homeless people's behavior? I lived in Portland, Oregon for three years and there are a lot of homeless people there.
Anywhere you go in that city you're going to run into them. So I spent many days sitting outside eating lunch somewhere or just hanging out in the park, watching homeless people. I got to observe their behavior.
One of the most revealing things that happened to me was when this kid came up and asked for money to stay in a hostel for the evening. He said he was new in town and just needed a place to stay for the night.
Fast forward about a year later. In the same part of the city, this same kid holding the same sign walked up to me and told me the same story. Was he still looking for money to stay in a hostel after a whole year? 
I recognized him right away and this time, after he asked for money for the same reason as before, I got a little upset. I thought to myself, "You're gaming the system! People like you give the disadvantaged a bad name."
I think I told him, "You're the same guy who was here last year asking me the same question. Get lost. You're a liar."
That incident opened my eyes to the fact that many homeless people figure out the story they want to tell, then use it over and over again to collect money.
I realize there are people reading this right now thinking, "Well, what's wrong with that? They're still less fortunate and need to eat."
I sort of agree with that, but sort of don't.
Again, that's a perception. Perception makes you believe things that may or may not be true. Your perception narrows your perspective to a very limited box of reality.
They are not always less fortunate. Some of those beggars you see are making more money than you. Some of them are homeless by choice.
And like the director of the homeless shelter told me, many of them don't want to be helped.
He would offer to give them a ride to the shelter but many didn't want to go. In fact, according to him, most of them didn't want to go. They were content where they were refusing food, shelter, and a shower.
I'm not here to put people down who are homeless. Far from it in fact. I'm only making a point that not everything is as you perceive it to be.
What you may think is suffering could be something else entirely. I used to feel a lot of guilt and shame for having a better life than a beggar on the street. That was until I started noticing some of the beggars were wearing nicer shoes than me. That caused me to become more observant and more suspicious.
Then when I was one of the homeless, I was mixed in with all types. Those that were truly suffering and those who were comfortable and even happy being homeless, getting free food and money every day.
After that time in my life, my perception changed. It's not that I didn't feel sorry for homeless people anymore, I just stopped feeling guilty.
The guilt and shame stemmed from believing that I was better off than a homeless person. And I felt bad because I was doing nothing to help them. But that dissipated quite a bit when I found out that some of them were happier than I was. 
I still have a place in my heart for those who truly suffer, but now I'm not so bombarded with guilt and misery when I see homeless people. That's because I've changed my perception. And when you're able to change your perception you can stop feeling so bad all the time. There are perspectives that you can adopt to help you achieve more balance in your emotions and stay level-headed.
Perceiving homeless people differently is only one example of a perception shift, but there are many others all around us. Sometimes people truly suffer, and sometimes what appears to be someone suffering is really just our own belief that they are.
What's real is what's actually happening, not what we think is happening.
Can we change our perception?
Perception can be defined as what you experience and interpret through your belief filters. In other words, when you form a belief about something and don't bother to substantiate whether what you believe is true or not, you have a perception.
A good example of that is when I heard a speaker on stage talking about something really awful that happened to her as a child. There was another speaker in the front row of the audience watching her.
Then a member of the audience got up and recited something just as awful that happened to her. Everyone in the room was touched and they were tearing up except that one guy in the front row.
In fact, he didn't seem to care at all. He showed no interest whatsoever in these people pouring their hearts out.
I immediately made a judgment about him. I said things to myself like, "He must not care! How could he possibly care if he just seems so uninterested?" So many questions and judgments went through my head, and I found myself thinking the worst of him.
I decided I didn't trust him And I tried to avoid him throughout the night.
Then it was his turn to speak. He got up, starting talking, and it surprised me how he was connecting with the audience. I thought, "Wow. Public speakers know how to work the audience. They practice speaking until they perfect it – tugging on our heartstrings and everything. Clever."
A few hours after he finished his talk, I had kind of forgotten about him. But I learned that he had posted on Facebook all kinds of videos of talks he watches. He said a lot of nice things about the speakers in those videos, even going as far as quoting what the speakers said.
When I conversed with one of the attendees later, we talked about this man. She said something nice about him and how kind he was. It turned out he was so focused on recording all the speakers on his phone (so that he could post them to Facebook) that he wasn't attached to the same emotions the audience was experiencing because he keeping his mind on the filming process.
I felt ashamed.
I believed he didn't care, but it turned out that he cared quite a bit and even made sure to distribute the recordings of everyone else around the world. 
My perception of him was that he was uncaring and cold. The reality turned out to be quite different. He was very caring but focused on getting his tasks done. I learned a lot that day. 
Our perceptions are based on what we believe is true. So how can we change that perception and do we even want to?
It's possible your perceptions save you a lot of time. They're the generalizations you make about the world. For example, saying something like "All pit bulls are dangerous" would give you an easy-to-follow rule that tells you to stay away from all pit bulldogs.
Whether that statement is true or not doesn't matter. What matters is the ruleset you created for yourself and if it serves you. Your perceptions define the rules.
However, when your perceptions are inaccurate, and you don't question what you believe to be true, you end up judging things without discernment. Just like when that gym teacher got accused of molesting that child, most people judged him without discernment.
There are sometimes good reasons to do this, of course. If you saw someone who couldn't defend him or herself getting picked on or beat up, you might jump in to save that person without thinking that you might be misinterpreting the event. After all, you see one person beating up another person.
Your best guess at what's happening is usually the only thing you have to go on, but when there's an opportunity to be fair with all the data you're receiving so that you can make an educated guess about what's happening, it's sometimes best to "hear both sides of the story" so to speak.
In a way, your perception is only helpful when you don't jump to conclusions.
The idea I want to convey to you in this article is that just because you perceive something to be true doesn't make it true. However, when you think about changing your perceptions, it's actually quite tricky for one major reason:
You are your perceptions.
You are the filter through which life is interpreted. And if you are carrying around some dysfunctional programming, and you still need to heal from some old emotional wounds from your past, you're going to experience the world through filters much different than someone who might be further along in their personal growth journey. 
Change your perceptions
The first step in changing your perceptions is knowing that you are your perceptions. What you perceive can only be understood by relating it to what you yourself have gone through.
For example, since I grew up in an alcoholic household, I used to believe that anyone that drank alcohol was dangerous. I often didn't want to be around them.
Because of my upbringing, I believed 100% that people who drank alcohol were not safe to be around. When I grew up and moved out of the house, I brought that same perception about people who drank alcohol into my adult world. And that caused all kinds of problems. Not just with alcohol, but with anything anyone could get addicted to, including sugar.
My problem was that I didn't know I had a perception problem. I believed that everyone else had a problem and that I was perfectly fine. 
When you think everyone else has a problem and you believe you're the only person that's healthy or fine, it's time to re-evaluate yourself and figure out if that's just a perception problem.
You could perceive yourself as fine, but ask yourself this question:
"If there was something that I should probably change about myself, what would it be? "
Seriously ask that question of yourself.
Once you come up with an answer, compare it to what you perceive in the world. In other words, whatever you'd change about yourself, is that what you notice in the world?
For example, if you want to lose weight, do you notice other people's weight? Do you look at an overweight person and think, "Wow, that person needs to lose weight!"
What usually ends up happening is that you focus on others instead of yourself.
A good example of that happened when I was still married. I asked myself something similar like, "If I could change anything about myself, what would it be?"
My answer was that I didn't want to react to my wife eating junk food. I wanted to be okay with her eating anything she wanted.
That realization helped me figure out that I was the problem in our relationship, not her. I had spent most of my marriage and even my life worrying about what other people did, that I didn't bother to look inward to discover if I was causing many of the problems in my life.
Think about specific that bothers you. Maybe you have a parent that belittles you or a relative that is always begging you for money.
Who are those problem people in your life?
Ask yourself, "Why do they bother me so much?"
Typically you'll come up with something pretty deep, something I'll talk about in the next section. 
Why people bother you so much
Have you thought about the people in your life that cause you the most problems?
Do you want to know why they cause you problems?
Sure, it could be your perception of them. But what it really comes down to is something much deeper, much more complex to understand. The real reason other people bother you is because you've attached a part of your identity to them.
Who you identify yourself to be – how you feel and what you do every day – is a large part of your identity. But even more so, the people in your life help define that identity too.
A good way to look at this if you feel more powerful when you're with more people. When you're by yourself and someone threatens you, you can feel very scared and alone. But if you have one or more people with you, you might not feel that way at all.
In fact, you might be quite brave.
The reason for that is two-fold:
You're not so ready to jump into fight or flight mode, so you're not as stressed
Who you are has expanded
Who you are expands into the people around you because of your verbal and physical interchange. That means that the person to your right or left is an extension of who you are. They are another resource and influence.
This person can lift your spirits or bring you down. The more positive people you are around, the more positive you generally are. The same goes for when you hang around negative people.
It's just like that Jim Rohn quote that couldn't be more true: 
You are the average of the five people you spend the most time with.
This means the more you hang around with that very critical friend, the more critical you become. Or the worse you feel about yourself because you are hanging around them.
Either way, you simply don't feel good.
And if you're with a group of people that make you feel bad, you are not with the right crowd. And this goes for family too.
There are too many well-intentioned family members that try to help us. But in reality, many can't.
Whether our family, friends, co-workers, or other people in our lives, you are going to be the average of those you spend the most time with.
Think about that not even in levels of your personality or mood, but in your levels of personal growth too. I once heard a phrase in the computer world that I never forgot. It really applies here.  When someone asks, "Why is my computer so slow?"
The best answer I've ever heard is, "It can only go as fast as your slowest component."
I thought, "Whoa, that's so insightful! So if I have a blazing fast processor, a speedy motherboard, a quick printer, but my hard drive is slow as molasses, then my super-duper fast computer will never work faster than my hard drive! Wow…"
I have learned to believe this about people too. If I choose to hang around with people that don't empower me, then it will be like getting stuck behind an 18-wheeler going up a hill.
You know what I mean. It happens when you're in a hurry and want to get to your destination fast, but end up behind several cars following a slow, heavy truck creeping up a mountainous road. 
This is what it can feel like! You can get stuck in areas of your life because of certain people you hang around with. And if people around you are actually an extension of you, you will only be as successful in whatever you do as the least successful person in your group.
Of course, that isn't always true because you are also an extension of others as well. So if you're successful, and they are open to being successful and are willing to take whatever steps necessary to make it happen, you could essentially bring the whole group forward with you in your success.
But that's the exception, not the rule.
So when people or situations bother you, remember that because you have attached a part of your identity to them, you should probably evaluate if you want to have their level of growth and success in your own life.
If you don't want to be like them or have their level of success, maybe it's time to move away from those people.
You will only be as successful as the average level of success in the group you're with.
So if you don't like the feeling you get when you think about that, then maybe it's time to maybe make the hard decision and move on.
Moving on might be hard because of the attachments and friendships you've made. But how far are you willing to go in your life to become happier and healthier?
I once told my girlfriend if she ever decided to smoke, I could not be in this relationship anymore. I had to wrestle with this thought because I really want to be the guy that lets the closest people in my life do whatever they want to do. I know it's her body so what do I care, right?
But seeing her as an extension of me, at least in the mental sense where I feel that our lives are intertwined at many levels, would be like a part of me started smoking. And if don't want to smoke in my own life, why would I want a part of me smoking?
It sounds a bit narcissistic when talking about people being an extension of you, but if you look at it instead as a way to evaluate what you will and won't accept in your life, and by choosing to be around people that are somewhat in alignment with your values, then you'll find yourself creating a more fulfilling future for yourself. 
Making decisions to be around people that you respect and feel inspired by, for example, helps you to align with your true character and integrity.
I don't believe my girlfriend will ever start smoking, but I've thought about that predicament and what I'd do if it ever happened.
Is that being judgmental? Yes, it is. After all, it is her body and she should be allowed to do anything she wants with it. But, because I do not want smoking in my life I would have to make a hard decision to stay and go against my own values, but be with the person I love, or leave so I can align with my integrity but lose someone I really care about. 
It's not always easy to take accountability for yourself and actually follow through with something like that, especially when you care about someone deeply. But sometimes it comes down to a matter of honoring yourself and being true to yourself.
I wouldn't just leave every time I disagreed with what she decided to do with her life. For example, if she wanted to get a tattoo on her face, I might have a strong objection to it, but I don't think it would be enough to make me leave.
But the point is when you make decisions that uphold the highest "you" in mind, if that makes sense, you start to attract different people and things into your life.
When you honor yourself and your personal boundaries, your perceptions form and you start weighing what you perceive to be true with what you want in your life. And knowing what you want in life is sometimes half the battle.
Whether you choose to stay closed-minded to other perspectives and ideas or are wide open knowing anything is possible, you always have the option of honoring what you want in your own life.
You may perceive a situation to be dangerous, or maybe now you'll take a moment to gather as much information as possible to get the clarity you need to come up with perhaps a different perception. 
I think the most important thing to consider if you're going to take away one lesson from all of this, is that your perception defines your path and sometimes the path of many other people too.
If you're quick to judge or quick to blame, remember that your perception is an insight into your experiences in life and not necessarily the full breadth of what's true.
You may believe what you know to be true, but others can believe what they know to be true just as much. So try to see everyone's perspectives before making a judgment call. Test theories and ideas before automatically defaulting to your own beliefs.
Your perceptions can help you make quick decisions, and the brain can work that fast when you're under that kind of pressure, but when you take the time to weigh all sides of a story or situation, you might discover a truth that wasn't clear before. 
Be open to the idea that your perception may not be everyone's truth.