Can there be peace and balance in an unbalanced relationship?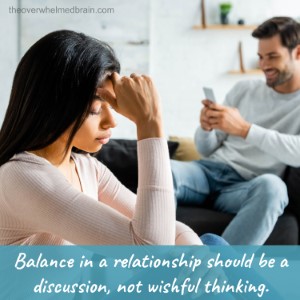 Some people have a strange way of balancing their lives. Some folks will pick up a hobby or hang out with friends.
But others may take a darker route. They'll betray their partner or become addicted to drugs or alcohol. You may not see that as balance, but for those people, that's how they get it.
There are of course healthier ways to balance your life & your relationships, but in this episode, we're going to talk about the less popular ones.
(The following podcast transcript has been modified for easier readability and to benefit the Deaf and hard of hearing)
People's vices, habits, and addictions really affect our relationships. In some relationships, one person drinks a lot of alcohol or takes drugs. In others, maybe it's someone who betrays and goes outside the relationship having an affair as an adulterer.
You'll find behaviors like this in a lot of relationships. And the people that do these behaviors have some things in common, or at least one of the things that I'm going to mention right now:
They are balancing their lives in a way that may not be agreeable to the people they're with.
This is an unusual perspective, but like I said, it's been on my mind, and I wanted to share it with you. Maybe I'm completely wrong. Maybe I shouldn't look at it this way, but I think It's important to look at it this way.
Let me give you a little bit of a story here. It's not a real story. It's the story of Bill and Mary. These are fictional people. I'm making this up, but we can all relate to what Bill and Mary are going through because somebody either knows somebody that did this or have read stories about people who did this, or did this themselves.
So let's just say that Bill comes home every night, and he is grumpy, he's angry, he hates his job, or whatever. And he's throwing things are just sits down and expects Mary to make him dinner. He doesn't treat Mary very well. Mary's unhappy but she's trying. And Bill's just… Bill, he's just grumpy.
So we have this couple going through either a stage in their relationship or that is their relationship. This is how it is every day.
Bill comes home again the next night, grumpy. He's not a really good conversationalist. He doesn't want to talk, just wants to eat, watch TV, drink beer, whatever he wants to do, and not really connect with Mary.
It's hurting Mary. It feels bad to her. Because she wants a relationship. She wants this marriage to be somewhat better than this. She wants to connect with her husband. The next night and the next night and every night, Bill is just grumpy.
Let's just say some time goes by. Bill comes home one night and kisses Mary on the cheek. Mary is like, "What is this?" And he pulls out from some roses from behind his back and says, "You know what? I have been mistreating you and I am so sorry. I am happy that we are married. I am so grateful for you. Thank you for making me dinner. Thank you for everything that you do for me."
Mary is in shock. She does not know what to do with this information. She is suspiciously thrilled. She doesn't know what to think. She doesn't know what to do, like I said. And now she's in this confused space but she hopes that bill has come to some sort of epiphany or enlightenment or something that perhaps he has been mistreating her and not showing up an appropriate way for a husband to show up to his wife (and this story can work with anyone: husband and husband, wifel and wife, partners, boyfriend and girlfriend, etc. This is just a generic example).
Mary is confused. At the same time, she is hopeful. The next night Bill comes home again and he's positive again. He's happy. He kisses his wife maybe they make love and they haven't made love in months or years. She can't figure out what's going on but she's not going to ask any questions. She's loving it! She'll get over the past and she'll just move forward. Night after night Bill just shows up as this different person, and he just seems happy.
You may already know where I'm going with this.
What's happening in Bill's life that caused this change? Bill seems very balanced now. If you're balanced in a relationship, this is probably how you'll show up. This is probably how you'll feel because you'll be so grateful that someone else is in your life and wanting to share their life with yours and wanting to support you and love you and hold you when you're down, and lift you up when you're crying, and be there for you no matter what.
This is the kind of stuff you recognize when you're balanced. Bill seems quite balanced. But the question is, what is balancing bill? What is causing this balance and Bill's life?
The story might continue when Bill leaves work at night, we follow him in our imagination and find out where he goes. Mary is happy, she's blissfully ignorant. She's doing her thing at home. Or maybe she's at work because both partners work or whatever, but when they meet at home at night, it's a lot different now.
But we follow Bill coming out of work and we find out that Bill is meeting someone else. Bill has created another relationship outside his marriage. Mary doesn't know this is going on. She's been trying to work on the relationship and now maybe she thinks working on this relationship has succeeded. But Bill has now betrayed her trust and her love by getting into another relationship.
Bill has changed. He is a different person. He's showing up happier. He's showing up as loving and kind and supportive to Mary because he feels balanced.
This almost sounds like I'm supporting Bill's activities and I'm not doing that. That's not what I'm doing at all. What I'm doing is just highlighting that some people find balance by doing this. I'm not encouraging it. I'm not saying this is the way to do it. I'm just saying when you observe someone who seems to be showing up more positively and more connected, and more supportive and more caring, they are balancing their lives somehow.
Some people do this in a healthy way, and some people don't do it in a healthy way. This isn't just about infidelity. It's about everything I already mentioned. Addictions do this. You can take drugs to balance your life and then come back as that person that the other person wants you to be.
Let's talk about romantic relationships. If you come home, and you're always grumpy, and you decide 'I'm going to take some drugs now,' then you come home and you're happy (even though the drugs might be hurting your system and it's not good for the long term, or maybe even the short term), and you don't tell your partner that you're doing this, they're going to think wow, this is great! This is the kind of relationship I want.
I'm not saying this works for everyone and I'm not saying drugs are a good thing either. I'm not promoting or "demoting" anything here. I am putting out there that some people find their balance in different ways, and sometimes unhealthy ways.
Let's look at the alcoholic. I know someone who's in a relationship with an alcoholic, that they have made work. They have done it. The partner that drinks does so alone or with friends, away from the other partner so that the other partner doesn't have to deal with him being inebriated.
They don't live together so it's easier. They have their own homes. But what they've done is create a happy, balanced relationship by not being in each other's space when the other person wants to do what makes them feel balanced.
Again, I'm not promoting this. I'm not promoting alcoholism. I'm not saying that at all. This is just an observation. This is a perspective. And I find it very interesting how some people will find balance in their lives by doing things that we may not agree with and we may actually have a problem with. It may be against our values, it may be against the relationship boundaries, yet the other person is finding balance that way.
It's an odd combination of what we should do for ourselves, and maybe what we shouldn't do for ourselves. Meaning, what we should do for ourselves is perhaps find some balance: "You know what I work all the time, I better play too. I am always with you so I need me time." There's some balancing that can go on there.
"I'm always watching TV, maybe I just need to go outside for a bit." There's some balance. I would probably call those healthy, but I'm not going to promote or dissuade you from doing that either. I'm not going to say that is the way to do it – if you're doing one thing, you should balance it with another thing – It's totally up to you how you find your balance.
But what I see is that there are people that make this balance work. And sometimes it's strange to me. Sometimes I look at some couples, and I ask myself how do they make that work?
This is why I'm giving him my perspective today on this particular subject because I believe it can work if you're willing to move into this space of understanding how they get their balance. The stuff I've mentioned may go severely against some relationship boundaries and values. When it does that, you won't be able to get past it. There is no way past it.
I'm here to admit that I would not be able to get past some of the stuff I've mentioned. If my girlfriend wanted an extramarital affair to keep balance in her life, I would not be in her life. I would tell her, "If that's what you want then I will be terribly upset. I will be sad. I would hope that you wouldn't do that but if that's your path, I'm not going to stand in the way. I'm going to have to let you go."
That would hurt to say. I wouldn't want that to happen. At the same time, if she really believes that's her path, (i.e. maybe she wants to be polyamorous), who am I to stand in her way?
I could try. I could try being the controlling, manipulative person and say, "If you do that, then I'm going to make sure your life is a living hell."
But I don't want to be that person. I would rather just deal with the pain and move on because I'm not here to control her. I'm not her mom or her dad. I'm not here to be her boss. I'm not any of that. I want to be an equal partner but if she wants to do things outside the relationship boundaries that I believe we've established, then that will of course negate the relationship contract that we signed with each.
It's the virtual contract we all sign when we get into relationships. Like, "Hey let's stay monogamous, let's make sure that we don't introduce drugs into the house, or anything like that."
We have the basics. Then we have some deeper stuff that we can talk about. As long as we're in those boundaries then we don't have anything to worry about. But as soon as one of us wants to step out of those boundaries, if it's okay with the other person, then it can work. But if it's not okay with the other person, it won't.
I know that's obvious. It's obvious that if it's not okay with the other person, it's not going to work. But what I'm highlighting here today is that some people find their balance by doing this. If you have ever wondered why someone is suddenly happier, maybe not in your relationship, but maybe so, and you can't figure out why they're happier, it might be important to know what they're doing to balance it.
I'm not saying that maybe you need to sneak around behind their back or check their phone. I'm not saying that at all. I'm saying this for your information. I'm saying this so that you perhaps understand what can suddenly change someone's attitude or personality, where they start showing up a lot differently. It's usually because there's some sort of balancing going on.
If there's a person who's been married for several years, and they're always grumpy, and now they're in a different relationship outside the marriage, and the other person doesn't know about it, and that person then comes home and they're happy all the time, there might be that kind of balance.
Or the other person like Bill, for example, is now going bowling every week. It's something outside the house. It is fulfilling for him. It is a "me" time thing. He is getting his me time. That can be another way to balance is going out to do your own thing and become happy inside yourself because it is a self-fulfilling thing. It is something that gratifies you. It feels good to you. It is something that you are doing for yourself.
This can work for you too. It doesn't have to be your partner. It doesn't have to be someone else. It can be you. What can you do to bring that balance in when you're constantly doing one thing and you don't feel fulfilled?
My main point today is that we look at what some people do in their lives for balance. Perhaps a darker side of balancing their life. Whether that's choosing to take drugs, drink alcohol, cheat on their parter, gambling addictions, any type of addictions really, and other things that perhaps other people in our lives may not want or appreciate. They may even loathe those things. These behaviors may feel like dealbreakers, but this is the way some people find balance and if the partner in their life can't agree with it, then obviously the relationships not going to work. Or they'll have to talk about it and figure out if it can work.
Sometimes this can work! Like I said with this couple that I know, one's an alcoholic and likes to drink (I actually shouldn't call him an alcoholic. I don't know if that's diagnoseable, but he loves to drink and he has trouble stopping so I'm assuming he's probably an alcoholic). Because he has trouble stopping or he is choosing not to stop, and this other person loves him and wants a relationship with him because when he's not drinking, he has everything that this person loves, what they've done is found a way to continue being a couple and allowing him to continue balancing his own life with alcohol.
I'm not saying that's a good thing. I'm not saying that you should harm your body and I'm not saying that you should become an alcoholic, a drug addict, or an infidel. I'm saying this as a PSA (Public Service Announcement) that some people do make this work. Some people do actually make those work.
What about the infidel? How do they make that work? There are people in polyamorous relationships where they are married, and they have an agreement that they see other people as well.
Is this something that I would do? I would never do it. That doesn't mean I have any judgments against it, it just means it's against my own relationship boundaries. I don't want her being intimate with other people outside the relationship. She doesn't want that with me. So we've agreed that this is how it will be. We feel better, we feel more secure in a relationship like that, and it works for us.
For some other people, it may not work. Some other people might need to balance their lives with other people so this can be a way of life for some people. I will tell you this, I grew up believing in all the basics. The basics are you get married, you stay monogamous, you don't drink, you don't smoke, you don't drink alcohol. I grew up being told that you should not do anything that's bad for you. I tried to follow that, and that really tainted my perspective with people who were doing things that were bad for them. That turned me against good people, and some bad people, which is a good thing.
I was turned against my stepfather, yes, he had an alcoholic problem, but he also had an abuse problem. I suppose if he drank outside the home, in somebody else's home, and he came home sober, I would have probably had a different relationship with him. Unfortunately, he was abusive, more toward my siblings and definitely more toward my mom, but we had to experience not only his alcoholism but the abusive behavior that likely stemmed from that alcoholism.
This was a challenge because he was one of those people that had a heart of gold and it would have been great having him as a stepfather. I really loved him when he was sober but when he wasn't, it created a problem. People like this can create massive issues in families and romantic relationships even though they are getting their balance.
They show up as calm, comfortable, relaxed and peaceful when they've already gotten their balance, like in my stepfather's case, after he became sober, he was more relaxed. But when he maybe had to deal with some emotional stuff he drank, or because it was a physical dependency, and he needed to drink, all of that balanced his life which wasn't a good thing for us.
In cases like that, it's not going to work, or at least, it won't keep a family together. But in cases Like the one I already mentioned, one person drinks, they go off and do it on their own in their own place then they come back and they're sober and they're happy they're a great partner, it works for them. They found a way to make it work.
I think that's phenomenal. I think when you love somebody that much, and you can work out that arrangement and make that work, then it can be a great relationship. We can't always do this. I'm not saying that you should be able to do this. Like I said I can't do this, not that I am the role model for this but I talk about this stuff all the time. I work with clients on this stuff all the time and I still structure my life more rigidly than people that might be able to do this.
That works for me. Just like what you're doing may work for you, or it may not. It just depends on if you feel balanced and if you're in a good relationship. Or if you're not in a relationship if you're getting along with family or friends or people that are in these situations, how do you feel inside being around them? And are they showing up in a way that is healthy to you?
I think it's important to just reflect on this stuff and figure out how it applies to your life. Because I know that there are some people that get their balance in a way that I wholeheartedly disagree with. I don't care if you're nice if your way of balancing your life is robbing banks. I don't want to be associated with you.
Now, if you used to rob banks, no big deal. Hopefully, you're reformed, and hopefully, you didn't hurt anyone. That's a different scenario. But if you're currently robbing banks, I'm not going to be comfortable around you so I'm probably not a good candidate to be a friend with when it comes to that. But if you get balance from it, this is probably how you level out what's unbalanced in your life. But maybe there's a different way to do it. Maybe there's a different thing to do than drink. Maybe there's a different thing to do than gamble. Maybe there's a different thing to do to help you balance it.
We can talk about how some of these vices, habits, or addictions are ways to squash the negative emotions inside of us, or the emotions that we don't want to deal with, so we go out and do these things. Or we do these things in the privacy of our own space, our own secret places. But is it really healthy? And are we building the relationships that we want to build and building the future that we want to build?
I don't want to turn this episode into figuring out which one is best for you, or which ones you shouldn't do, I just want to highlight these things for two reasons. One, it fascinates me. It fascinates me when I see somebody who used to be grumpy is now showing up as happy, comfortable, relaxed, supportive, and generous.
Where did this person come from? That kind of mystery I like to solve. Maybe it's not a mystery at all. I know there are people out there saying "What? Why can't I just be happy one day?"
I hear you! I'm not discounting you. I hear you, absolutely. I agree with you. Maybe you were depressed for a while and you're not anymore. "That doesn't mean I'm cheating. That doesn't mean I'm drinking. That doesn't mean I'm taking drugs." I agree with you. This particular episode does not apply to you.
If suddenly you're happy one day because you've reflected, you've thought about things, you've worked through all the worst-case scenarios and realized it's not going to be that bad so you wonder why you're so depressed. Or maybe you've talked with your partner, maybe you've talked with someone you love, or a therapist, all of these things can be very helpful to help you find balance and get you in a better space.
I'm talking about the more extreme ways that some people balance themselves. The idea of balance came to mind, the way I'm describing it in this episode, when I was talking to my girlfriend and how she used to be married to someone who was a drug addict.
When he was taking drugs in their relationship, she said he was the nicest guy. She said he was her best friend. They got along wonderfully. But she didn't want drugs in the relationship anymore. She said, "I don't want this in our relationship. If you're going to take drugs, I don't want to be a part of this."
He said, "Okay, I'll quit." So he quit. Then he became a jerk.
She met him while he was a nice guy and caring and generous, but then after he quit drugs, his balance went away. It was gone. He didn't have anything to level things out so whenever his negative emotions came up (and this is just me guessing), he didn't have the drugs anymore, so he just took it out on her. He couldn't squash those emotions down. He was just a real A-hole to her. Because of that, she was thinking I don't know what to do with this.
She was committed to the relationship and she was going to stay in the relationship and figure out where it went. What's interesting is what ended up happening is that he got nice again. She thought, finally he's settling down, there's no more drugs, great. He was going to recovery, he was seeing a counselor and things like that, but you may know where this is going.
He had started taking drugs again and didn't tell her. He was coming home happy again. He was fine. But she learned what the signs of him being high were, so she could tell. When he started taking drugs again, she noticed it. So he stopped taking drugs then becomes a jerk again.
Fast forward a little bit, he stays a jerk for a while. Suddenly he's happy again. She thought, what's going on this time? She couldn't see that he was high so she couldn't really reconcile what was going on. As you may have suspected by now, it turned out he was seeing other people outside the relationship betraying her trust in him.
She didn't know he was cheating for quite a while. I'm not going to get into details and spread her personal life all over the air, but he was the happiest when he had his cake and ate it too. If you've never heard that term, you're either young, or it just doesn't apply to where you are culturally or whatever. That means that he had everything he wanted at home, and everything he wanted outside the relationship.
Some people get their cake and they don't get to eat it, and some people eat a piece of cake but don't get the whole cake. But he had both. He had the whole cake and he got to eat the whole thing.
So this is where they were. She still had a difficult relationship with him because he had other issues going on but she started to notice that when he was nice, there was something to suspect about that. She's a smart cookie, she figured this out. She decided to look into it and it all broke down from there. But that's all I'm going to tell you about that.
That's the whole point is that sometimes people find balance in different ways. What they do to find balance, if there are not agreement with their partner, with the other people in their lives, it could totally ruin the relationship. But if there is, if there's a way to work it into the relationship and become accepting with it, then it can work. I've seen it work. I've seen several of these scenarios that I described work.
Some people can do it. Some people can't. I just think it's fascinating, and maybe you do too. Maybe you don't, but I wanted to share this with you in case it applied to your life.
***
Somebody wrote to me about a topic that has a lot to do with what I just talked about in the last segment. She probably just heard that segment and said, "A-ha! I was right about you!" She pointed out that when I talk about infidelity in my podcast and blog articles, she said, "You treat people that have affairs as if they are jerks and the scum of the earth."
She used more explicit words than that. I was reading it and I thought, where is she getting this? I don't treat them like they're jerks. Some of my best friends have done that. I certainly don't think it's healthy behavior in most cases, but she said, "I've done this because I was in an abusive relationship and you don't cover that aspect. You just think all infidels are…" like I said, explicit words.
I said, "Okay, I see what you're saying. What you're saying is that sometimes infidelity is a path to connecting with somebody else because the person you're with is being abusive toward you."
The conversation went a lot more detailed and deep than that. I'm really simplifying it so I apologize to that person for making this just a simple comment on this, but I wanted to address it on the air because I just talked about infidelity in the last segment. And I wanted to make sure that I addressed her concerns about how I talked about people that had affairs.
This is what I told her and this is what I've believed ever since I started talking about this: "In most cases, in most relationships, you have what I consider a 'relationship contract'."
What that means is that when you get together, you have agreements on how things will go and what each other will do. Not specific agreements, like "you're going to wash the dishes every Wednesday night," I'm talking about the big level values, the deeper stuff that really make or break a relationship.
One of those values, or relationship boundaries, as I like to look at it as well, might be "we're going to stay monogamous. You're not going to date anyone outside of the relationship, and I'm not going to date anyone outside of the relationship." As long as we agree to that, then we don't have to worry about that. It becomes a given. It becomes a foundational aspect of the relationship so that we don't have to think about them ever doing that.
When you have that type of foundational boundary in the relationship, and you just treat it as a given, then it never has to be a topic of conversation. You never have to worry about it. And as long as there's trust in the other person, it just never comes up.
In my relationship, that's how it is my girlfriend never brings up that subject, I never bring up that subject, because it's a given. It's just something in our foundation that we know that's going to be the way it is always.
I realize that there is a lot of trust in what I just said. And I believe there has to be a lot of trust in relationships. Trust is the key. Trust and communication, the two keys to the relationship. If you don't have trust, then you don't have much of a foundation. But we talked about that and we have that trust. That becomes a foundational aspect of the relationship.
This person who wrote to me said, "You treat the people that had affairs like they're jerks, like they're bad people." I don't think anyone is intrinsically bad. I do think that people do bad behavior but I wanted to address her specific comment, which is saying that I believe the infidel is the toxic one or the bad one or doing "wrong", or betraying their partner.
In many cases, it's true. In many cases, the infidel is betraying by going behind the other person's back. And the other person, if it's a healthy relationship, will likely be devastated. This is a bullet point I want to make. In an otherwise healthy relationship, someone who betrays their partner by going outside the relationship contract, in most cases, I would consider that very bad behavior.
That's most cases. In the case where this person wrote and said she was in an abusive relationship, and she just wanted a connection, she wanted to feel loved, she wanted to feel supported, she wanted to feel a personal, even physical connection with somebody else because her home life was just so awful.
She said us humans we're supposed to feel connected. We're supposed to be kind and caring and supportive toward each other, and we need people's love. We need people's touch. She was very adamant. She's like, "This is how it's supposed to be!" She explained her relationship to me and why she did it, and how it was the best thing that she did in her marriage because she had no connection with her husband. She had no love at home, and especially because she was being abused.
I didn't disagree with her. In fact, I agreed with her and this is why. This is one of the few times I will agree with someone who has an affair outside the relationship, and it could actually be a good thing, and even something that saves their sanity, and that is because she was in an abusive relationship, someone who was mistreating her badly and hurting her… this was a very bad situation. It sounded like she was more or less stuck in this marriage or at least couldn't get out for now, and she had no one to turn to.
I got the gist that she felt very isolated, very alone, then when she had an opportunity, she took it to connect with somebody outside the marriage. My perspective on this is that when one partner breaks the relationship contract, that contract no longer applies.
This could be a controversial comment, and I know I might get some emails from this, but I believe when somebody breaks the relationship contract, and you've discussed it and you tell the other person "Hey look, you shouldn't treat me this way. I don't want you to treat me this way. It hurts. You're hurting me! You're really making me feel bad. Will you please stop doing that?" and they don't stop doing it, then the relationship contract is broken. There is no more relationship. It's not there. And because it's not there, the relationship boundaries may no longer apply.
This is a very personal thing. I'm not saying I'm going to say this 100% of the time. Every situation is different but for this person who wrote to me, she was very clear that it was the one thing that really saved her sanity. She felt loved again. Going through all that abuse, and then feeling love again, it could have been life-saving for her.
I will say that sometimes the balancing that you need to do might seem to be breaking a contract or breaking an agreement, but we have to look at the entire agreement, and if both people are on board with it, and what your other circumstances are because if you feel like you have no choice, and you're in a situation that you feel stuck in and there's no way out, maybe something needs to happen to save your life. Or at least your emotional state and your psychological state.
I'm not giving you advice in this particular segment. I'm not telling you what you should or shouldn't do. I'm just saying that if you have been lambasted for doing something "wrong", and people are judging you, and they don't know the whole situation, you know the entire situation better than them and you may have good reasons for doing what you did.
I look at relationships that when somebody does do something, we have to look at all of the factors involved. This doesn't mean if you are cheated on that you somehow broke the contract. Because a lot of the times the contract isn't broken. Somebody just wants their cake and eat it too. Somebody just wants to do what they want to do, regardless of how you feel. In those cases, that's bad behavior.
But in some cases, like this woman said, there can be those who have broken the relationship contract. And in this case, even breaking your spirit.
I know I'm talking about infidelity but this is about anything in any relationship. When there is some sort of relationship contract, where the boundaries are supposed to be upheld, and the boundaries are no longer upheld, A: I do think you should talk about it. I do think it should be brought up for conversation with the person that you're with so that you can maybe work things out. Or at least try to tell them what they did was wrong and "Maybe we need to go to counseling. Maybe we need to talk about this further, but we need to resolve this."
And B: If it can't be resolved, then what's your next step? Do you need to get out of the relationship? Do you have other options?
And C: If you don't have any other options, and you're going insane, or you're getting abused and you don't know how much more you can take, and you can see that the relationship contract has already been broken, then you may make another choice that some people won't agree with. Some people will see it as a bad choice, yet they don't know your circumstances. Some people don't know what you've been through, and what you're going through, and sometimes you have to make choices that are unpopular, but life-saving.
It may not be actually saving your life but maybe it is. Maybe the mental and emotional harm that's being put on you is leading to so many physical stresses and ailments and diseases, that doing something else with your life saves you in that way.
I've covered all kinds of aspects today. This is definitely a self-help episode because you could go in any single direction with anything I said today, but I want you to do so with care. I want you to think things through and have conversations, if you can, with the people in your life.
Try to express to them. Try to let them know what they are doing wrong or doing right, or if they're hurtful, or whatever you're experiencing so that you can get it out of your system and give it a chance. I like to look at it as exhausting all resources before I have to make the big decision.
Just like if my girlfriend said, "I'm going to start smoking cigars in the house," I might have to have a conversation with her and ask her, "Could you please not ever smoke cigars?"
That's a little judgmental because now I'm telling her what to do, even if she wants to go out to a bar and smoke cigars. But I would probably ask that. She might say "Well, I like smoking cigars." Then I might ask, "Okay, if you like smoking cigars, could you please not do it in the house? In fact, could you please do it 150 feet away from the house and make sure the wind is not coming in this direction?"
She might say, "Okay," or she might say, "No, I'm going to smoke in the house." Then the conversation will go further. We would have to get into a deeper conversation about my values and what I can tolerate and what I can stand. She may say, "I don't care what you can tolerate or stand, this is what I want to do. This is what I love."
Then I would have to face my own judgments and come to a conclusion about whether I can accept this behavior or not. If I can't, maybe I'll do some research and find out how bad cigars are for you… I'm going to exhaust all my resources. I'm going to talk through it as much as I can. If I get stopped at every avenue while discussing this with her, then I will have exhausted all my resources so that I can make the next right decision for me.
Does that mean the relationship boundaries are broken because she did this? Not necessarily. This might be a minor example of working something out, compromising. But maybe a personal boundary was broken and I need to make a decision which might take me away from the relationship and away from her. Which brings me to the point of exhausting every avenue, every resource, before I make that big decision, so that I know I've tried everything I can to make it work out. If it doesn't work out, then the decision will be made based on that.
So that's what I mean, just exhausting all your resources. Doing everything you can to work things out, to let the other person know how you feel, to express all this stuff. And if it still doesn't work out, then you might have to make a bigger decision.
This part of the segment isn't necessarily about breaking relationship boundaries, but it certainly can be because even when the relationship boundaries are broken, you still may want to work things out. You still may see that there could be hope to reach some sort of agreement or compromise to bring balance into the relationship and hopefully not do it in a way that might further break the relationship boundaries.
But, this is your path, your journey, your decision. I just want to help you get there with all the tools and resources that you need so that you can exhaust every path before you make that big decision. I think all of this stuff is good to talk about. Put it on the table. Just get it out there and see where it goes.
***
I talked about some touchy subjects in this episode. I wrote the article, Surviving Infidelity – An Overlooked Warning Sign and Healing After Cheating a while back. And I talked about people who betray the partner who loves them and how it can feel like emotional murder. That's a dramatic term, but it can feel that way!
I talked to a psychologist once when I was doing my hypnosis practice, we shared offices, and I asked her what the most painful or hardest emotional thing that she had to deal with, with her clients she said, "Aside from losing a child, which we know is awful, it was infidelity."
I thought, wow of all the people that she sees, the pain is that great. That awful feeling of betrayal when someone that you put all your love and hope and trust into, who you can feel the most safe with, when they betray you, it can feel like emotional murder.
That's what I call it. Maybe you don't agree with that term, maybe you do. But in a somewhat normal relationship where there isn't abuse like I was talking about earlier, where both of you are trying to stay within the relationship boundaries, I think when somebody goes outside those boundaries and does such a big betrayal, it's going to be devastating.
This is why I find it so important that you think about the relationship contract in the sense that if you want to do something outside the contract, I think it's better to break up or separate before you do something outside the contract, because once you introduce an element that breaks the contract, what do you have her foundation at that point?
I can hear the person who wrote to me inside my head. The one who said she went outside the marriage because she was being abused at home. I get that. There are circumstances where you feel stuck in a situation, where you're isolated and you're being abused, or you're being mistreated or disrespected. When the other person has already broken the relationship contract, there is not much of the relationship at that point. It's just in pieces on the ground.
When that happens, there is not much of any type of anything left. It's not even a relationship anymore because the contract that defines the relationship doesn't exist.
I understand there are circumstances like that and that there are people out there that are in those situations. It's a very difficult topic to address without ticking someone off, making someone upset, telling me "You should never, ever go outside the contract! Even if they go outside the contract, you shouldn't be that person!"
I hear you! And I sympathize. I understand that. My personal values agree with that. But I can't push my personal values onto you because your choices have to do with your circumstances in the context of whatever you're dealing with, and you need to deal with whatever happens when you do behavior that might be considered a relationship boundary or contract violation.
If you want to do something outside what was essentially agreed upon in the beginning, then you have to realize there probably will be consequences. Because of that, this is why I almost always recommend that if you're going to go outside any type of relationship contract, that foundation that you created from the beginning, then it's better to not be bound by the contract, which is why I recommend separation when you want to explore things outside the contract.
That's my recommendation. You can choose to follow that or not. And you will have circumstances that come up that maybe change those things. I can't possibly address every single circumstance that is, but that's why you're empowered to make the choices that are right for you.
I create this show to help you make the right choices. I don't create the show to tell you what those choices are. I can tell you my perceptions. I can tell you what will probably happen if you make certain choices. And I, of course, have my own personal views where if somebody came up to me and said, "Your girlfriend cheated on you," I would probably feel devastated. But if they said "You were really horrible to her, you abused her. You were doing terrible things to her," then I should be the one that says, "Then I probably deserved it."
But if I were that type of guy, one who would abuse my girlfriend, I'm probably not going to say that. I'm probably going to just be angry and think how dare she do something like that. I should be allowed to do everything that's wrong. She shouldn't be allowed to do anything that's wrong.
Now we're talking about a really unhealthy relationship because one person shouldn't be allowed to break the boundaries, and the other person can't be allowed to do the same thing.
It reminds me of what my girlfriend said (I don't know if she wants me to say this or not but…), she said when was married, and she found out that her husband was cheating, that she probably, if she was in a different state of mind, might have been okay with it if she decided that she was going to do the same thing and they agreed upon it. Meaning she might say to him, "Hey, look, I know you're cheating. And because you're cheating, I have the right to cheat as well. So why don't we just live together and we'll both go do our own thing then we'll come back and just take care of our house and kid, and we'll just have that kind of relationship."
She told me she thought saying that only in hindsight. I don't think she would have done that but she looked back at that situation and told herself maybe I should have done that because he was doing it.
That's what I was saying earlier, is that if you have an agreement, and there is no hiding behind each other's backs, then that type of situation can work. But it involves really being honest with each other. If you're not honest, then something like that, it would be very difficult for it to work.
I'm not saying that one person is allowed to be abusive to make that balance. I'm just saying that when both people can talk to each other, and have a conversation about it, that maybe it can work out.
For me, I couldn't do it. I have a feeling most of this audience couldn't do it. Meaning, you probably appreciate the relationship contract. It's so much easier to have trust, to feel safe, to know that your partner will not do certain things, and will do other things because there's a high level of respect, care, and support for each other. So hopefully, one partner doesn't throw that out the window and start doing other things outside of the contract because then that ruins the relationship.
What's leftover after that? It's just hard to pick up all the pieces after that. Everything becomes just a crazy emotional mess. I like to avoid the emotional messes and I hope you do too.
If you find value in The Overwhelmed Brain and would like to give back, join the Patron program!