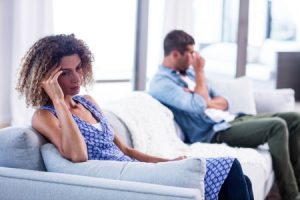 One night my girlfriend asked me to grab her lip balm before crawling into bed. I looked around, but couldn't find where she asked me to look.
She got a little annoyed. I don't know if she was annoyed that it wasn't there, or annoyed at me because she thought I missed it. I asked her where else it might be.
She directed me to the bathroom. I looked around but still didn't see it. She said emphatically, "It should be right there against the wall."
I looked again… Nothing. So like a good boyfriend, I started searching for it elsewhere.
She told me to give up on my search. She said, "Don't worry about it. If you can't find it, I'll go without." But that old people-pleaser behavior in me dusted itself off and kicked in to gear. And in that moment, I made it my mission to find it.
I thought, "Hey, if I find her Chap Stick, she'll be happy! And if she's happy, we'll both be happy and have a great night."
But she reminded me that she'd be fine without it. She told me to stop looking. I told not to her worry it and that I was happy to keep searching.
The thought of her just being "fine" wasn't enough for me. I had to make sure she was great. Again, that lifelong people-pleaser in me was rearing its ugly head.
In my mind, I thought "she's now uncomfortable that she doesn't have protection against her dry lips and probably a bit irritated that I can't find it. She knows I've missed things in the past, when they were right in front of me, so it would be better to find it so that I can make her happy."
That thought prompted me to continue digging deeper and opening cabinets and searching in places I knew it couldn't be. I was getting into all kinds of stuff in hope I would make a miraculous discovery. I asked her, "Where else could it be? I'm up, I'm happy to keep looking."
I wanted to find it so bad that it almost didn't matter what she said anymore. My assumption that was irritated that I didn't find it yet made me search harder. I knew that once I found it, she'd be thrilled that I did such a nice thing for her.
I knew she would lovingly gaze into my eyes, ever so grateful that she was with someone who refused to give up on her.
Then a few seconds later, she yells across the room "I said forget it. Don't worry about it!"
When I heard that, I thought, "How ungrateful!". I got so irritated and even a little angry to the point where I replied, "I'm only trying to help, stop being so bitchy!"
(insert uncomfortable silence here)
I gave up looking and went to bed – angry and irritated. After all, 'it's perfectly clear she's ungrateful for the extra effort I made to try to find her lip balm.'
We eventually fell asleep. By morning, she asked, "How are you this morning? You were so pissy last night."
She didn't say it with malice or anger, she said it knowing I had a moment but would be fine. I figured she believed I needed to process what happened. She knew we were still good.
The morning transitioned into our usual routine. And that sort of caught me off guard. I expected her to be angry at me for coming to bed with an attitude. But she wasn't angry at all. She knew I was triggered and it was over.
She had to leave for a few hours we kissed goodbye and all felt "normal" again. The alone time was perfect too because it gave me a chance to be with my thoughts (and write this article).
During that time, I realized two things:
Relationships have moments. Some are tougher than others, but they exist and they are hard to avoid.
I was angry at her for being upset with me for doing what she didn't want me to do. Hmm…
I'll address both:
Relationships have moments
They are inevitable.
Problems arise when those "Relationship Moments" turn into perpetuality.
In other words, when Relationship Moments occur with lingering negative residual, then it is a lot harder to stay happy in that kind of dynamic.
Relationship Moments are supposed to come and go
Relationship Moments are supposed to be fleeting
Relationship Moments are supposed to be a reflection of our differences that can be conversed about in a civil manner with retrospection
Relationship Moments are not supposed to be one long, drawn-out perpetual saga of emotional triggers and pain.
If they are, the underlying stuff hasn't been addressed (you know, those hard to have conversations) but needs to be.
There is little room for happiness when Relationships Moments turn into every moment.
With my number 2 realization, it came to me that:
Sometimes we set ourselves up to be irritating to others
I continued looking for her lip balm even though she told me to stop.
I could have stopped, but I didn't.
When she became irritated with me, was it fair of me to blame her, and be upset with her, because I chose not to listen to her?
Did I really bring this on myself and become angry because of my own choice to ignore her request?
Yes I did.
I couldn't see this happening in the moment, but during my alone time I figured it out.
What's funny is that I know this stuff. I teach it! And yet I still make mistakes from time to time. I am still caught off guard by old behavior that simply shows up whenever I need a reminder, even if the reminder is a kick in the pants.
Anger is a helpful emotion. It is a signal and a tool. It can be used for good and bad. I encourage you to embrace and validate any anger inside of you. I do.
But sometimes anger is not necessary, especially when it's directed at people that really don't deserve to be on the other end of it. Sometimes we are angry at ourselves but take it out on others.
How many times in your life have you really been angry at your yourself, or even someone else, but took it out on someone you love?
Almost everyone I know has done this. That's not to say there aren't legitimate reasons to be angry at someone else, but it's always a good idea to "check in" with yourself and make sure you are directing angry energy toward the right person.
My girlfriend knows me well enough to know that my mood that night was not a perpetual thing. And I believe I'm a pretty great guy!
But I'm sure if you asked her, she may give you one of those "yes, and…" answers, suggesting that I have my moments.
We all do.
It's when we can't reconnect after a Relationship Moment that causes the most challenges in a relationship.
Have your moments but don't let them define the relationship. Talk about them by expressing your truths and validating each other, even when you disagree. All relationships deserve a fair assessment of all perspectives.