Podcast: Download
Subscribe! Android | RSS | More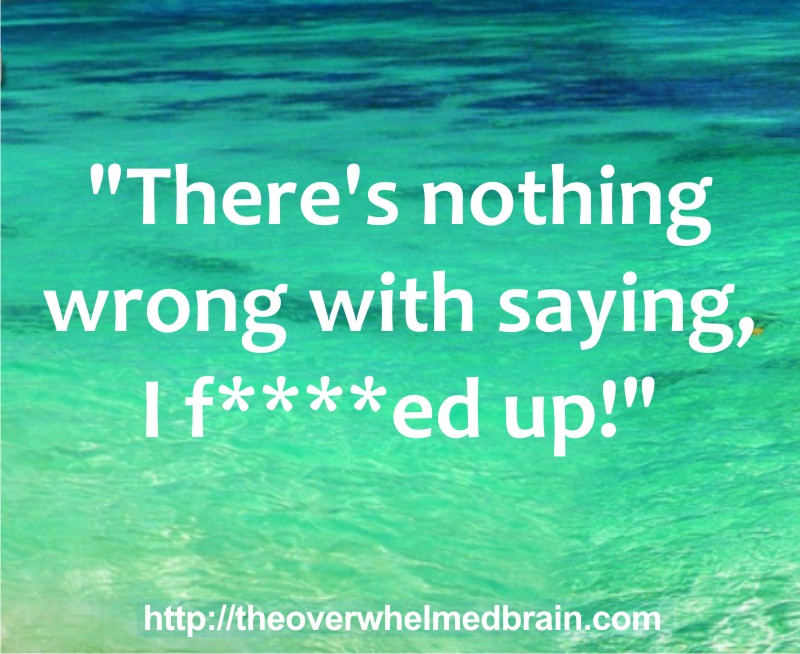 Is fate what we make or what we create? I talk about a quote from Carl Jung on this very topic.
Today's listener email has to do with being caught in a lie with family, and what to do in the aftermath.
In segment three I talk about spotting fake or forced laughter.
In segment four I share my thoughts about a very dysfunctional family member of mine who's trying to worm his way back into my family's lives but his having a heck of a time getting any cooperation.
Today's quote is by Carl Jung and it's this:
"When an inner situation is not made conscious, it appears outside as fate."
Fate appears to be out of your control yet you can choose to address what's bothering you or not

Denial of what's happening in your world leads to what you perceive to be your fate

If you feel an undertone of anxiety, sadness, depression or anything else that makes you feel bad, and you choose not to address it, these things will manifest themselves in other ways in your life

If you choose not to honor your personal boundaries, your fate will manifest as a result of that decision

Fate manifests as a result of what you choose to address in your life.

Choosing not to address certain situations because they are too embarrassing, or painful, or because you feel guilt or shame, continues the perpetuity of life's unwanted events

It's like an unhappy relationship: If you feel that your relationship is going downhill, then one or both of you is continuing to behave the same and expecting different results

When one person changes their behavior, the other has to follow suit or reject that behavior

If the situation is unpleasant, and you stay the same person, you keep the situation unpleasant.

If you change just to find out if the situation changes, then you give yourself more power to create or contribute to your own fate

You'll never know if the situation will change until you do

You'll never find out if things could get better until you change your responses and behaviors

Things may never get better, but you'll never know unless you try

Circumstances that haven't changed in years won't. One person has to change in order for the results to change

Sometimes change isn't necessary. Sometimes leaving is necessary
Sponsor
Today's sponsor is getoutofthemess.com. Get your "legal insurance" for less than $20 a month today!
Ask Paul
"Hi Paul! Can you point me to a podcast or advice on the following: I have black and white parents and racial issues have permeated much of my life. When I was younger, if I came home from school crying about kids picking on me because of my hair or my skin, my mom would either brush it off stating I was being dramatic or she would get defensive arguing that I somehow started the trouble.

She would tell me to stop causing the problem. Since I knew it wasn't me causing the problem, I developed an outer shell to protect myself. However, this outer shell was built on small white lies that have continued up until last year. In the past, I made up so many things about my life because I felt that lying was a way to make me feel above others so that they would leave me alone.

Fast forward many years and many white lies later, last year my life came to a head when I was caught in a lie I told about a family member.

I was caught.

Now this family member wants to know why I lied. He is hurt.

How do I fix this situation? Do I give him all the reasons I used to lie and apologize to him getting caught in the middle of my lies?

I no longer lie and I also no longer speak to another close family member that has been extremely toxic in my life.

We all live close to each other, and this one family member I lied about still reaches out to me. So how do I admit my faults, at the same time explaining why it happened?

Thanks in advance for the help.

Jill (not her real name)"
Congratulations! You're caught, you've reached the worst case scenario, and now there's nowhere to go but up

Now that you've been caught, full disclosure may be in order

What

is

the truth? Why don't you just tell the truth now?

Lying is self-preservation. But what are you preserving now? You've been caught, it's time to fess up and reveal all, and why

There's nothing wrong with saying, "I f****ed up. I'm sorry. I was in fear. I messed up bad, and I hurt people. All I can do is apologize. I'm sorry. And I know it will take some time to forgive me, but that's okay. I know what I did, and I know I'll never do it again."

Complete disclosure means you're done hiding

People who still don't trust you or want to accept your apology after that have their own issues to deal with.

If they won't accept your apology and move on, there's nothing you can do. Just leave them alone and live with integrity. Those who want to stay connected will begin to realize you're serious and truly sorry for what you did

It's okay to eat crow for a while. Think of it in terms of a betrayal in a relationship. You're either going to be forgiven and given another chance to prove that you're honest over a period of time, or people are going to shy away from you never wanting to trust you again

Either way, the more you live with integrity today, the more they will see for themselves that you aren't the person you once were

One apology is enough. Apologize, say you messed up, move on.

It's not healthy to continue apologizing and trying to mend things. If you feel the need to be apologetic every time you see or talk with certain family members, it's time to let it go so they can begin their healing.

If they bring it up again and again, all you can say is, "I know I messed up, and I've apologized for it. I'm not that person anymore. I didn't like who I was, and I was doing what I thought I had to do for selfish reasons. You can work on trusting me, or you can keep on reminding me to feel bad about something I regret. I want a relationship with you, but I need to know that you want one with me too."

As for the toxic family member, stay away from them as much as possible. Sure, you can be honest with them. You can even share with them why you're staying away, but toxic family members want to pull you into their misery. They're very good at it.

You can tell a toxic family member that you're happy to connect with them if they don't do the behavior that is toxic

i.e. If you don't drink alcohol tonight, I'd be happy to go out to eat with you

i.e. If you promise me you won't express your disgust with my decisions in life, I'd love to connect with you again

Toxic people will be offended by truths like that, but at least they'll know where you stand. And they can choose to change, admitting that they are toxic or not. Or they can choose to close you or anyone else off that might actually want a relationship with them.

Toxic people are an excellent lesson in our personal evolution. They are a practice in personal boundaries. If you can honor your boundaries with toxic people, you can honor them with pretty much anyone!

What can you do about this mess you created? Come clean – completely. Be okay that you messed up and admit it.

I remember when former president Bill Clinton got caught cheating on his wife in the White House. I thought, why lie? As soon as you're caught, which you will be because of all the evidence, you'll look even worse than you do now.

Lying shows your character, just as telling the whole truth. Which character are you playing? Which one do you want to be remembered by?

Bill Clinton would have actually gotten some compassion if instead of lying and playing word games in court, he said this instead: "You know what, I messed up. I was tempted, in the moment, and I messed up bad. I hurt a lot of people, and I lost the respect I once had. I feel ashamed, and I'm sorry."

People would still be upset, but at least he fessed up.

That's my advice, fess up to everything. Once all of you is out on the table, there's nothing else anyone can dig up on you. You are already facing the fire that you set yourself.

This is one of the reasons I choose to be honest to the world on this show. The more honest you are, the less people can dig up on you and use against you.

It's like when I was a kid, people would come up to me and make fun of me by calling me a name or something. So I would make my real friends start calling me that same name too. Soon, the bullies had no power because I didn't resist the names they were calling me. And because my real friends called me that same name for fun, the bullies lost interest and stopped bothering me.

This is what happens with pure honesty too: Once you accept and are honest about all your faults, embarrassing moments, shame, guilt, and everything else that you don't want people to find out about you, you release the fear that you'll be "found out."

When I get any sort of criticism today, whether personally or about the show in general, I'll say the following, "You might be right!"

Most people who criticize

want

to get a reaction from you. They

want

to know they affected you so that you'll respond strongly so that they can respond strongly in return putting you in your place.

You can squash it then and there by saying, "You may be right."

If someone says, "You drive like an idiot." Whether it's true or not, just squash the energy, "You may be right."

Then when they say, "You need to stay off the road!" You can say, "You may have a good point there."

What you're doing is acknowledging them, not telling them they're wrong, and not necessarily saying you're wrong either.

"You may be right" and "You have a good point" are great answers to criticisms. Just let go of your attachment to being right, and use a response like that, and you'll crush the energy behind any criticism or attack.
News and You
Fake laughter doesn't fool the brain.
Last year, a University of Royal Holloway London study found that people are able to tell the difference between a fake laugh and a real laugh. Different areas of the brain were activated when 164 participants were exposed to videos showing real laughing and fake laughing.
None of the participants knew that they were being studied to detect real or fake laughter, they just watched the videos and were tested to see how their brains responded when they were shown someone laughing for real, and someone forcing it.
The researchers said, "During our study, when participants heard a laugh that was posed [or forced], they activated regions of the brain associated with mentalizing in an attempt to understand the other person's emotional and mental state."
Fake laughter is detectable. If you're observant, you can detect it in others

Many people are wrapped up in their own stories and situations to pay attention to others

Almost everyone is good at detecting a fake laugh, because almost everyone has forced a laugh when they really didn't mean it

If you've done it, then you can detect it

The researchers say that when the participants observed a forced laugh, the part of the brain responsible for movement and another responsible for senses activated, which they thought might mean that the person hearing the fake laugh was "trying it on" to figure out what the laugh meant

I recommend "trying it on" all the time. Try laughing, either for real or in your head, just like someone else is laughing and see how it feels. Does it feel real or fake?

The reason I like this story so much is because some people really buy into the concept that if you laugh enough, that you will eventually feel happy.

Like smiling all the time when you're depressed

Both can work, but both are also good at stuffing down negative emotions.

They're a form of denial

It will take a lot longer to deny yourself to happiness than to express your pain to achieve freedom from negativity

Forcing laughter as a form of laughter therapy is a great way to avoid addressing your pain

It can work, because if you do anything long enough, it tends to saturate your life

But will the negative emotions truly be written over in your mind and body? If you laugh or smile all the time as a way to overwrite how you feel, will those negative feelings inside ever go away?

This article isn't about covering negative emotions so much as it is about how we are so good at detecting inauthentic behavior.

Why? Because we know how to be inauthentic, so we can tell when others are doing it too!

That's why instinct can be trusted. Instinct is your mind and body's way of telling you that something is up.

Instinct is a feeling. It's a physical sensation that leads to a thought or behavior.

When your instinct kicks in, there's a reason.

We tend to use logic to negate our instincts, but remember our instincts will always be aware of our environment and the people in it, even when we aren't conscious of it.

Just be open to feelings that come up for you

You'll be able to recognize fake laughter, but you will have to tune in. And there is a way to do that.

First, don't get sucked into their story. Be an active observer

When you are actively observing someone else's behavior, you are not relating to their stories and remembering your own stories, you are taking mental notes of their behavior and checking in with yourself to figure out if that behavior is congruent with what they're saying and how they're moving

In other words, does what they say match their body language and voice inflection?

Second, try it on. Think about how they laugh and try that laugh as if you were going to laugh that way. Does it feel authentic?

These methods aren't sure-fire ways to tell, but they are one clue to a bigger picture.

Detecting fake laughter may not necessarily be something you're interested in, but I think it's a good idea to be aware of any inauthentic behavior

One reason for that is that it is a part of a bigger picture.

If you sense fake laughter, and you had already been sensing other suspicious things, then you have a bigger picture.

Fake laughter by itself doesn't necessarily mean an inauthentic person, but it does mean that you're probably not as funny as you think you are

I learned this when I was married. I thought I was hilarious all the time, but it turns out I'm only funny to some people some of the time. Guess I had to learn so I wouldn't be so caught up in my ego!

But when you find out something like this, even something as simple as detecting a fake laugh in someone else, it's not so that you can point it out in

them

, it's so that you can fine tune it in yourself.

Become more observant of behavior so that you can become a better communicator. If you find people fake laughing around you all the time, maybe there's a deeper message there. Maybe that same joke you tell time and time again is simply not funny anymore.

This is small stuff, but everything adds up to a whole.

Observe the behavior in others and notice when you sense inauthenticity. You'll know it because you'll feel it. You don't have to keep your radar on all the time, but it's fun to do in short spurts.

I observe behavior quite a bit. I find it fascinating when someone gets angry and uses their finger a lot, pointing at the person they're angry at.

Why? What's going on there? I'm sure it's a threatening gesture, but what else is there to that?

Then I try it, "Why would I do that if I was angry? Is it to feel threatening or bigger than I am? Does having a finger in your face feel like you're being controlled or put in harm's way of some sort?"

These are all the other things you can "try on" and see and feel what you come up with. It's a great way to learn how we communicate and why we do the things we do.

Anyway, the research was pretty fascinating. I've always been interested in human behavior, but to know that we automatically detect forced laughter is quite insightful. That means that you can actually trust your instincts when it comes to this, and other human behavior that we can probably tell isn't really authentic.
What's on my mind right now?
The child that is my stepfather. I talk about how he has systematically turned the family against him. I won't speak for others in my family, because they have their own relationship with him, but I tell of my perception of what this abusive, alcoholic, and highly dependent person is when there's no one around for him to depend on.
HBN Announcement
If you are a coach, counselor, or healer of any sort and want to connect with more clients, and be a part of a community where you can share ideas and learn how to expand yourself in the world, join the Healing Broadcast Network at healingbroadcastnetwork.com.
The mission at HBN is to connect you with new clients who need what you offer, and share ideas and strategies with other coaches and healers so that you can thrive in the world. Join HBN and be with people that will stop at nothing to help you succeed.
Coach with Me!
As a personal growth and development coach myself, and also a proud member of HBN, my mission is to help you, no matter who you are in whatever profession, I want to help you overcome obstacles. If you're having trouble getting past any emotional blocks, consider coaching with me.
Are you anxious and tired of being anxious? Are you stuck and just want to get out of the rut but have no idea what's holding you back, let's talk, I can help you dive in and uncover what's stopping you from creating the life you want.
This show is here for you and for those that are great at their own self-help, but if you're looking for more one on one support where we can address your specific issues, get coaching now!
And keep in mind the Inner Circle I talked about last week. I'm considering opening the doors to The Overwhelmed Brain Inner Circle where you get access to all my digital books and worksheets, along with a group Q & A call or two a month with me. This is something I'm feeling out right now to see if you have an interest in some sort of private group.
What would you pay to be a "TOB Luminary"? The podcast and blog are free and I'm going to keep coming back week after week to do this show, but the Inner Circle is where we can be a bit more interactive. I've had some interest at $29 a month – would you pay more? Less? What are your thoughts? I want to keep the price fair both you and me. Let me know!
Thank you
Thank you for listening to another episode of The Overwhelmed Brain.
I thank everyone who has purchased a book or worksheet, left a review in iTunes or Amazon, or used the Amazon link to shop as you normally would which gives us pennies for every dollar you spend.
I love giving you everything I know every week, and want to be there for you whenever I can. I make it easy to return the kindness with the Amazon button, the donate button, or even the Contact Me button where you can just share with me your gratitude if this show has changed your life, or at least, your perspective. I love getting your letters, and I read and save each and every one of them.
I also want to thank Asha, an independent associate for LegalShield. I want you to get this service because having it is directly proportionate to your happiness and peace of mind. Let go of the stress knowing you have a team of attorneys on your side. Got a legal question? You can call them talk to an actual attorney! And not for hundreds of dollars an hour. Asha pays less than $20 a month so I know you'll get an incredible deal too when you talk with her.
Finally, affordable legal insurance for a fraction of what a lawyer would charge in an hour.
Contact her at 678-355-8777 with your questions, or visit the site getoutofthemess.com. Tell Asha I said "hi", she would love to know that I sent you there.
Closing words
Some people believe that fate happens no matter what we do
Some people believe we make our own fate
Regardless of what you believe, whether it's karma, God's plan, or the very practical, yet ultimate consequence of cause and effect where every decision you make ripples into your future, creating the path you lay before yourself, regardless of any belief you have, when fate is presented to you, you have a choice in your response.
That choice can be productive, or counter-productive. That's all there really is. I suppose there's neutral too, but really every choice you make is either one or the other. You're either going to treat your results as positive stepping stones, or negative happiness-destroyers.
When fate comes, my advice is to take it as a positive stepping stone no matter what.
Even the little things. For example, I had a coaching call just yesterday where, at the most inconvenient moments, my client had someone knock on their door three times within one hour. This person could go a whole day without a single knock, but within that hour, it happened three times!
During a coaching session, there can be some sensitive moments. But, did I get upset? Heck no, because my perception is that fate, even tiny specks of fate such as someone interrupting a call, is a positive stepping stone, and should be treated as something that will absolutely be beneficial to all involved.
I call interruptions like that, "divine timing". And it has nothing to do with my beliefs, and everything to do with what I want for results. Do I want to get upset being interrupted, and feel bad and moody going forward, or do I want to see this as something perfect that was supposed to happen?
In my mind, the "supposed to happen" feels a lot better than, "What's with all these interruptions?"
It's like that line in the movie The Matrix, Part 2. The three main characters just finished a conversation with one of the antagonists in the film that didn't go the way they expected. Neo, Trinity and Morpheus get into the elevator and standing there a bit confused, Neo says, "Well, that didn't go so well"
And Morpheus asks Neo, "Are you certain the Oracle didn't say anything else?" hoping that Neo got some divine guidance that the rest weren't privy to.
Neo said, "Yes"
Then Trinity says, "Maybe we did something wrong."
Where Neo responds, "Or didn't do something."
That's when Morpheus realizes that it was all part of bigger picture, that fate thing, where everything that happens, happens for a reason. He saw the confrontation they just had as a positive stepping stone and says, "No, what happened happened and couldn't have happened any other way."
Neo asks, "How do you know?"
Morpheus responds, "We are still alive."
There's a lot being said here without really saying anything. What I take from it is that as long as you're still alive, then everything that happened was a positive stepping stone.
I know that's extreme thinking, but imagine if you thought that way about every little challenge in life. "Well, it didn't kill me, so it must be positive!"
I realize it's sort of silly to think along that line, but just imagine if you did. If just being alive is what you're grateful for with every challenge that comes your way, your life takes on a whole new meaning and purpose. You see things differently and you experience the world differently.
I'm not saying you should absolutely adopt this attitude, I'm just saying "try it on" every now and then just to see if changes your perspective.
And with that, open your mind and step into your power, and be firm in your decisions and actions so that you can create the life you want. Always take steps to evolve your consciousness and your awareness. You are powerful beyond measure, and above all, and this is something I absolutely know to be true about you, you are amazing.