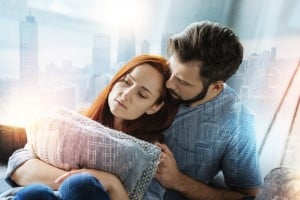 Do you value what your partner values? If not, you may be in for a rude awakening when they suddenly get upset with you for seemingly no reason.
What's important to you may not be important to them, and vice versa, but it might be a good idea to make what they value important to you since your relationship's longevity may depend on it.
The following is a transcript of an episode I did with Matthew Bivens of the Having It A.L.L. podcast.
Paul:
I'm going to read this message from someone I'll call Bill. Bill says:
"I've been binge-ing your show recently, prior, and going into a breakup that I'm currently going through. We are spending time apart for a buildup of reasons. But my question is related to your one podcast on failing the challenge.

My girlfriend, or ex now, as I'm learning to cope with this, is a survivor of workplace assault. She has trust issues and strong sensitivities/concerns regarding her safety. Early on, both of us found out that I don't lock our front door with absolute consistency. I prioritized it but it wasn't as high of a concern as it was for her.

Per her request, I tried to develop habits to have the presence of mind to make sure the door was locked. I worked on this, trying to set habits. Despite this, on and off for a few years, I would slip. I would get distracted and I would forget to lock the door. There were even cases that I would forget to take the keys out of the door.

Each of these instances, she would be alarmed and conveyed to me how it troubled her. Then I would get defensive because I felt guilty trying to say I didn't mean to do it. Then it would turn into a fight. To alleviate her concerns, I would list off ways in which I would try to improve myself, which was within my knowing capacity at the time. Then I would slip again at a later time. This became a deal-breaking topic that she was sensitive about. She was convinced every time that I slipped that there was zero improvement, that I hadn't learned my lesson. But to me, I was trying in earnest to do as she wished.

I wasn't malicious, I wasn't trying to slight her, I would just be forgetful. She would tell me I didn't love her because if I did, I would have changed or was a liar. Because if I did make the change, I would never forget to leave the door unlocked or my keys in it.

Other facets of how we are good poorly I've discovered in your other podcasts, retrospectively. I feel like I've tried my best and I wasn't trying to disappoint her. I don't know what kind of actions I could have taken better as a good boyfriend to make her feel safe. This isn't a social habit that I'm being faulted for, which is what tears me up. I was getting lambasted for threatening her safety.

This I understand as well as the root of why her safety feels threatened. I know I'm totally at fault for being constantly absent-minded. I just wish I had a better solution to reassure her that I was on her side and I felt guilty for messing up and I wanted to make sure I kept putting in the effort to make her feel safe. We love each other and I want to stay in touch. I just want a better strategy for myself so that I don't disappoint her or another future significant other over again, thank you for taking the time to read this."
Bill, thank you so much for writing all of that. Matthew, we were talking earlier, you said you could definitely relate to this.
Matthew: 
The portion of this that really struck me when I was reading it was Bill performing some sort of activity, again and again, sort of forgetting that it was hurting, or that it was doing something to your significant other.
I could relate to that because I was in a relationship where it seemed, every month or so, I would do something that wasn't taking into consideration my partner, her feelings her time, and it would turn into a fight. I still vividly remember when the fight would happen I would be like, "God, you did it again, Matthew, you did it again."
I remember that feeling of frustration, disappointment in myself, regret that I had done that thing again. It wasn't always the same thing that I was doing but it was just failing to consider her. This was a point in my life when I was doing a lot of journaling and I remember writing in my journal multiple times, "if you do it again, she's going to leave."
So Bill, as Paul was reading your letter, that really struck me because I've been in that type of situation personally.
Paul: 
I think we all have. I think we all have said "Damn it, I just did that thing that he or she didn't want me to do again." I did that with my girlfriend when we first moved in together, when I moved into her place. She wants her dishes stacked up a certain way, she wants the dishwasher stacked a certain way.
It was a lot of, I don't want to say demands, but demands on my consciousness. To be consciously aware of how somebody else wants things all the time, when you yourself are just trying to keep your own life together and trying to keep things going for you and now somebody else wants that too for them and you have to be conscious of both your stuff and their stuff – it can be demanding.
With that said, in my opinion, it's not really an excuse. You can't say like, "Well, I've got a lot of stuff going on in my life so I don't have time to think about locking the door. I can't even think about that. You're lucky I shut the door at all."
That would be harmful to the relationship. One of the things that comes up for me is when something is so important to your partner, what steps, what effort do you make to make it just as important to you?
When I was married, I did a values exercise with my wife. I wanted to find out what was most important to her about a relationship and what came up for her was feeling safe and it's right in line with what's going on here. She didn't have a workplace assault but she could have had multiple relationships or family where she couldn't feel safe.
When she goes into a relationship, she needs to feel that safe feeling to feel comfortable, to be able to be loving, and to be able to be supportive and nurturing. For her to be vulnerable means that she has to feel safe. If you are not able to meet that number one need, that number one most important thing, or something high on the list – if not number one, number two – then what's going to happen is nothing else will seem to work, or nothing else will work. It just will not pan out.
Bill said, "I listed off all the ways I'm trying to improve myself." That means nothing to someone who wants the door locked, who just wants that one thing. If you can meet that one important thing that changes the entire relationship.
Matthew, when I talk about trying to meet the most important need of your partner, where do you think you went in your mind when you were forgetful? Was it just absent-mindedness?
Matthew: 
Looking back on that relationship, I think there was a couple things going on. I think I definitely had attachment issues and self-worth issues, which kind of created this interesting cocktail where I was very attached to her but I didn't feel like I deserved her.
I believe from myself, there were some elements of – using the phrase self-sabotage is little strong – but I may have been subconsciously compromising the relationship because I didn't feel like I deserved it.
Paul:
That's a very interesting way to look at it.
Matthew: 
When I when I think back to my own situation, I think about yours as well, Bill. I'm thinking, the locking of the doors, or in my case, the sending of the text message when I'm going to be late coming home or something like that, they are "small things." They are things that make sense, but for me, I just did not feel like she was important enough, or it was important enough.
There were elements of me understanding that if I don't do this, it's going to create something. There's going to be a consequence if I don't do this one thing, and then not doing it, and then saying, "it slipped my mind."
It might have slipped my mind but there's still a part of me that knew that I probably should reach out or whatever it was at the time. I don't necessarily think it was conscious, I don't think I was out to end this relationship, but there was a part of me that was just picking away at that foundation because it confirmed my lack of self-worth.
At the time, I was more interested in being right then I was in being happy.
Paul: 
So that particular example where you didn't text because you were late – what does that have to do with wanting to be right? Was that like a control thing?
Matthew: 
No, I think by me not texting, it would mean that there would be another blow up around me not being considerate for her and because there was a blow up the relationship, it wasn't going well. I'm not supposed to have good relationships in my life. It just confirmed that I'm not worthy.
Paul: 
So you would confirm that you are right, in your own mind?
Matthew:
In my own mind, yeah, and then I'd go about these ways of making that happen.
Paul:
This brings up the question – how does this behavior benefit you? This is kind of rhetorical for you, Matthew, but if you're forgetful, if you're absent minded, if you know something is important to your partner and you keep forgetting it – because I tell you what, if something is so important that your partner is packing their suitcase and walking out the door, you're going to remember that moment and you're never going to cause that problem again.
It's like there's something that burns in your mind, typically. I don't know if it ever happened to you.
Matthew:
No, she left. There was a tipping point.
Paul:
Had she come back, would that have been impactful enough for you to go "Wow I'll never forget to do that again?"
Matthew:
I want to say yes but we had so many conversations about it. It wasn't as if I was surprised when it ended. It makes me think, Bill with your situation, and this is the question that you're asking yourself – why is it a challenge? What is it about the locking of the door?
She's told you that it's linked to that traumatic events. It's doing some serious damage to the relationship. There's a reason why you're forgetting.
Paul: 
I think that is right in alignment with thinking about "How does this behavior benefit me?"
If you can't answer that, directly, consciously, just think of an answer.
How does this behavior benefit me? Let me try this on – I keep forgetting to lock the door. My girlfriend gets mad at me and I keep forgetting to lock the door. Sometimes I do, sometimes I don't. She finally corners me and says, "Why do you keep forgetting? You know, this is so important to me. Why do you keep forgetting?"
I'll think about it and I'll go, "You know, I'm just absent minded." But if I ask the question, how does this benefit me? You said it already, Matthew, one perception is maybe I didn't feel worthy about myself. I didn't feel like I was worth having someone like this in my life and by forgetting and her yelling at me, it kind of justifies how I don't feel worthy about myself.
When I try that on, I'm thinking that I'm not thinking about her. I'm just worried about my own stuff, like I might be high stress. Let me put myself in a real situation like when I would stack the dishes differently. It was so routine for me to do it the way I used to do it that when I try this on now, I think that I don't find her perception, her method of doing the dishes a certain way important.
When I try this on right now, I really feel like I find that her method isn't important enough to do it that way. I also see it as I'm devaluing her method of doing things.
Matthew:
If we think about it in terms of Bill, the safety fear, is that important? Do you think that's devaluing the workplace trauma? Would you take it that far?
Paul: 
I would take it to the point where Bill may have something rolling around in the back of his mind that is like, "What's the big deal? This neighborhood never gets break ins. If somebody breaks in, I'll take care of things." I would highly you search for something like that in your head.
Matthew: 
It's so interesting because on its face – locking of the door – I think most people it's like, you make sure you lock the door but if you don't just remember to do it again. Not a big deal, quote, unquote. But it's obviously a big deal to his partner and to the relationship.
It's a fun exercise to sort of put yourself in that space – why keep doing the thing? She's not asking you to make a significant life change. It's a small habit tweak. It might be putting a reminder on your phone. But there's some reason why even that little thing that she says is number one priority, there's a reason why you're not doing it.
Paul: 
That's great because what you just said is, 'I'm focused on me being right or me knowing better.'
I think that's a little bit of it. 'She's being ridiculous.' Even if that's not consciously on your mind, if that's in the background somewhere, then that is something to consider.
I would consider that with anything that you don't do for your partner. If something comes up that you know is important to them and you decide not to do it, then ask yourself – is it because I don't believe it's important?
Is it because I don't think it's a problem? Or I don't think it's very impactful to the relationship or I think she's being ridiculous or he's being ridiculous?
I think all these questions are very important because when you start to understand what you're actually focused on, and Matthew is pointing at that, if you're focused on "Well, there are no break ins in this neighborhood so why bother?" then of course you're going to be absent minded about it.
But if you're focused on the fear itself – let's just say that a six-year-old child came running to you and said, "Someone's chasing me, someone's trying to steal me and put their put me in their van" are you going to say, "That's ridiculous. Nobody does that kind of stuff. This is a safe neighborhood"?
We look at that and we go "If a six-year-old child says that, then it's real."
Well, let me tell you this: The fears that we have when we're adults are those six- year-old fears.
Matthew: 
In his girlfriend or ex-girlfriends case, it's linked back to a trauma. It's linked back to something very real.
Paul:
Precisely. That's what she's experiencing when there's no lock on the door. One of the practical things Matthew's already mentioned is to put the app on your phone that reminds you at 5:15 when you walk in the door – did you lock the door?
Put notes on your bathroom mirror, make yourself reminders everywhere you go because if you start focusing on her fear – "Wow, this is really important to her."
You may have to talk to her about it – "Tell me about this workplace trauma you went through."
Matthew: 
I think that could be something as well. Try as hard as you can, as best as you can to put yourself in her shoes. It might be challenging for her. Maybe she can write it down and you read it, but somehow, see if you can't truly empathize with what she experienced and then try to imagine what she must be feeling when today she's in what she perceives as a safe place, her home, and she realizes there's a huge access point in that front door because it's unlocked.
That might shift something within you if you truly are able to put yourself in her shoes, see what that experience was like through her eyes, and connect with it on that emotional level.
Paul:
It's a great exercise when as soon as you do that in your mind, and you imagine "Okay, what if I was in that position and someone did this to me at work?"
Well, first of all, I would act differently – but let's just say that you're helpless, or you felt helpless, or you didn't feel powerful, you felt very vulnerable, and somebody attacked you in that state.
Now you walk around with this feeling that you don't feel safe. So you do things to make yourself feel safer. A good example of past trauma is I went to this college to visit a friend of mine and we stayed overnight. And in the morning at 7 AM, we exited the dorm but we didn't know that the doors were all timed for alarms.
When we walked out the door and that siren blared over the entire campus, we ran our butts off. We were 20 or 19, something like that. We were running so fast. We don't even know why we were running, we just thought we did something wrong so we booked it, got into our car, and went home.
But that that experience became a trauma in my mind of opening any commercial door. Walking into a 7-11… I paused every time I walked into a convenience store because I remembered – is this alarmed? Is this thing going to go off?
That just kept playing back. It was so benign, I look at it now and I swear every now and then it still happens today. It's that burned into my mind.
Fortunately, I just push forward and open the damn door. If it goes off again, then "Whatever!" But that really stuck with me for a couple of years. Every time I approached a door, there could have been an alarm that went off.
That kind of trauma stuck with me, so people might look at that and go "That's ridiculous." They might not think it's important to me. They might think it's funny.
But to me, it was very real.
Matthew:
Yeah, and to you it's significant.
Paul:
It was very significant and if I was with someone who didn't understand that, or they saw me pause at the door, they'd be like, "What are you doing?"
That would invalidate what I'm going through. That's a big thing if you're with someone who's had that kind of trauma, and then they feel like you don't care enough because that's what their perception is, that you're just going to forget what is important to them.
That's like forgetting their birthday. That's like forgetting something that's so valuable to them that it shows where your mind is.
Matthew: 
It obviously ends up being grounds for the relationship not moving forward anymore. Bill, I'll be honest, there were parts of reading your story and thinking back on mine, where I'm like – you know what, my girlfriend at the time, your ex-girlfriend, let her just be the one to lock the doors. It's her thing, it's her deal because she had the trauma.
With my situation, to my girlfriend – you know, I'll be home just give me a 30-minute window. That's sort of my default because I think there's a part of my ego, that's like, "That's your problem, you deal with it."
But then the other part is me remembers that there are unwritten contracts that we enter into in relationships, and being considerate of someone's emotions, taking into consideration some of their top values and things that they prioritize is important.
That's part of it and whether or not I feel that it's valid, or I feel it's important, or I feel that this is worth my time, I entered into a relationship. If I don't feel like validating that person's – whatever it is – then maybe I don't need to be in the relationship.
That's part of what comes with dating this person, right now at least, because who knows – she may be able to heal fully from the trauma and not be triggered by an unlocked door. But for right now, that's part of it, it's clearly part of part of the experience and so I think it comes with it.
I like to use the analogy of picking up a stick. You pick up the front end of the stick and you get what's on the back end. This just seems to be something that's on the back end, it's part of it. Make that little shift, that mental shift, that habit shift to start prioritizing those things.
Like Paul said, when you start doing that in the relationship – there're going to be some changes. I think there're going to be some improvements by prioritizing her more and more.
When she goes to check the door to see if you've locked it, it's locked, and now she has that feeling that reassurance that "Okay Bill gets it, he's looking out for me."
Paul: 
I think he wants that. It's just that he's focused on something else. He's focused on, maybe that it's not important, like we were talking about earlier.
He's focused on there're no break-ins in this neighborhood so why bother doing that? Then his secondary thought is "Well, she wants it so I guess I'll do it."
When you make that secondary, it starts to degrade and deteriorate the relationship. Matthew said it well – where you get into a relationship, that's one of the functions in the relationship is to ask how do I show up for my partner? How can I fulfill my partner's needs? What are his or her needs?
If I don't know them and I'm not fulfilling them, then is this more of a "Hey, I want everything I want and I'll have this person with me that just joins me for the ride"? Or are you both on the ride together? And you both have your fears? And you both have your dreams?
And you look at each other and go, "Okay, how can I help you achieve healing of those fears? How can I help you achieve fulfilling of those dreams?"
I love the idea that you get into a relationship not because you're selfish and you want this person in your life but you get into it because I want what I want, and I want what you want, and I want you to get what you want and I want to support your happiness. I want us to go forward into the future holding hands knowing that if you have some fear that I might think is kind of silly, or kind of unjustified, I'm going to treat it as if it were absolutely real because I'm stepping into your shoes. I'm going to be in that space with you.
When I'm in that space with you, then you'll see real changes, then you'll see real growth and progress in the relationship.
Matthew, I don't know if there's anything left to say on this topic but I would say that one of the most important things that we talked about today was the idea of what we're focusing on.
One of the things I like to do is when I'm doing anything at home that I know she does too – the dishes, for example – putting them in the dishwasher certain way, I always preface my behavior with the question, "What would she want?" or "What would she do?"
Matthew:
That's great.
Paul:
I do that a lot and it becomes an unconscious program, a pattern that just rolls in my head.
"Am I doing something that she'd be proud of? Am I doing something she'd be happy about?"
It almost feels like I'm submitting under her spell or something but it's really not that at all because what happens is, when you show up for your partner, and you help them heal, and you help them fulfill their dreams, they're going to do the same thing for you and that feels pretty good when you're both showing up in that way.
Suddenly, you're not what my girlfriend calls the Lone Ranger. She goes, "I'm sick of being the Lone Ranger taking care of everything for myself."
So I see her issues with things as absolutely real and prevalent. If she's crying about something that doesn't bother me at all, I'm crying with her because this is something real she's going through.
Past trauma, especially. She's told you there's past trauma in her life. You know what PTSD is? PTSD is re-experiencing the trauma as if it's happening right now.
Imagine if she believes she's being traumatized because she sees the door is unlocked, all that stuff is flashing right back in that moment and she's flipping out.
I think it's important as you go forward, Bill, Matthew said it best – empathize, step in her shoes, step in their shoes, and really experience what they're experiencing.
Imagine it. Once you do the imagination or visualization process in your mind, your mind starts to develop new ways of thinking and figuring stuff out.
"How would I be in that situation?" That's sort of like when I asked people, "Okay, you're in a bad relationship now. How is it going to feel in one year if nothing changes?"
When you do that visualization, if you're in a bad relationship today, and you imagine yourself what it's like in one year, you're going to have some interesting thoughts come to mind and you might actually have some changes in behavior. Bill, I definitely want you to be able to progress beyond this if you get back together with her or not.
My primary thing was all about what you're focused on and empathy, and Matthew may or may not have the same comments there, but I'm going to give the mic over to Matthew and let him give you a final word.
Matthew: 
My big thing is, Bill, if I were in your shoes, I would really try to just put yourself in your girlfriend or ex-girlfriend's position.
Really try to understand what it is she's feeling when that door is unlocked. What is she feeling about her safety? What is she feeling about you?
Truly just do your best to empathize and see if there are any shifts that come as a result of that.