Friends and family that try to be helpful but really aren't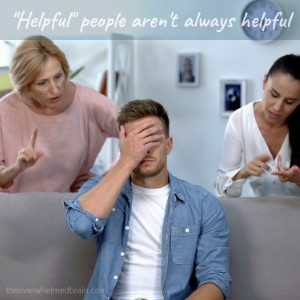 Some loved ones really want to help you through your challenges. There are those that listen and support you and meet you where you are. Then there are those that have good intentions but fail miserably. It's not that they're incompetent, but it could be that they simply have no clue what they're talking about.
(The following podcast transcript has been modified for easier readability and to benefit the Deaf and hard of hearing)
Yes, There Is Such A Thing As Being Overly Helpful
Some family and loved ones try to be helpful when they tell us things they think will help us get better or become a better person or improve or heal in some way. They have good intentions, but their words or actions aren't always helpful.
I received an email once that said, "My family tries to be supportive, but they end up making things worse. They give me the typical family advice, which is you should go outside and exercise more, or you just need to eat healthier."
The person who wrote the email asked if I could "dish out some advice for those families who just want to help." I didn't read her entire email here, but she was talking about how when she shares personal stuff like her depression with her family, they try to be overly helpful, but they really aren't helping at all.
She said "Over the years, I've lost patience with depression. I get exasperated when people say the wrong things but I don't have the energy to explain the big picture to them."
I think we can all relate to that. I think when we're going through something, it is ours and ours alone. It feels like nobody else will understand some of the things that we're going through. My life is the result of everything that has happened to me, just like your life is the result of all the events that happened to you. And because those specific events happened to us and us alone, we can feel very isolated. There may be similarities, but we had our own experience of the events, and that can feel very lonely when we are trying to heal from the past.
All the trauma and dysfunction that I personally went through, the good and bad relationships, the good and bad jobs, are just like what everyone else went through in their lives, but they have different labels and faces. We might forget that even though we feel isolated and alone in our problems that others around us have had to deal with very similar challenges in their life too.
Some people get depressed. Some people have been dealing with that depression for a long time. Some people get anxiety that they also have to deal with. Some people are generally happy and they don't have to think about any of this stuff. And some people just aren't in that same space as us so they can't really relate to what we're going through. They might have good intentions and say well-meaning things but what they say isn't really helpful, at least in relation to what I'm talking about today.
Some of the stuff that people share with us maybe isn't as helpful as it could be. Some people may just be completely clueless about how many times you've received input or advice from other people. Sometimes you hear them start talking and you think, okay, this is going to be really pointless but I'll listen to them because I'm polite.
I've done that myself. I'll think Okay, I'll listen to your advice. But you're young and you don't have much experience in anything I just described. I'll listen and maybe there'll be some wisdom so I won't close my mind completely but I'm highly skeptical and I'm probably not going to get a lot from what you have to say.
However, I have been surprised by people twenty years younger than me that haven't had the same experiences as I have come out with some amazing words so I always keep my mind open.
For the purpose of today's episode, there are those people out there that want to help but are probably clueless. They're probably not the best person to give advice, not that you can't be polite and listen, but there comes a point just like with this person who wrote to me, where they say "I'm getting this advice from my family. They all mean well, and I know they love me, but…"
She didn't say those words exactly, but I'm assuming that this is the backdrop of this: They all care about me and want to support me but then they give me some of the most unhelpful, basic advice you hear all the time like, "You should maybe go outside and exercise to get rid of that depression."
I'll tell you what, I've tried that! When I was in depression in my 20s, I wanted to get out of it. I somehow got a hold of a Tony Robbins tape or CD and just started listening to the audiobook. He was talking about depression and he said, "One thing you want to do is go out and walk. And with every step you take, say I'm getting better and stronger and faster."
I'm paraphrasing here, but he said get outside and move. He said, "People with depression have this slumped-over look so you need to stand tall, you need to stick your chest out."
I tried all that stuff. I went outside and I repeated the words "Every day in every way I'm getting better and better" or something like that as I walked.
That helped zero. It did nothing for me.
Any amount of exercise I got, any amount of self-talk or affirmations I did, all of that stuff did nothing for me. I was still depressed! It felt like I was completely disconnected from my emotions. I don't know if everyone experiences depression the same way, but I look at depression like this:
When you suppress your thoughts and repress your emotions you will eventually create depression.
For example, you might think I really want to express my anger toward that person. But instead of expressing it, you suppress it. You end up stuffing that thought down. The problem is that there are emotions connected to that thought. You might be feeling anger. And since that thought carries anger with it, you have essentially stuffed that anger down along with the thought. This is the repression of emotion.
Afterward, if you never express the thoughts or the emotions to anyone, and you feel like perhaps justice hasn't been appropriately served to the person that angered you, you end up moving on with your life holding on to that anger. Eventually, the anger may disappear because it's stuffed so far down that you almost forget about it. But the problem with that is the thoughts and anger are still in there.
I'm not saying that every suppressed thought and repressed emotion turns into depression, but if you're walking around with this stuff inside you because there are things that you never said to people and feelings that you never expressed, then they may fester inside your body and cause problems.
Sometimes you get physical problems because of this. I had an ulcer for a long time (I think it was an ulcer). Something was burning a hole in my stomach. I held on to anger a long time but I didn't know it was anger. I just stuffed whatever I was feeling down. I didn't want to express it. I didn't want to confront anyone out of a fear of the consequences of confronting them. I had fears of abandonment, rejection, and honoring my boundaries. If somebody did something against me or they walked all over me or took advantage of me, I was more likely to stuff it down just to keep the peace.
I thank my mom for that. Not that she did that to me, but she did that to herself. As a child, I absorbed that. I would watch my mom suppress her thoughts and repress her emotions with my alcoholic stepfather. I learned how not to communicate and suppress all my thoughts. Her behavior toward her husband taught me how to become depressed.
When I was younger, I didn't necessarily become depressed. But when I began my adult relationships, the depression started to build over the years. The more I suppressed my thoughts and repressed my emotions, the more I carried around with me.
I relied on the closest people in my life for my happiness. If they weren't in my life, I wasn't happy. That's why I always had to be in a relationship. I needed another person to be in my life so that I would be happy.
In other words, I would drain my partner of their happy energy to make sure that I had it. There's more to that story but it's good to remember that when we have people in our lives that we depend on for our happiness, for our joy, for our companionship, it's too much stress on them to show up as our sole provider of these things.
If the sole provider of our happiness is our partner, or family, or best friend, then what do we have left when they're not here?
This is something that I feared a lot of my life. I believed if I didn't have someone else in my life, then I would have to face loneliness. I would have to face feelings of abandonment and rejection, and since I never wanted to feel that way, I made sure I always had someone in my life.
But when you are like this with other people, they feel they will feel the drain. They'll start to feel the clinginess, or perhaps the possessiveness or the jealousy. They will feel like you can't live without them and that will put a great burden of pressure and responsibility on them to always be there for you no matter what. They will start to disconnect from you and distance themselves.
Hopefully, you haven't experienced that. But if you have, and you've been almost obsessively clingy, now you know why they started to disconnect emotionally from you.
We don't want to do that to the people we care about. I'm not really talking about that subject today, but I wanted to share that in case it was helpful to you. That's how the first 35 years of my life were. Clinginess and possessiveness and jealousy are some of the many dysfunctions I experienced. I didn't feel safe expressing myself so I would stuff my thoughts and emotions back down. I didn't want to be vulnerable.
Everything you stuff down will eventually fester into physical ailments and emotional triggers.
Those emotional triggers (what sets us off) can sometimes appear out of nowhere. We can explode for seemingly no reason. We develop these emotional triggers, and we also get depressed at the same time. It's a downward spiral.
The downward spiral continues into our 20s, 30s, 40s, 50s, and older, and eventually we start to shut down. It's sort of like drinking poison all your life but refusing to vomit. Sorry to be so graphic, but in the hospital, they're going to pump your stomach if you drink poison. If you drink a little bit of poison every day, I guess there are two ways it could go:
1. You could develop an immunity to it.
2. You could destroy your organs and insides.
You could also do both. Or you could do both. You could develop an immunity (meaning, it doesn't affect you anymore) and you could destroy your organs.
I'm sure there are other things that could happen when you drink poison every day, but for this point, let's take the analogy of developing an immunity. You can develop an immunity to not being angry.
That's a weird way to put it but think about something that makes you angry. Let's just say that you had to face it all the time and you never addressed it. You're pretty much going to develop not so much an immunity but a resilience. That resilience becomes a toleration inside of you.
So going forward, you tolerate and continue tolerating, all the while stuffing it down over and over again. That can turn into depression. If you've never experienced depression, I'll tell you, it sucks. It is the worst. I never want to go there again. It is a dark place devoid of emotions.
Again, this is my personal experience. It may not be someone else's but I certainly didn't like it. Because when you're in that state, you are completely apathetic. You are completely emotionless and disconnected. What used to bring you joy no longer brings you joy. What used to bring you pain no longer brings your pain. What you used to laugh at is no longer funny. What you used to love, you no longer care about. It's like you're inside a big, empty room with no stimulation. And even when a clown comes in riding a unicycle on top of an elephant. You may have no reaction to it.
You might say, "Oh look, a clown on an elephant riding unicycle, juggling balls. That's impressive, but you know, whatever…"
This is what can happen. It can be even worse than that too. It can be such a dark place that you might just want to take your own life. These are the thoughts that come up when you're depressed.
If you're in that space now, I completely empathize. I know what you're going through, or at least my experience of it. That was an awful time in my life. Healing from depression, for me, was reversing the process I talked about earlier.
This is something that was very difficult to do but if you're in depression right now, and you want to reverse the process and get out of it, this is good practice.
Remember the process of getting into depression is:
Suppress the thought > Repress the emotion > Create depression
Reversing the process is doing the opposite:
Express the thought > Experience the emotion > Release it
This helps to get it out of your system. So you can either stuff it down and lock it away inside you, or express it and release it. When you do the reverse process, what's left to fester? If nothing is stuffed down, it cannot fester.
There could be underlying emotions that you have to deal with as well, but because the major funnel into depression is often the suppression of thought and the repression of emotion, you can remember what other thoughts and emotions you stuffed down in your past and do the same process if you want.
If you don't release these things, and your thoughts and feelings are stuffed away to the point where it's hard for you to function, you'll barely be able to get through a day. You might want to sleep all day because you have no energy. You may not want to talk to anyone. You may find yourself putting on a fake smile just so no one will ask questions.
This is something that we do as humans. We don't want to just show our vulnerable or "weak" side to everyone, so we put on a fake smile and move through life just playing the part.
I like to look at depressed states as temporary. I might even say that depression is temporarily permanent. That's probably not the best way to put it, but a depressed state could be like, "I just lost someone I love. I've got to deal with this. How do I deal with this? I want to go into a shutdown mode." So something like that might put you in a depressed state for a while. It feels permanent, but it's really only temporary because there is a way out of depression. But when you're in it, it feels like it will never go away.
Depression could be the result of a lifetime of withholding your thoughts and emotions. Imagine a lifetime of doing that! You would get to that apathetic point where nothing matters and you don't care.
How do you explain that to people? How do you tell people what you're experiencing?
"Look, I'm depressed and everything that Paul just said for the last 20 minutes is what I'm going through. Just replay that part because that's what's happening to me."
This is similar to what the person who wrote the email wrote. She said, "It's like these people come up to me and they want to fix me. They want to repair me. They think they have the advice for me that this lifelong affliction that I've been dealing with is going to be corrected by some stupid little piece of advice from someone who has no clue what I'm going through."
I'm not trying to put anyone down that gives advice to others. I'm just giving you the perspective of the person experiencing the challenge I'm talking about where somebody comes along and says, "This is all you need to do." Or "Why don't you try this? Maybe this will help."
Those people mean well. They probably care about you very much. They just may not have a clue what you're going through. It's not their fault. It's just they don't know.
This is why I do this show. I come out and explain things in a way so that maybe you would have a way to explain what you're going through to others. Or you could share this show or content like this with someone else and tell them, "This is what I'm experiencing. This is what I'm going through. This is why when you say 'Hey, you just need to change your diet' it doesn't work for me. This is why it doesn't work for me."
It's a huge challenge to explain something like depression or generalized anxiety or anything that other people haven't experienced. Until they experience it, they won't truly know your experience of it.
You'll hear both sides – those who went through it and those who haven't. Those who haven't will say things like, "Oh, you're depressed? Why don't you just try this?"
Those who have gone through what you're experiencing are more likely to respond this way, "Oh, you're depressed? Oh, my God, I know exactly how that feels."
Just that one small comment "I know exactly how that feels" can change the direction of the conversation. It can make the person suffering feel like they aren't alone anymore. That comment didn't even suggest a solution, it was all empathy. They didn't just shoot off some advice and say "Try this!" They empathized and stepped into your world.
I think that's a huge, first big step forward when you want to connect with something someone is going through, even if you've never experienced their suffering. To actually hear them and step into their world for a moment to imagine what it would be like to be them.
If you've never experienced what somebody else is going through, it's probably best not to say something like, "Why don't you try this? Why don't you just do this?" It's not that you can't give advice or suggestions, especially if they ask for it, but I suggest when you're with someone who shares a challenge with you that the first step you take is into their world to imagine what it must be like dealing with what they're going through on a daily basis.
When I'm in a situation like this where someone shares their suffering with me, I try not to let advice shoot out of my mouth. I try to make sure I don't tell them, "Why don't you try this? Maybe this will work?" And I also try not to let my professional position and training entitle me to think that I have all the answers so I will tell them what they need to do.
I learned a long time ago that giving unsolicited advice is not always a good idea because some people aren't ready for the answer. Some people need to go through the incremental steps it takes to get to the point where they may even start to ask for the answers, but they might need to go through some challenges first. They might need to go through some personal growth experiences before they even get to the point where they're open enough, or in a space where they can accept any type of suggestion or advice.
I've found that almost always if somebody is not ready, and they're not in a space to receive advice or suggestions, that whatever you tell them won't stick anyway. And it might even be rejected permanently. You could have the perfect answer for someone, you can know exactly what they need to do and they'll be cured, but if they're not ready to receive it, they may not only reject it, but they may resist it to the point where they never, ever receive it.
That happens, especially if the person giving advice is always that person that gives advice, and they get sick of it. Because you can have some really wise people on the planet giving the greatest suggestions and advice in the world, things that will actually work for people. But if they're not in that open state, they may be sick of hearing advice from that person. They may tell themselves that person always just shooting their mouth off and I'm not going to listen to anything they say. Suddenly, that person becomes the boy who cried wolf.
People stop listening when you're always "crying wolf" because there's never a wolf. They'll put on a fake smile and perhaps listen initially, but they won't take anything in.
This is what happens. You can have the best intentions, and you can give the best advice but if somebody is not open and receptive to it, they may resist it. And they may resist it permanently. But it doesn't mean they will open their mind later. Permanence is still temporary.
I like to look at depression as a permanent thing that is temporary. Meaning, it lasts for an indefinite period of time but it doesn't have to and it shouldn't last.
We can all experience depression. We can all experience some form of repressed emotional state. But we should always be able to bounce out of it too. In my process of reversing the suppression of thought and repression of emotion, You express your thoughts and express your experience of your emotions.
I might say, "I'm really angry that you did that. That was very disrespectful, and I deserve to be treated better."
That would be an opposite behavior than what would lead to depression. In my past, I used to stuff it all down. The opposite of depression is to express what I feel, and let them know what they're doing is harmful to me or disrespectful, or doing something to take away my power.
That has been a risk for me all my life. It's a risk for a lot of people. Because if you have some old dysfunctions as your primary reasons for some of your behaviors, if those dysfunctions are running the show, then the behaviors that you're doing will originate from those dysfunctions instead of from that which empowers you.
There's a big difference between honoring yourself when you know you deserve better treatment, and letting someone else disrespect you, put you down, or make you feel bad. And worse, allowing them to do it, allowing them to walk on you even if they don't mean to.
People can do things inadvertently that we get angry about and we don't say anything about it. Where does this anger go? It goes inside.
Some people have the best intentions
Let's talk about what we can say to people that are well-meaning and just want us to feel better. What should we say to people that say things that really don't apply to us or maybe isn't helpful advice? There are those that really want to help, they really care about us, but then there are the "fixers" or "rescuers".
Fixing and Rescuing are often dysfunctions. I apologize if I'm offending anyone here, but this behavior is something that certain people do because they think that is the right thing to do. Like I was saying in the last segment, it's not always the right thing to do! To give advice and give suggestions on how someone can improve themselves when they're not open to it could be the wrong move because you could actually cause them to resist what you're telling them. You could even cause them to not like you anymore.
This is something that I've had to learn myself. I wasn't so much the rescuer but I was always the people-pleaser. I always wanted to get up and get the person a drink of water before they were thirsty. I always wanted to make sure things were done before they even knew they wanted them done.
That's great in certain environments. I think that helped me get raises and promotions when I used to work nine to five in different places. But in relationships where people aren't asking for things but they're getting them anyway, it can become annoying.
My episodes on people-pleasing are very helpful if you're in that space with someone else, or if you're that type of person – where you feel like you need to make peace or be helpful so that people think you're nice or because you feel like it's being supportive.
Sometimes it's unhelpful to be too helpful.
Sometimes you can upset people you're trying to make happy because you're trying too hard. Sometimes these people don't want help. They might want to just go through the challenge on their own, even though it's hard. But they may choose to do that so they can feel a sense of accomplishment.
A Rescuer can sometimes take that sense of accomplishment away, so we have to be really careful. We don't want to give advice or suggestions and tell people the solutions when they're not ready for them. This also works in reverse. If you're the person receiving this kind of advice or suggestions on how to improve yourself, and the person giving you the advice or suggestions hasn't been in your shoes, it's going to be very difficult for you to hear their words.
This works for me as a behavior and relationship coach, as well. I've never been in certain shoes in my life. For example, I've never raised a child. So having never raised a child, I have to be very careful how I give advice to parents. Some people might hear my advice and say, "I would never take your advice, Paul."
That's fine! I do know about relationships and communication so I think that can be helpful. And I also was a child so that aspect can be helpful as well. But if somebody said to me, "You know how you wake up every hour on the hour when they cry?" I would have to say no, I haven't experienced that, but I imagine it's difficult. They would probably look at me with daggers in their eyes. They might respond, "Difficult!? You have no idea."
I understand. I'm not here to do that to you. But there are always aspects of what somebody has gone through that can help you relate to them. This is one of the things that can be helpful to reply to people that are helpful to you.
For example, let's just say that you're in depression now (or some other challenge), and someone that never experienced what you're going through comes up to you and says, "Why don't you just change your diet? Why don't you just get some exercise or something like that?"
It is hard to put everything I just talked about into quick, seven-second sales pitches. "Sales pitch" in this instance, is explaining to someone else the totality of your issues in a matter of seconds or under a minute or two. It's when you want to explain to someone what you're going through in the least amount of time possible, but you realize that would be very difficult to do. There would be so much to tell them you probably wouldn't have enough time.
You wouldn't be able to share with them what you've tried and what hasn't worked for you in a small window of time. Having to tell someone (and repeat to others as well) that, "You don't understand what I'm going through. Changing my diet isn't the problem. This is the problem."
Not only may they think that you're coming off a little harsh or ungrateful, that could happen, but they also may get defensive and say, "Fine, I'll never help you again."
We have to be really careful sometimes of how we respond to people. Not that we're responsible for how they respond to us and not that we're responsible for their emotional state, but if we want to keep certain relationships and try to keep the peace in some way, shape, or form, we have to understand that they may not have ever been in our shoes.
So how can we respond in another way? I think one of the ways is through analogy. You can tell them something that relates to what you're going through. You do that by asking yourself, first of all, a question like, "Why is what I'm going through so bad?"
For example, "Why is depression so bad?"
Ask yourself that and listen for the answer. You'll have a response to that. What is your answer to that? For me, if I was trying this on right now and I still had depression, I'd respond, "Because I can't feel anything. I feel like I just want to sleep all day."
Depression has that effect on me. And maybe because I experienced that, the person I'm talking to might be able to relate to me. It's better than saying, "I have depression, you don't understand," or "Let me explain depression to you, it should only take me 45 minutes to four days…"
We may not want to explain that every time to every well-meaning person, but we can ask ourselves, "Why is depression such a bad thing? Why don't I like it?" Then we can come up with answers that we can use to respond to well-meaning people.
We can say something like, "Have you ever felt like you just wanted to sleep all day long?"
That might be something they can relate to because some people simply can't relate to what you're going through. But they can relate to the effects of what you're going through. In other words, let's just say you have an eating disorder and someone comes up to you and says, "Why don't you just stop eating?" or "Why don't you just eat healthier foods? Why don't you exercise? Why don't you buy organic food? That'll be better."
You are going to have trouble expressing to them exactly what you're going through. There's probably a lot of stuff wrapped up in there. There's the emotional stuff. And there's physical stuff too. It's just a lot to explain they would never understand unless they went through it.
So ask yourself, "Why is this the eating disorder so bad?"
Let's just say that you're bulimic and you eat a lot of food. Then you purge it (vomit it out), and somebody comes up and says, "Just don't eat as much food."
If they do that, you're going to feel Invalidated, first of all. It's going to be minimized right in front of your eyes and ears, and you're going to think this person has no idea. You're going to feel isolated. You're going to feel like they don't understand.
Quite frankly, they don't. Because for somebody to say something so elementary to you, it's going to create a resistance in you about them. It may even cause you not to like them. And anything they say from this point on won't be helpful. They're telling you something so unrelated to what you're going through, even though they might have a practical point. It's just not something that you may be able to accomplish.
Think of a challenge you're going through right now. If you have bulimia, use that as your challenge and ask yourself:
Why is having bulimia (of this challenge) so bad?
That may be a stupid question. But what comes up? Why is having this challenge that you're going through so bad?
The bulimic might have a lot of answers to that question. But since bulimia is one of those things I can't relate to, I'm going to look at something very basic about it, which is the "purging" part. Purging has a lot of effects on the body. It can cause the disintegration of the teeth. It can cause some throat issues. It can create real some real physical issues. Those physical issues are a huge challenge.
Maybe one of the reasons that comes up for the bulimic on why it's bad is that they're embarrassed. Maybe it's an embarrassing thing to go through. So a reply to someone who asks you why don't you just eat less might be, "Have you ever been so embarrassed about something that you didn't want to tell anyone about it? And if you told them, they might make fun of you? Or you might feel shame, or guilt or something like that?"
It's not a direct answer to their suggestion for you, but what you're doing is you're helping them relate to you that puts them in the same state of mind you're in. You're asking them to access a feeling most people can relate to.
If you do suffer from bulimia, hopefully, you never have to explain this to anyone. Hopefully, anyone that knows you have that condition isn't going to say something that might be considered very insensitive. But let's just say that it happened. Let's say they said, "Just eat less" or whatever. How can you respond to it?
I'm asking you to ask yourself the question, "Why is that challenge? Why is bulimia so bad?"
This will then give you the response you can give them. Your response is going to be different than somebody else's, but you're going to have some things that pop up. Those things can be something they can relate to.
For example, "My teeth hurt" could be something a bulimic says. Someone who vomits a lot may have many teeth in pain. The acid from the stomach can disintegrate the teeth. I don't know all the science behind that so if I'm wrong, I apologize about that. But I think that's what happens, at least from people I've known who've gone through this.
You probably know what tooth pain feels like. Most people do. And now they can relate to one of the components of the challenge you're dealing with.
Most people can relate to a toothache. If they can relate to that reply, you can expand it further and ask them, "Have you ever had a toothache that never went away? Have you ever had any pain that never went away? Have you ever had to deal with something constant like that where it took a toll on you emotionally and physically?"
Most people will relate to questions like this. When they're in that relatable state, that's when you can say, "I'm in that state all the time. That's what I'm experiencing. So I wish it was as easy as eating less, but it's much more involved than that."
Your reply can sound something like that. "I wish just eating less or not eating those particular foods was the solution. I wish it was that easy, but it's not." You can even ask them, "Have you ever experienced this condition yourself?" It helps to ask that to get them into an empathetic state.
This is kind of like step 1 of this: Help them get into that empathetic state. People who haven't experienced what you've experienced or are experiencing now might give you suggestions that seem insensitive, or just unhelpful. Their decisions in life took them on a different road than your decisions. They didn't end up where you ended up. Their life led to where they ended up.
It's important to understand the effects of what you're going through, instead of what you're going through if that makes sense. It's not the depression, it's the effect of depression. It's wanting to sleep because you feel completely miserable and lifeless or something like that. Many people can relate to that. They've had at least one day or one week of feeling that because of things that happened in their life.
It helps to get them into that empathetic state and say something like, "It might be hard for you to imagine what it's like for me, but I feel this way all the time. I am so grateful for the suggestion but it's so much deeper than that."
Something like that can get you out of the 20 to 30-minute explanation and other things that I'm talking about in this episode. It gets you out of that explanation state and puts you in a place where you can share something that they may be able to relate to. Again, that's one way to reply to people like that.
Another way to reply to "helpful" people when they're telling you things that are probably practical in general, but very impractical for what you're going through specifically, is to keep it even simpler.
Some people are relentless. You keep it simple to the point where you say, "Thank you so much." Then leave it at that. Don't tell them that you're going to try it. Don't tell them that you have tried it. Don't tell them anything like that. Just say, "Wow, thank you so much. I appreciate that," or something similar.
Hopefully, they'll just say "You're welcome" and that'll be it. Or they might be relentless and ask you later, "Well, have you tried it yet? Did you do what I told you to do?"
At that point, you can probably just be honest. What they told you, you probably have already tried at one point. So now you can just be honest: "Yeah, I tried that. It didn't work for me but I am thankful for your support. I'm grateful for your suggestion because it really reinforces how much you support me."
What I've done there is take away the focus from their advice and put it on their intention. Think of that as a way to connect with them and not be so offended by them. They're giving you a suggestion that you know doesn't work, so just come back at them with total focus on their intention. i.e. "That was very kind of you, thank you so much."
They might walk away feeling great. They may think, Wow, I just gave him or her some advice and they took it well. I feel good about myself." Not that it's your job to do that, but this helps you stay out of the bigger picture. Because there are people that will not understand what you're going through or have been through, so sometimes you have to take the fast, polite way which is to focus on the intention.
Their intention is probably coming from a kind and caring place. Or it could be dysfunctional, like the rescuer or the fixer. But what are you going to do? Do you want to tell them they're a rescuer or a fixer?
You certainly could if you wanted to. That would be the honest route, at least from your perspective. You can be totally honest and say, "What are you trying to do, rescue me? That's dysfunctional! And you should probably get yourself to a psychiatrist."
I guess you could do that. I don't like to be so abrasive though. At least, I try not to be. I also like to keep the peace if I can. Maybe the rest of the relationship is great but they fail in the advice department all the time or a lot of the time. So you might think, How can I just say thank you and move on? I'll just focus on their intention. Their intention is probably well-meaning so I'll focus solely on that and tell them, "Wow, thank you so much. That was very kind of you. I feel a lot of support coming from you. I am grateful. Thank you."
Just leave it at that. Don't expand upon it. When someone who likes to fix or rescue gives you advice that you've already tried, sometimes the conversation can go easier when you simply thank them and move on. Otherwise, they may want to continue the conversation trying to be helpful but being no help at all.
It might not work to say, "No, I tried that already. It didn't work." Don't go into any of that. Just leave it and move on.
I know that there are some people out there that will need to know that not only do you acknowledge what they suggested, but they'll want to know that you're going to try it. They're going to ask you later, "So, did you try my suggestion?"
Imagine those who told a bulimic to eat less or eat healthier. The bulimic probably doesn't need to hear food advice from someone who has never experienced bulimia. They're less likely to listen to suggestions from someone who has never gone through it. So the bulimic may hear someone with good intentions suggest something they could do to help their condition, but if they aren't open to unsolicited advice, they'll likely reject it and even get annoyed by the suggestion.
Instead of getting frustrated or annoyed at everyone offering advice or suggestions, however, it might be a lot easier to tell those overly helpful people something like, "Thank you so much for that. I appreciate that. I am grateful. I feel your support. I feel your love. And I just love that about you."
You can exaggerate if you want, or maybe all those words are true for you. Maybe you do feel all that stuff. And I think it's okay to exaggerate a bit, not that you have to. But exaggerating by telling them how helpful they were (when in your mind you know they weren't) can help to stay out of the danger zone of unintentionally upsetting people. Though remember it's not your job to make anyone feel anything. You don't have to worry that someone is going to be upset. I'm just giving you possible scenarios that could unfold and some possible tools you can use in case you need them.
The bottom line is if you're forced into a corner and someone presses you to find out if you've tried their suggestion or not, just be honest. Something like, "Yeah, I tried it. It didn't work for me but I'm still grateful for your suggestion. I appreciate you trying to help. Thank you very much."
They may reply with, "Oh, it didn't work? Why not? What's going on? Did you try anything else?" And you might respond, "I've done what you suggested before but it's just so much more complex that I can explain. I wish I could really get into the details with you of what I've tried, but even when I did that, I still had the same issues."
If they're a real fixer or the ultimate rescuer, they're going to say, "Okay, let's tackle this! Let's get this resolved." At that point, you're going to feel like you have to go along with whatever they're saying.
I don't want you to have to feel that way. So let's give you another step in the right direction with this. When responding to people, if they still don't understand that you're not asking for any more advice, and you don't really want their advice, when they start to give you even more suggestions, ("Okay, let's dig into this and find out what's going on"), if you're not open to their advice, all you have to say is "I'm not in that space right now."
That's a simple answer. "I'm really not in the space to talk about this. It's a pretty heavy thing for me. I love your support. I love that you're willing to put some energy into this, but I'm just not in that space. I want to enjoy this time with you right now and worry about that later."
That's another approach: "I want to enjoy the time we have together right now and not focus on that."
I know this is complicated. Conversations don't always go this easily and effortlessly but these are just philosophical ways to think about this subject. When you're in a situation like this in the future, you can remember these short, sweet replies that can help you not get sucked into the big picture of how complex and deep your situation is.
This is if want to squash any deeper investigation so you can move on. This brings me to the next point. When someone wants to be overly helpful to you and you don't want them to be, how you show up is going to be important when it comes to the response you get from them.
In other words, if a fixer or rescuer knows you're always depressed (because you've talked about it, or maybe confided in them), and they continue bringing the subject up and giving you suggestions, and you just want those suggestions to stop, another approach is to fake it. Put on that fake smile, and pretend everything's okay.
This is not something I would normally tell you. This show is all about being authentic, honoring your boundaries, standing up for what's right, and increasing your self-worth and your self-esteem. But maybe I should add it's also about avoiding stupid conversations you don't want to have. Sometimes you just want to avoid those kinds of conversation which means sometimes you approach certain people in a certain way.
That can be hard. One approach is to pretend you're a person that doesn't have this problem. That doesn't mean you completely deny it, but it does mean you might have to say, "No, everything's great!"
I did this for years and I got very well-versed in it, especially when I was depressed. Because I didn't want to explain what was going on in my life to everyone. I didn't want to hear their comments about what I was going through. I didn't want to hear their suggestions. I didn't want to hear their "wonderful" advice. I especially didn't want to hear from people who never experienced what I went through. So when I was asked, "How are things going?" I would come up with the opposite of how I felt.
I would say "Everything's going pretty darn good. Actually, everything is great! Thank you for asking." They would reply, "Well that's awesome to hear!"
And if they ever asked more questions like, "What do you mean 'everything's great?'"
I would reply, "I don't know. I just feel good. I'm just feeling good, that's all."
My goal would be to make sure I didn't cast my line to hook them into more questions. Sometimes you'll say things like, "Everything's going great. I do have some ups and downs but…" Oh, there's the hook!
"Oh, you had some ups and downs? Tell me about that. Let's talk about that. Let's tackle those downs!"
I didn't want to "talk about it." When you don't want to talk about something, don't give people any hook that lures them in. The "hook" is when there's some bait out there that makes them want to ask more questions.
We inadvertently do this to ourselves. We put the bait out there. We do that by leaving questions in the other person's mind and suddenly we're diving into something we don't want to dive into.
My girlfriend does this a lot. She told me that some people don't stop talking to her and they're always trying to help her. They're always trying to fix her as if she were broken.
She said, "They just keep telling me what to do and I'm not really sure how to tell them to go away."
I started listening to her conversations. She puts the bait out there almost every single time! I'm exaggerating a little bit, but she does put it out there a lot. She will put something out there that somebody wants to know more about. She will put curiosity out there.
It's like telling somebody, "Everything's fine with me. I'm just in my own space today."
That could be a benign thing to say. And any "normal" person might reply with something like, "Oh, okay, that's great. If you need anything, let me know. Or, do you want me to give you some space to yourself?"
But then there are people that are a little bit more invasive. They want a little bit more from you. They want to know what's going on so they might ask, "Oh, what's happening? What's going on with you?" They ask because they care.
Then there are people that want to rescue you and fix because they have some sort of dysfunction. We talked about that already but just be careful what bait you put out there if you don't want to talk any more about a certain subject matter.
If you say "Everything's great and I'm just working on stuff," there's the bait: "I'm working on stuff." They'll want to know what stuff! Consider this one of the steps that if you don't want to talk about something, if you don't want to get into the big picture of something and explain your life story to someone, you have to be careful what you put out there.
That might mean you respond with a statement that is so definitive or final that there is nowhere else to go with it. Take this as the final tip for this topic. There is actually a lot more to talk about and I may bring it up again in another episode, but we'll "conclude" this here. Just be very aware of what you leave on the table for people to look at and get curious about.
In other words, if you are dealing with some sort of physical or emotional challenge, and somebody finds out about it and you don't really want to talk about it, then don't put anything about it on the table. Don't put anything out there about your state of mind that might be questioned.
This is why I sometimes like to exaggerate a little bit. If I'm not having a good day and somebody says, "How's your day going?" (which we all get asked all the time), I might say "It's going great. Thanks for asking." And that's it. I won't even ask them how their day is going. I don't even want to get into that conversation. Sometimes I just want to be in my own space.
I want you to be okay being in your own space. I want to be okay giving conclusionary answers that don't require any more explanation because you can be in your own space. You can be with yourself by yourself if you want. You do that by not putting the bait out there that hooks people in.
Anything you say can hook someone in. That is how we get into these conversations that we don't want to get into. This is something that maybe you can think about before you get into conversations. Let's pretend your mom always asks you the question, "How are you doing?" And you always reply with, "Well, things are going great but you know, my job still sucks, but I don't want to talk about my job. Let's talk about something else."
Dangling that bait out there, she says, "Wait, let's talk about your job. Let's figure this out." Then you're thinking, No I don't want to talk about this! But I also don't want to lie to my mom because I'm an honest person. But I really don't want to talk about this stuff.
That's where we get into trouble. If you don't want to talk about "this stuff", don't bring it up. If you don't want to talk about your low state of mind or your low emotional state, don't bring it up. If you're pressed to talk about something you don't want to talk about, just say, "No, everything's great. I'm doing great."
If you're pressed harder then bring it back to where you want to go. For example, if you're asked, "What happened last week? I thought you were in a bad space then." You can reply, "Yes, I was. But I feel good today, so let's talk about this other thing. I don't want to spend time talking about that right now. I feel good and I would like to keep this good feeling going with you, so let's talk about something else." That way there is no lie. There is no suspicion of your lower state. It's not a manipulation, it's a redirecting of attention to what you'd rather focus on now.
Most of this is about self-preservation. It's about keeping the relationship the way you want it instead of turning it into one that becomes offensive or something that you resist. When you can keep the relationship and work on yourself and get through things in your own way or with other people that aren't trying to fix you, and you are actually asking for their advice and reaching out to them because you're open to their suggestions, that's a different story.
But when you're getting unsolicited advice and suggestions, that is what we're talking about in this whole episode. You may find yourself resisting their suggestions to the point where you just don't want to hear from that person anymore. Or perhaps you'll just never reached out to them again.
It's like the book that you picked up 20 years ago and started reading through. At the time, you may have thought it wasn't for you. But now you pick it up again and you realize, "Wow, this book is perfect for me now! I can't believe I didn't read this 20 years ago. Why didn't I read this back then? It sounds like exactly what I need."
But you didn't need it 20 years ago because if you did, you would have picked it up. If you picked it up 20 years ago, you wouldn't have been receptive to it. You may not have learned anything from reading it. You may have gotten bored with it.
I know when I was younger I would have gotten bored with all of this personal growth and development stuff. I wasn't ready for it. I was in an entirely different space back then. I believed I didn't need help.
When you're in that space, of course, not much is going to be helpful. But twenty years later, I'm looking for all those old resources that I came across trying to figure out how to get them back! I need those resources now.
They wouldn't have worked though. I would have gotten bored with them. I would have thrown them away or gave them to someone else. Maybe something I learned back then would have hit its target, who knows! But I was just not receptive to it. This is what happens. We will get suggestions and advice from people, books, podcasts, and videos, and we'll hear good advice but it won't have an effect on us until we're ready to hear it.
This is why I've gotten letters that say "Not every show applies to me, but there's always something in every episode that I can take away and use in my life."
Somebody might listen to this episode, which to them sounds like it might be a lot about repressing emotions and depression and things like that, but they take away something else they didn't realize they needed. Found information like that can be helpful when you're ready for it which is why I probably go off on tangents sometimes. I try to hit every angle and all the facets of life hoping that everyone listening will get something from what I talk about here. If you don't, my only suggestion is to keep listening. Maybe you'll get something different from each episode.
A Little About Guilt and Regret
I'm going to talk about something a little bit different now which is when you are carrying around guilt about something you did to someone. Maybe you betrayed them. Maybe you hurt their feelings, or whatever you did but they moved on and you're no longer in contact with them. They've moved on and they're happy again.
I had someone ask me, "Is it better to tell them you feel guilty about what you did to them so that you can get it off your conscience? Or does telling them after all this time make things worse?"
Let's just say you were in a relationship with someone and you had an affair but your partner never found out about it. But the relationship didn't last anyway. It ended and your partner left. They went on to find another relationship, never learning about the affair, and now they are settled and happy with someone new.
However, you might still feel really guilty about what you did. So much so that you want to get it off your chest. You may feel a strong need to tell the person you cheated on so that you can get it out of your mind and tell them a truth you know they deserve to hear.
But is that a good thing to do?
This is a little tricky. The way I look at it is if you're no longer in contact with someone that you did something to that you feel guilty about, an affair for example, and they're not thinking about it at all and not upset with you regarding this thing they don't know about, I don't think it's necessarily a good idea to bring up.
I don't think it's a good idea to suddenly interrupt their life and say, "Hey when we were together and we had that relationship, I cheated on you. I just want to let you know. It's been on my mind and I thought it would be best for you to know."
You might alter their life. You might it in a bad way. You could change your life in a good way too. I'm not saying that this is a perfect solution or a perfect formula but if you're no longer in touch with the person and you're no longer connect with them on a regular basis (i.e. they've moved on and they don't seem to be harboring any resentment or hurt about what you did, or they don't seem to be thinking about you anymore), then why would you bring up a past that you can't get past?
If you did something you feel guilty about and you just can't get it out of your system where it's on your mind all the time, I don't think it's a good idea to bring it up with people that have moved on and happy.
But the question is, "What do I do with all this guilt? If we're told that it's better to be honest and it's better to express, shouldn't that be what I do?"
It sounds like I'm giving you the advice to be dishonest. It sounds like I'm giving you advice that tells you the truth doesn't always work. The people that hear me for the first time are going to think, "Wait, is this what he teaches?"
This is not what I normally teach, no. This is a rare occurrence where I will say "Don't be yourself, don't be honest, and don't be authentic because of what may happen and because of the bigger picture that might explode in front of your face. And also because of the lives that may change."
This could alter someone's life dramatically if you suddenly decide to tell them something that they never knew about before. It could be unfairly exposing them to your suffering and I don't think it's always a good idea to push your suffering on to others so you can release it and now they have to deal with what has been revealed. Your honesty may not be the best policy in certain scenarios.
This doesn't apply to every situation of course. I once had a family member tell me that another family member molested them. This was very hard news to hear. I could have gone my entire life without ever hearing that and been perfectly happy. But it would have been a blissful ignorance.
I'm not talking about situations like that. A member of my family suffered and another member of my family is a child molester! I think that's very important to know. This example is a trauma that someone experienced and I'm glad this person shared it with me, even though it truly altered my life.
My life changed from that point on. It radically changed how I felt about the person who victimized someone I love. It changed my entire perspective of what kind of person this was. To hear this from a beloved member of my family was worth the changes I experienced, even though it didn't feel very good hearing about it.
There are things I believe are good to share with certain people that maybe should be out there. You may just have to say, "Who cares if you feel bad if I tell you this? It has to be told." Sometimes that has to happen. I am all for that.
If you want to tell someone you did something to them because you feel guilty about it, but they don't know about it and they've moved on in life, but you just want to get it off your chest so that you'll feel better and you believe it's the right thing to do, it may not be.
I tend to lean toward the belief that if a person has moved on and they're happy, and they're not thinking about you anymore, and they're just in their own space doing their own thing, that you have to live with that burden and not pass it on to them. You have to live with the regret.
I'm not saying that you should live with the guilt though. You should not have to continuously regret and feel awful about what you did. I'm saying that you just have to live with the burden of that information.
Guilt needs to be healed. Thoughts of regret need to heal. Regret isn't as powerful as guilt in my mind, but guilt definitely has to be healed. Listen to my episodes on healing guilt. Guilt is one of those things that is supposed to be temporary.
Guilt is not meant to be permanent. It's not supposed to be. You're supposed to get over guilt. There are other ways to do that however than to just blurt out the truth to someone whose life is going well. You might change their life in a bad way because of that truth.
If they are living and enjoying their life, and they've moved on, maybe they're in a new relationship, maybe they're doing their own thing somewhere else, but you're no longer together, it may not be the best idea to suddenly shake up their life and say, "Hey, when we were together, this is what I did. All those years you never knew!"
They may be blissfully unaware of what you did living their life fully and eventually pass on without ever knowing what you did. But if you told them and it changed their life, it could make them upset. It might cause some retaliation. Who knows!
I just like to look at it as if they've moved on and they're happy so you have to deal with the burden of truth. You have to go into yourself and say Okay, I did something that I regret, so what am I going to do about it?
You will have to do something about any guilt or regret. You can't hold on to that stuff. I had the burden of holding on to information about a person in my family that told me a secret about another person in my family. This person who told me this secret made me promise never to tell anyone else. So I kept it up until it was revealed many years later (not by me).
Holding on to that family secret didn't feel good at all. I wanted to say something. I had to say something. But I didn't. I didn't tell anyone, not even the closest people in my family. I kept that secret and this is what you may need to do. You may need to hold on to whatever burden you have, but you do have to heal from whatever you're holding on to, the guilt, the shame, the regret, whatever that is, because guilt and shame should only be temporary.
Regret may not have such emotional baggage with it, but it can still be there. But you definitely need to heal from the guilt and shame so check out those episodes I mentioned earlier.
My quick fix for guilt is doing the opposite of what you feel guilty about. For example, if you feel guilty for cheating on your partner in the past, then what you're going to do going forward is be the most loyal, dedicated, honest partner that you could ever be to someone. It doesn't erase the past but it paints a much better future and it's just something you have to try out to see what I mean.
Be the opposite of who you used to be, or do the opposite of what you did so that you can reverse guilt and turn it into healing. That's the quick and dirty. I wanted to share this with you today because the person who wrote wanted to know if it's better to tell someone what you did even though they've moved on. My answer, in a nutshell, is that sometimes it's not.
The other perspective is, let's just say they've moved on and they're still angry with you or they still have some sort of connection with you. Or perhaps they're still sad or upset about what you did and they need some sort of resolution – like an open loop that needs to be closed.
If they are in that space, I might be in favor of telling the whole truth. If you had a tumultuous relationship and you cheated on the person, then you broke up and they moved on but they're still upset and you're still in contact with them in some way, you could essentially tell them. They may need closure. They may need to know the reason why you did something or the reason why the relationship failed, or the reason why you became so distant, or whatever it is. Most people need closure and some continue to suffer until they get it.
I think that would be a gift for them. I'm not saying this is perfect. Again, this could be something that alters things drastically. You might have to deal with this another way. You might have to take the brunt of whatever comes your way after that. You have to be careful. But sometimes when someone isn't living a blissfully unaware life and they're still upset and holding on to a past that you were a part of, this is where honesty may be the best policy.
Just food for thought. I hope it helps. And please don't write to me and say, "I'm in a marriage, and I cheated, and you said it's okay that I don't have to tell them I cheated." I didn't say that! I don't want to get a message like that. What I recommend here isn't an excuse for bad behavior. But I'm hoping it's helpful for you if you are holding on to guilt or regret from your past.