The pain you sometimes need to go through to increase your quality of life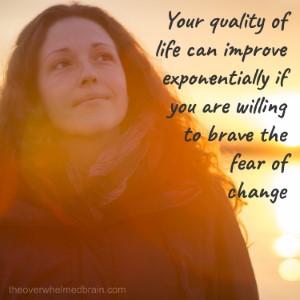 The level of happiness and fulfillment you feel on a day to day basis can change based on many factors. One of those factors has to do with the ability to make hard decisions that may involve big changes that you're not ready to face.
The fear and pain associated with change can often prevent us from doing what we need to do to increase our quality of life.
However, sometimes the lesson is that in order to reach a higher level of satisfaction in life, it might involve scary steps you don't want to take.
(The following podcast transcript has been modified for easier readability and to benefit the Deaf and hard of hearing)
Turn your pain into growth
I like to take all the challenges that happen in my life and turn them into some sort of personal growth lesson. The challenge I was facing yesterday happened to be a dental visit. I went to the dentist to get a broken tooth fixed. I've been needing dental work anyway so it was about time I went in to get my teeth fixed, including the one I just broke.
If I had gone to the dentist sooner, my tooth wouldn't have broke. Sometimes you will be pushed over the edge like that. When you need to do something important for yourself, you may be pushed to the limit so you have no choice but to do it. This was one of those times. I couldn't ignore the pain from the broken tooth so I had to go.
Sometimes you have no choice but to do something about something if that makes sense. If you're in a bad relationship and it gets worse and worse, or it just never gets any better but you've had enough of it, you're going to be pushed over the edge. I like to look at it as being pushed to the threshold.
That threshold is the point of change. It is the moment you decide that you've had enough. That moment can come either by force or you can choose to deal with the moment sooner than later.
For me, I was forced to take care of my needs by getting a louder message about my teeth. I had no choice but to either procrastinate longer and stay in pain or go to the dentist.
My teeth are not a disaster but I have broken a few over the years. I do have cavities too. I've always procrastinated and never wanted to go back to the dentist. I just wanted to take care of them as best as I could. I brush and floss every day.
When this particular tooth broke, I couldn't delay any longer. I decided I couldn't wait any longer. I can't take this risk anymore. It was an emotional and psychological thing too because when you are pushed to threshold, you are reminded that there is a problem that needs to be addressed.
Sometimes (well, often) it can be helpful to be pushed so far, that you have no choice. Because at that point, you're going to do whatever it takes to address the issue. That's what I did.
Of course, my problem is minor compared to a lot of problems out there. But it's good to look at the problems that come your way and take a lesson from them. How many lessons come our way from which we don't learn?
"Oh, I'm in another bad relationship."
"Oh, and now another bad relationship! Why do I keep getting into these bad relationships? Maybe I need to look at all the lessons from the other relationships and figure out what I could have learned or what I didn't learn that I should have learned."
Even this minor stuff like dental work. I mean, it's not minor to some people. It can be painful, scary, and expensive. It's scary when a tooth breaks! (I shouldn't be one to complain, my girlfriend has broken the same tooth at least six times in her life. She still has to wear something in her mouth to keep a tooth in there. It is a big problem for her but she has been dealing with it).
This brings me to my first personal growth lesson from my dental visit:
If you fail to take care of something or procrastinate on it, that something will eventually force itself on you to be taken care of.
When somebody or something pushes you to the edge, you may have no choice but to address it and take care of it. I mentioned being in certain relationships as an example of something you might not like. Certain relationships can be somewhat painful. You might want to change but maybe you're not ready to change. Or maybe you want to change, but it's too scary and it's not bad enough to leave.
Maybe you can't afford it. Maybe you don't know what's going to happen if you leave. There are all kinds of excuses that we can come up with that will keep us where we are, but this is why I like being pushed to the edge. Sometimes, we will do things when we're pushed that far that we wouldn't normally have done. When you have no choice, you're going to do it no matter what.
Personal growth lesson number two from my dental visit was:
Even when you think you can't do it, when you're pushed over the edge, you find a way to do it.
That says a lot. That tells me that if I'm afraid to do something, and I just tell myself, "I'm done. I can't do it. I don't want to do it. I don't want to deal with it. Then I'm forced to do it and suddenly, I can do it.
Where did that come from? It's that mental game that really messes with us. But if you are a step ahead of the mental game and you tell yourself if you had no choice but to do it, would you do it then? You might answer, "Of course, I would have no choice!"
That means it's inside you it's already there and you can do it. When these challenges come our way, and we think we're just not going to be able to do this (whatever "this" is), when something happens that pushes you past the threshold, you do it. You find a way. You find the energy. You find the resources. You find the people, the support system. You find these things!
And if you can't find these things, you figure it out because sometimes you have no choice. It can be helpful to have no choice to push you past your perceived limits so that you create change in your life.
The third personal growth lesson from my dental visit was:
No matter how bad the pain is, you'll get through it.
I know this to be true. The reason is because (and this is going to sound a little bit morbid) if I can't get through it, if the pain is so great that I die, then I won't remember it.
It's a strange philosophy to have, and I'm not saying that's what you should use for your own philosophy in life, but it works for me. I know I'll survive whatever comes my way because if I don't, I'll die and won't remember it anyway! So I forge ahead knowing I'll survive.
You can take that with a grain of salt. You can take it and throw it out. You may not like it but it helps me because I know that any pain I go through is only temporary. If I die, then the pain will go away so either way the pain is going to go.
This doesn't really help people with chronic pain. I'm not talking about that. Chronic pain, physical pain, or any pain that you have to live with is absolutely a different story. I'm not trying to minimize that or invalidate that. There is pain that some people have to deal with and no matter what they try, it doesn't go away. I absolutely feel for you. I sympathize with you. I empathize with you because I was in that pain for about 15 years of my life.
For me, it didn't go away. And after 15 years, I finally got surgery to get it fixed. After that, I no longer suffered with sciatic nerve pain. And even that I procrastinated on! I didn't want to get the surgery for the longest time. I figured I'd just live with it for another day or another year. I thought I'll just keep going until there is no way to keep going.
That can work but how much of life do you suffer through by doing that? How much of the quality of life do you lose by continuing to do something that is painful, hurtful, and just plain hard when you could do something about it?
My thoughts back then and sometimes even now come up and tell me I don't have the resources to do that. This is what our thoughts do, they tell us we don't have enough money, we don't have enough time. They'll say, "How are you going to leave what you do? How you going to make people wait for you to go and take care of yourself?"
I feel very fortunate to work at home. I make my own schedule but I have a lot of work to do every day. I work on projects, emails, my podcasts, an online course that I'm creating, I work with clients and other things that fill my schedule. And I put all of these ahead of what I need to do for myself.
That old people-pleaser still kicks in and says, "You know what? This person and this project is more important than taking care of yourself right now."
And those old beliefs kick in. I think to myself I just don't have enough resources; I just don't have enough money; I just don't have enough time. Time is a huge one for me. I'll believe I don't have time to do something but I also know that if I don't make the time, I will eventually be forced to the threshold. I will be pushed over the edge. That's what can happen as I was saying earlier. Sometimes you are forced to do something because you let it go for so long.
I sometimes welcome that because I need a swift kick in the butt. I sometimes need things like this to happen so that I move. This all comes back to what you value most. Whatever you value more, you will do more of. You'll even do what you don't like if you value it more. For example, somebody might value being in a bad relationship more than getting out of that bad relationship and being on their own.
That might not sound right. It might not sound healthy. But what they're valuing isn't necessarily the relationship or the person that is being hurtful. They're typically valuing their fear instead. Whatever they believe is going to happen if they leave, they value the idea of not being in more pain than they are in now. It could be pain, or fear, or debt, or more impoverishment… They believe if they leave, they'll have nothing.
This is how our values can really mess with us. When you say, "I can't leave this relationship or this job because I'm too scared, " or, "I can't confront this person because of fear, " then what you're doing is valuing what that fear represents to you.
The fear represents protection. You're valuing your security and your protection over what could be something greater, something better for you, something healthier for you.
When you have these fears that drive your behavior, you end up making decisions based on what you believe is a better choice because you don't want it any worse. When you're in something that's pretty bad, and you don't want it worse, you're more likely to stay with "pretty bad" than explore what could be better because you believe it's going to be worse.
This is the stuff we tell ourselves. We make up excuses. And sometimes those excuses are legitimate. I'm not saying that everything is an excuse. If it's a bad job, and if you quit you have no money, that's a real thing. That's a real reason to stay in a crappy job. I'm not saying you should stay in that kind of job but it is a real reason. It's not an excuse.
When you have reasons that dictate what you're going to do next, my only concern with the reasons that we give ourselves or we tell others is that we stay in situations for way too long. And because of that, our quality of life is not that great, or even terrible. When your quality of life is terrible, then you have to gauge how much time you want to spend living day to day with a lower quality of life.
I know it's not always easy. You can't just make a decision then change your life. Well, you can, but there are fears that kick in. There are our insecurities. There is the reality that we are surrounded by, especially now during COVID, and the pandemic. And what about politics? Are you wondering who's going to be the next US president?
We can see all these changes happening around us and we don't know what to do. If we have a lower quality of life and we want to make a change, and all these variables exist, we may not know what to do. So my thought when it comes to that is always set a deadline to make a decision. The November election is going to come and go and no matter who's president after that point, you still have to make decisions for yourself.
No matter if and when COVID goes away and if and when we can all be friends and socialize again, there's going to be a point where we make a decision.
Let's just say that the pandemic continues into next year and people are still getting COVID. There's going to be a point where we're all going to be pushed to the threshold and we're all going to make another decision for ourselves. That could mean a number of things to a number of people. Some people will say, "Forget it, I don't care if I get COVID, I'm not wearing a mask."
Some people will say, "This is a hoax!" Some people will say it was planned. And some people will say the numbers are way off. You read it all on social media. If you're not reading it, you're very lucky because you are not in the mix of all the conspiracies, and all the different thoughts and all the different opinions.
It's nice to stay out of that but at the same time, you want to be informed. But if you want to be informed, perhaps social media is not the best place to do that. But maybe what you can do is just do your best. What that means is sometimes you have to make decisions that are right for you.
There's a point where you will be pushed to a threshold and I'm not necessarily talking about the pandemic. I'm not saying that you should make major decisions right now while everything's up in the air. I'm just saying, there's a point where if you have a decision to make, give yourself a deadline to make it because if you don't, and you know you need to make it no matter what, you will be pushed. And being pushed might make it even harder for you.
I was pushed to the threshold with this dental stuff. I had to take care of a broken tooth. That's a big thing! Something like that can be painful. It was for me. I went to the dentist and got a temporary cap. A few days later it was still hurting. It was radiating pain. I thought this isn't right. This doesn't feel right. I thought the pain was supposed to be gone after my first visit so I went back.
As the dentist was pulling off the temporary cap, I went into orbit. The cap pushed against my nerve and the pain wasn't stopping. She saw my fear right away and was telling me how sorry she was. She immediately gave me some numbing stuff, novocaine or something. When it numbed, the pain was gone. But for that few minutes, I was starting to sweat from the pain and fear. I felt a little panicky because I don't know if you've ever had nerve pain in your teeth, but it can hurt. That's where I was. I was in the middle of that pain.
While I was going through the pain, I checked in with myself. I said, "Hey, this pain is only temporary. It's going to go away. It's going to stop." That area of my mouth did start numbing. It took a while, but I survived!
It helps to know you will survive no matter what you're going through or what decision you make. If you have to make a hard decision, you will survive. You will go through the challenge. It'll probably be very hard. You'll probably have other challenges that come up because you are making the decision. But once you make the decision, you'll get through it.
If it doesn't work out the way you want it to, you will learn something. You may even be more mentally and emotionally stronger because of it. You will have discovered what you need to do next time.
Your challenges or decisions may not relate to my dental visit, but like I said, I like to learn a lesson with every challenge that comes my way. Being in pain at the dentist after not having experienced real tooth pain for a long time, even though I needed a lot of work, was a reminder that I need to do something about this. That's why I started the process of getting work done in my mouth.
What do you need to do that hasn't been done yet in your life? I'm not saying you have to make a decision right away. I'm just asking you to think about it. Think about the quality of life you want to live every day and ask yourself if it could be better. With a different outcome than you're getting now, would life be better?
If you decide to prioritize that the change is more important than the fear and the change is more important than the insecurity around it, and you can get comfortable with the uncertainty and the feeling of walking into a complete abyss not knowing what's going to happen, you may drastically improve your life.
I like to rearrange my values sometimes and tell myself that a higher quality of life is much more important than all this other stuff that I have lined up. If that's the case, if it's a higher quality of life that's more important than the fear, then I'm going to make a decision that will take me one step closer to that. Being closer to that is a lot better than being in the same place.
I have not been able to eat pineapple, tomato, or anything acidic like oranges and other foods because I had this very light film of, I guess enamel, on my teeth. And nnytime I ate one of those foods, it dissolved the enamel and then my teeth got sensitive. I can't even eat fruit! I want to eat fruit.
That was a sacrifice I was willing to make. I chose to not eat fruit or acidic foods because I didn't want to go to the dentist. When my tooth broke, I decided this had to change.
If there's a pain in your life or a lower quality of life that you know you could change but you just don't want to, maybe it's time to reconsider that. Or at least start thinking about it differently. Knowing that the change is in you, and you do have the ability to do it even when you don't think you do, you can choose to do it sooner, or wait to be pushed to the edge.
When you have no choice but to change, you're going to find a way to do it.
So there's my little motivational talk for this first segment. I hope it helps you. The dentist was a huge challenge for me. It was a major procrastination for me. And now I'm finally getting this stuff done and my life is already improving. It's a little uncomfortable right now because I have different size caps on (I'm waiting for the permanent crowns) but I know it's a work in progress. Just like any change you make.
Depending on how deep you are in something, there are going to be obstacles in the way. You may experience a work in progress like I'm experiencing with my. I have clients right now that are making decisions in their life that they know will involve a lot of steps, a lot of pain, and a lot of changes, and they have no idea what's going to happen. Yet they're choosing to do it anyway.
I didn't convince them to do anything, they are choosing to do it because they realize they want a higher quality of life. They may end up even closer toward something better so I hope you gain something from this segment and take it with you into your life, anywhere you go.
Don't normalize bad behavior
Sometimes we live a lower quality of life without knowing we are inadvertently choosing it. Things happen to us that we think are probably normal but because we have been exposed to it for so long, we don't even know what normal is anymore.
To expand on this concept, I'm going to read you an email from someone whose perception of quality may be a bit normalized in a way that is unhelpful and maybe even toxic. She wants to know if certain behaviors that she's experienced from someone else is normal.
This person's boyfriend did some interesting things that I'm going to read to you momentarily. Whether you're in a relationship or not, this applies across the board to any relationship with anyone that you know, a friend, family member, coworker, whatever it is.
Sometimes we normalize certain behaviors that are unhealthy for us. We can get exposed to bad behavior so much that we start to believe this is what life is supposed to look like. This is "normal" and we'll just have to deal with it and move on.
The problem is, some situations and behaviors are not normal! I see this in emotionally abusive relationships a lot. If you're an emotionally abusive relationship and it's gotten worse and worse, it can be because you've normalized the initial behaviors and allowed those behaviors to exist in your relationship.
If you have one of those family members, for example, that always shows up in a toxic way, they are probably doing behaviors that you either allowed (or had no choice but to allow, just to get through the time that you were together), and over time their behavior became acceptable.
That's what I consider "normalizing". It's when you become accepting of certain behaviors, even if those behaviors aren't healthy for you. Like I said, this is something that happens often in emotionally abusive relationships.
For example, let's just say the emotionally abusive person puts someone down, makes them feel small, or makes fun of them in front of some friends. The person receiving what I would consider abuse is very hurt, but they may think it was just a fluke. They may even think they deserved to be put down. I've heard from some people – they think they deserved the bad behavior. They think 'maybe I shouldn't have spoken up when I did.'
Maybe they just thought that their partner, or whoever it was that did the behavior, was having a bad day: "They're just having a bad day. I'll let that slide."
But then it happens again, and that person thinks, 'oh, it happened again. That's a terrible feeling but what do I do about it? What do I say? How do I handle this?'
Maybe they don't know how to handle it, or they don't handle it well. Then maybe it happens again some other time. They start thinking, 'Wow, this is happening over and over again…' So what they'll do is ask themselves, 'Is it bad enough to address or leave the situation? Is it bad enough to tell them they are rotten? Is it bad enough to do any of those things?'
They'll justify in their mind that it's not bad enough to do those things. Time goes on to the point where more bad behavior comes their way. Maybe the emotionally abusive person yells at them and call them names.
That would be the next level of normalization. They've already normalized the first few behaviors by being accepting of them. But because it wasn't perceived as "bad enough", they let it slide and normalized that behavior. It became the new normal for them.
In this example, now they're going to the next level where they're being yelled at, still made fun of (because that's part of the normal behavior now), they're being called names, and more. The victim of that abuse doesn't like it, of course, no one likes that. But they still find ways to justify the bad behaviors: "Maybe they were just having a bad day. Maybe this is only a one-time thing."
They make excuses. These aren't reasons now, they are excuses. They may go into denial and think the behavior they're seeing is only a one-time thing. They hope they don't see it again but know deep down they will. And the hope keeps amplifying. Hope is what they rely on.
They say to themselves, 'Maybe I can avoid this by behaving differently, or trying harder.' So the victim tries harder, hoping and maybe even praying for better behavior. They try to act differently around the hurtful person. They try to please the other person more. They try to show up in more respectful and kind, sometimes over the top ways, but what's happening is the second stage of normalization of bad behavior. The bad behavior keeps happening and amplifying.
Then you get to stage three. These stages really aren't in a textbook anywhere, I'm just unwrapping this as you go through the typical cycle of an abusive relationship and how it starts. Stage three is the next set of bad behaviors.
This third stage could be anything from pushing the person or isolating them from friends and family, and telling them that nothing they do is good enough. The hurtful person makes them feel really bad about themselves. He or she bullies and intimidates them.
You can tell how these stages continue to elevate as they get normalized. One of the biggest problems with this, and you probably already know what I'm going to say, is that after years of this treatment the victim of emotional abuse may think that intimidation, bullying, being called names, and being made fun of are all acceptable behaviors! All because they kept normalizing bad behavior at every stage as it got worse. Because it became their new normal, it never seemed bad enough to get away or stand up and protect themselves once and for all.
This is where it all falls apart. As soon as you normalize bad behavior, you've unknowingly helped create a very toxic foundation on which the relationship is built, If you have a toxic sibling, or a toxic parent, or a toxic partner, and you've normalized a lot of their behavior, then all the bad behavior in those earlier stages becomes "normal" behavior. And all you do in the relationship after all that normalizing is hope that it never gets worse.
If you're always in that state of hoping things never gets worse, you're probably willing to accept things as they are: That lower quality of life. You don't want that lower quality of life, but what do you do to avoid it?
You have to address these things early. If not with them, with yourself. Meaning if you're not willing or able to tell them, "Hey, what you just did was hurtful. I don't like it, please don't do that." Then you have to ask yourself, "Am I willing to accept this behavior from this person? And am I willing to continue accepting bad behavior from this person?"
The emotionally abusive behaviors I described earlier don't typically happen just once. Emotional abuse is the compound effect of multiple bad behaviors that continue to make the other person not only feel bad, but feel bad about themselves.
Normalizing is something any of us can do. We get used to someone's behavior. We normalize it. We accept it. That way, when they do the behavior over and over again, it's never bad enough because we've accepted it as being normal. This way, when they do something heinous, the heinous act isn't as bad as it could have been because we've already been conditioned. We've already been groomed through and by these abuse cycles to get used to the bad behavior. We learn to tolerate each next level of bad behavior and accept it as a part of our life.
I hope what I'm describing is not something you're dealing with right now. There are people that do this. And when they do it, their quality of life goes down. It's even worse when you have all these attachments, connections, and commitments to the other person. You make kids with them, you buy a house with them, you start a business with them… all of these are commitments that we can make with people whose behavior we may have already normalized.
The bottom line is to be careful about normalizing bad behaviors and changing your quality of life. I'll read you this email now and give this person a quick answer because most of what I want to say to her I already said earlier. But I want to address this person directly.
She writes, "Hi, Paul, I've listened to your other podcast, Love and Abuse and I can't tell you how much I respect you for putting your own experiences out there to help others like me. That's what helped me leave and emotionally and mentally abusive relationship. I've never been in an abusive relationship until recently, the last few years to be precise.
"I've tried counseling, therapy, but I found my therapist to be less engaging so it didn't help. I wonder if you could mention this on your next episode as I still can't make sense of it. It's stopping me from moving on. My ex was married before we met. His wife at that time was the love of his life. She left him saying that she would have done anything for him but his demands and expectations were too unreasonable.
"He was very open about the end of his relationship with me. He even showed me messages from her during that time. He divorced her and we agreed to get to know each other until his divorce came through. I was his friend and helped him through it in a way that I never even knew I had in me to do. I was there for him anytime of the day, sometimes even the middle of the night driving over when he was low.
"One day I went to a gathering for his friend's wife and some of his ex-wife's friends were going to be there. After the gathering we made our way to a pub where we met my boyfriend and "the boys" (i.e. husbands and partners of the girls from the gathering). When I walked in, my boyfriend said hi to me, then spent almost two hours of that night talking to the girl who was rude to me.
In all fairness, he didn't know what she had said to me. However, I found it disrespectful that he didn't seem to put me first that evening. Later that night, we got back to his place where I was going to stay but he asked me to leave after I brought up what happened. I didn't leave, so he threw me out in my shorts and t-shirt, bare feet, and no shoes on in the cold.
He threw my things out afterward, then crashed into my car trying to barge it out of the driveway as I refused to drive it home after having a few drinks. I didn't want to drink and drive. I called some friends asking for help all while he was threatening that the relationship was over if I called them. I still stayed with him for an entire year after that."
Now here's the question that she's asking: "Is this normal?"
Thank you so much for writing that. You certainly went through the wringer with this person. The first thing that you said was that you can't make sense of what happened and it's stopping you from moving on. What is it stopping you from? Is it stopping you from moving into a different relationship? Or perhaps you just can't find closure with what happened?
I don't know what it is but I think you're trying to wrap your head around his behavior probably. I'm also going to assume you have questions about your own behavior because you probably think maybe you could have done something differently that night.
Or maybe not. Maybe how you behaved isn't on your mind at all. But I want to address both sides of this and just answer your question in a few quick words. My answer is no, it's not normal. That is unless you've normalized bad behavior.
I already talked about normalizing bad behavior throughout this episode so my answer is no big revelation here, but I'm telling you this because I need you to find closure. I also want you to look into the past and remember how the relationship developed at each stage when you may have been normalizing bad behaviors to the point where you ended up being thrown out with your t-shirt and bare feet, trying to figure out what just happened.
I'm going to assume that before that incident there were probably many red flags that you decided weren't bad enough to leave the relationship. I'm not blaming you for that, I'm just saying there's a normalization that you put on those behaviors that when something worse happened like this, you weren't so affected by it that you decided to never go back. In other words, it wasn't bad enough to leave.
The "not normal" thing about all of this is perhaps your normalization of his other bad behaviors before this happened. You may have been so jaded by his past behavior that you found this incident to not be bad enough to want to leave. This is part of the normalization as well. It's when you get so used to certain behaviors that when something really bad happens, it's still not bad enough to leave. This means you have accepted earlier behaviors that were probably not healthy. They may have been very toxic for you and harmful to the relationship.
Behaviors like this typically don't come out of the blue. It was likely just the next stage in his behavior. You said that his ex-wife was the love of his life and that she left him saying that she would have done anything for him. But she said his demanding expectations were too unreasonable.
There's a flag. He's telling you this. He's being open about it. It's important to remember that narcissistic people, sociopathic people, or any emotionally abusive people will often tell you who they are right up front, right at the beginning. So it's interesting that he shared something that his current wife or soon to be ex-wife was saying. She said that he was too demanding and had high expectations that were unreasonable. It's almost like he wanted to prep you for who he was.
I give credit to the emotionally abusive people out there that do this because they tell you who they are right off the bat. He allowed you to see texts from his wife at the time that described who he was, and because you probably had feelings for him at that time, you may have seen him as the victim, or at least somewhat of a victim. When you have feelings for someone, you tend to feel more sorry for them. Or you tend to sympathize or empathize more. An emotionally abusive person knows this, either consciously or subconsciously, that when they tell you who they are, you are more likely to give them the benefit of the doubt. You're more likely to respond by saying something like, "I don't see that about you. I can't imagine that would be true. She must be exaggerating because she is jilted. She must be hurt in some way, so she's probably making stuff up about you."
You may also think that if he's sharing this with you, if he's telling you that somebody else thinks he is too demanding and his expectations are unreasonable, then he must also be aware of these qualities in himself so he has probably worked on those qualities in himself so he could improve.
But that didn't happen, did it? I'm going to assume that he had high expectations during your time together. I'm also going to assume that he was definitely unreasonable when he threw you out. After all, that seems like a pretty mean thing to do.
I'll also assume that even though he knew he was unreasonable and had high expectations before you met, that he didn't think those qualities were a problem. That would be a great subject to talk about right up front when you're developing a relationship with anyone.
When they tell you things like this, like "My ex found me too unreasonable, my ex found me too demanding," then ask the question, "Do you think you are?" Their answer is going to tell you a lot. Unless they lie.
If they lie, that's something you need to learn about as you go. You need to find out if they really have changed or not. But he did give you this information at the beginning. I'm not blaming you for not catching those red flags, a lot of people don't catch this stuff at the beginning. When you're involved with someone and they're showing their good side, and suddenly you get new information on their behavior, like what this guy shared about what his ex said about him, you might give him the person the benefit of the doubt, because you're a supportive person. You're compassionate. You care! And when you care about someone, you'll probably give them more leniency.
Coming back to your question, "Is this normal?" No, again, this is not normal. And I want you to have closure around it. The closure may need to come in the form of forgiving yourself for not catching the red flags and for not leaving sooner.
I'm not saying that you should have been smarter. I'm not saying that you should have left sooner. I'm not saying that at all. All I'm saying is that sometimes we carry around upset toward ourselves for not seeing things that we should have seen before. If you don't forgive yourself for that, you'll carry it with you. You have to for-give yourself or break for how you showed up then, and for what you missed. And for the red flags that came and went but you decided to continue the relationship.
You have to give yourself a break and for-give yourself a break so that you don't carry any regrets with you.
That's part A of my answer:
You need to for-give yourself for any decisions that you may have regretted and for anything that you missed.
Part B of my answer is, let's just say that you didn't catch any of this stuff. You didn't see any red flags (which I find highly unlikely) and suddenly, this came out of the blue. You also need to forgive yourself for not addressing it until you got closure.
Maybe it's not forgiveness that I'm looking for there, but you just need to remind yourself that when something like this happens, it needs to be addressed. It needs to be discussed. It needs to be fleshed out and put on the table. Spread it out so that you can talk about the aspects of it that bother you when he threw you out and then you decided to stay with him another year.
All of that should have been put on the table and discussed like two adults. You put it out there you say, "You know what? You threw me out. Why would you do that? That's treating me like a dog. That's treating me like someone less than human. That's not right. What do you have to say about that?"
Have the conversation. If you already tried having that conversation and he got angry and didn't want to talk about it, then you don't have enough information to go on to continue to trust that this relationship is going to be healthy enough to go on. When you don't have the information it's very difficult to move forward.
This is what happens if somebody cheats on you. If somebody cheats on you and you find out about it, you go through the discovery and the pain, but then you decide to keep the relationship going hoping to heal together, one of the challenges going forward has to do with a multitude of things that the victim of the cheating believes about themselves.
The victim may ask themselves questions like:
Am I not worthy enough?
Am I not important?
Why would this person lie to me?
Is it something that I did?
Is it something that I could do better?
There's that part of it. The other questions are:
Is this person going to cheat on me again?
Are they going to lie to me again?
Are they going to deceive me again?
All of this is wrapped up in this feeling of non-closure. And sometimes it's never discussed. The relationships that have been through infidelity that have the best chance of surviving, healing, and getting better are the ones where the person who cheated is willing to talk about any aspect of the cheating.
Instead of throwing it under the rug and telling the victim, "You need to get over it. You need to move on," if the person who cheated is willing to talk about it and willing to put it on the table, talking about any aspect of it, then I believe that relationship has the best chance of survival. When there's healthy communication like this, even though it will likely be painful, a couple can heal the relationship and make it better than ever because their conversations lead to closure.
The victim may have to ask the hard questions. They may have to hear the hard stuff. But that leads to closure. If you're the victim, you may not like the closure that comes. You may not like the idea that they found somebody else attractive. And you may not like the idea that they lied to you. But at least you'd have the answer. You'd just have to process it and get through it.
The relationship that doesn't often work out is the one where the person who cheated says, "It's been a few months now, so you you need to get over it! You need to move on. I don't want to talk about it anymore."
A relationship experiencing that has a terrible chance of healing because the cheater is taking everything off the table. When this happens, you get no closure. You don't have an opportunity to express your pain and anger. You don't get an opportunity to grow through it together. In this scenario, the person who cheats is not putting their vulnerability on the table. They're not allowing themselves to be exposed and talk about this as many times as you need to talk about it.
This may have nothing to do with what this woman is going through but it's the same feeling of not having closure. When you don't have closure, it's very difficult to move on. This is why it's important to talk about these things when they come up.
If something happens in any relationship that you're in and you don't talk about what happened, you carry it around. You hold onto resentments. You may hold regrets. You may hold anger. Then you're walking around with that inside you. That's a lower quality of life.
To the person who wrote this message, thank you again. You are probably experiencing a lower quality of life and you may have gotten a bit used to it. You didn't have these important discussions. And I really believe there is a lot of self-forgiveness that needs to take place. But you can move on because you'll know what to look for next time.
It's possible that my answer has nothing to do with your question at all. I believe what you're asking has to do with his behavior of throwing you out and leaving you out there then smashing into your car normal. I'm going to say yes, that's crazy! Obviously, he was feeling exposed in that moment. He didn't want you to see through what was happening inside of him, whether he was talking to that girl and he liked her and he didn't want you to interfere with that, or maybe he just didn't like not being trusted. Maybe there was a legitimate reason for his behavior. He may have thought why doesn't she trust me? We've been together for a long time.
Even if that were the case, I still say that behavior is not normal. It's crazy! And please realize I'm talking to you as if we were best friends at a coffee shop. This isn't my professional opinion. My professional opinion is that any one of us is capable of doing this type of behavior.
If someone listening did this, I'm not putting you down. I'm not calling you crazy. I'm saying that any one of us can get to that point where we feel pushed over the edge; where we feel overexposed; where we feel like maybe we're going to get caught, so we might do something a little over the top like this and hurt someone in some way.
You were hurt. You were put out on the street You had no shoes on! On top of that, it was cold out. That is an awful thing. For someone to go through what you went through, you deserve to be angry about it. You deserve to have feelings about it. You deserve to have thoughts about it. You deserve to visualize yourself punching him in the face… if you want.
This is a mind exercise that I do every now and then. I visualize the person I'm angry with in front of me, then I do anything I want to them. I will also say anything I want to them and do anything I want to them.
When I'm done with this exercise, sometimes they're dead. Sometimes they're hurt. Sometimes they leave with their tail between their legs and their head down. It makes me feel better doing this. It doesn't mean you have to do this too. I'm just saying when you do this mind exercise /visualization, and you picture them in front of you, you do and say anything you need to do and say to them in your mind. It can be helpful. It can release the pressure and give you some closure.
You may also need some closure around that because I don't know how many times I've heard people write to me and they say "So and so left. Didn't give me a reason why. And here I am stuck not knowing what I did wrong… or not knowing what happened."
Sometimes you just need to give yourself closure so you can move on. You may never get that closure from them. This is why it's helpful to use your brain to visualize these things to help you get some resolve so that you can move on.
For my final words, let me just tell you this: I'm allowing you to move on. I'm giving you permission to move on. This is your resolution. You are allowed to move on because here we are, you and me sitting in a coffee shop, and I'm looking over at you telling you "That guy's nuts. He's crazy. You need to get away from him."
You need to look at that situation and tell yourself that is not normal. That is nuts. You don't deserve that. That's the last thing I want to tell you. You don't deserve behavior like that. That is not normal. You are worth much more than that. You are worthy, you are significant. You are lovable, and you don't need that in your life. So take a stand for yourself. Never accept that behavior again. And move on to live the higher quality of life that you deserve.
***
As of this recording, I'm sitting here with those temporary caps on my teeth. When I go to the dentist, I tell them to numb my mouth right away. I don't want to feel the pain. Of course, I have to hear the noises of the drill and get through those moments, but as long as there is no pain.
Of course, there's almost always pain associated with big changes in our life. There really is. Even winning the lottery. There's some pain associated with that because I guarantee you, once you have all that money, those long-lost relatives start calling. Now you have to be the person that has to deal with that. So there's some pain there. Sometimes you worry more when you have more in your life because you have more to worry about!
I just had an email from someone that said, "I really appreciated your episode on letting go of attachments because it has helped me become more minimalist. It changed my life."
I thought wow, I never really considered myself a minimalist. But at the same time, because I can usually easily let go of attachments, I guess I would be considered a minimalist. If I had something I really appreciated and someone came along and said, "I really love this thing. Oh my god, where did you get it?" I might consider giving it to them because the feeling you can get from giving to someone that really appreciates something overrides any feeling of loss for me.
I can't say that I'm like that with everything. If somebody came along and said, "I really love your classical guitar," I might not give it to them because I like playing. It's the only one I have. I've had it for years and I've been enjoying it. It has a really nice sound.
But at the same time, if I lost it, it wouldn't be such a great loss that I couldn't stop thinking about it. But I would eventually find another one, so there is a lot of benefit to being able to let go of attachments easily. I'm not saying I've mastered letting go of attachments, I've just done well with it.
She was talking about the episode where I broke down in the desert in Arizona and I had all my possessions with me, then decided to sell my car and everything in it for 200 bucks for a bus ticket home. I won't go over the details here, but I had a panic attack. At that time, I was afraid I was going to lose everything! I was so attached to everything I owned that I eventually reached the threshold of panic and anxiety and broke through that attack.
We talked about hitting threshold and getting past that threshold earlier. That's what happens when you have a panic attack sometimes. When what you're panicking about comes true, you're no longer panicking. You don't panic anymore because there is nothing to be panicky about at that moment. Since it's already happening, the panic is over. There's nothing to panic about if you when you are panicking about comes true. You reach the threshold of a big fear and you get past it. It's like you're settling into a new place with everything. You become accepting that there is no choice.
There is no choice. That's where I was: There was no choice but to accept that I had to lose everything in order to get home, which was like a 1000 miles away.
I sold my car and everything in it for 200 bucks. I got my bus ticket, made my way home and I felt more peaceful than I'd ever felt. Jeez, I still feel it today. Every time I think about that moment, it hits me. It makes me remember that pivotal moment in time I finally let go of everything. I remember how freeing it felt. I went from total fear to total peace. This can happen to anyone.
I have an episode called Letting Go of Attachments. That's the episode this letter writer was talking about. I appreciate that person for writing in. Thank you for that.
Wait, I was talking about being in pain. I brought that up because there is always pain associated with big changes. This is exactly what happened to me. I was in Arizona and there was a lot of pain before I decided that I was going to be comfortable letting go of all my attachments.
That pain led to such an amazing change in my life. When you remember that sometimes pain has to precede that positive change, it might actually help you through it. Just like when I was sitting in that dentist chair yesterday, feeling that pain for several minutes (which felt like an hour), I knew that this was going to lead to something better.
Being at the dentist may not be something you want to picture, but if you're going through that or something like it, remembering that the pain can lead to something better, some sort of resolution, can change your life.
I had a temporary cap put on during my last dental visit. Every day after that, my tooth pain was pretty bad so I knew there was something wrong inside my mouth. It was the placement or the filling or something.
When I went back to her and she pulled the cap off, I felt more pain. However, I knew that after this it was going to feel better. She used a different filling and adjusted the cap. That night, instead of going to bed with pain and having to digest another ibuprofen, I didn't feel any pain at all.
In fact, it was the best my mouth had felt in a long time. Sometimes you have to go through the pain to get to the change. It can be an unwelcome, intense, but you will get through it.
It can happen at any time in your life. You might have to leave a relationship, or a job or some other bad situation. There's going to be some intensity and pain before the change. But it passes.
When you get through it, the change happens. So you can either stay with the lower quality of life and that underlying pain, or choose to wrap it up, feel the intensity, and get through it. After that, you'll be on the other side of the pain. Then maybe you can get some forward momentum having closed that chapter of your life.