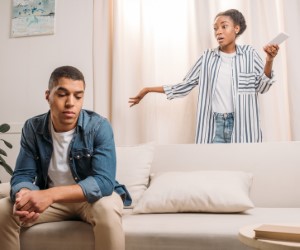 We've all done it. At one time or another, you've emotionally withdrawn from someone who set off some sort of emotional trigger in you.
The Silent Treatment is a protection mechanism that kicks in when you feel hurt, unsafe, or triggered in some way. When someone does or says something that betrays your values, morals, or beliefs, you may withdraw and put on your "emotional armor". Some information may be so hard to accept or understand that you just want to slip back into your shell so that you can process it and figure out what to do next.
(after you read this article, be sure to tune into the Love and Abuse podcast for more on the silent treatment and other behaviors that are difficult to deal with in your relationships)

This type of protection mechanism has a purpose: To save you from further emotional pain. When you experience any sort of emotional trigger, the emotional pain that accompanies it causes you to either take action (fight, argue, assert yourself) or freeze or flee (be alone, don't talk about it, hide your emotions). However, if you are a fan of the latter and choose silence over expression more often than not, you are slowly dissolving bonding and love.
Alone time to process and figure things out is absolutely healthy, but not to the extent where you continue to hide how you really feel about something you are triggered by. In other words, if someone does something that you don't agree with, and every time they do it you choose to withdraw emotionally, you create an ever-widening chasm of misery that distances each of you from one another. Soon, any love you had will dissolve and there'll be nothing left but the misery.
This is why it's so important to express and be honest about some of the things that trigger you. For example, when my father used to ask to borrow money all the time, I would build resentment and become distant but never shared with him that I didn't like what he was doing. I figured he'd somehow read my mind and know that I was upset. I never told him I was so he just kept on asking. More resentment built and eventually, I stopped talking to him altogether.
Ten years went by before I saw him again, just a few weeks before his death. I stayed silent for ten years simply because I was too afraid to express myself to him. All I had to do was ask, "Can you please stop asking me for money?" and that would have been that. No matter what his response would have been, I would have spoken up and not let my angry silence keep distancing us. It's possible he would have stopped talking to me after that point, but at least the truth would have been out on the table. Though even when the truth is told, there's still a chance we may not have spoken for ten years just the same!
But… the difference was that I was silent and chose not to express myself. I shut the door on communication because I wanted to avoid any confrontation. Instead of giving him a choice to stop asking, I closed the door on our relationship. When the truth is out on the table, you have something to work with and it could go either way. When the truth is not spoken, resentment can build.
The Silent Treatment dissolves love and breaks apart bonding. It shuts out the other person and keeps them in the dark about what's going on in you. You may have every right to be angry or upset about something they did, but maybe it's better to let them know. At least tell them what you're angry or upset about so that the silence doesn't slowly eat away at your love or respect for them. I went silent repeatedly in my marriage. My wife felt my distance so often, she felt abandoned and alone. This caused her to fall out of love and eventually leave me.
When you withdraw your emotions from the relationship more often than not, the love will be lost and there will be no turning back. It's hard for anyone to trust someone who withdraws like that because love is not being reciprocated, so the receiver of the silent treatment comes to a place where they can't even trust giving their heart to the emotionally withdrawn person. The receiver is always in the dark, not knowing what's happening with the silent one.
No one likes to stay in the dark for too long. Love, trust, and bonding will dissolve, and soon they will feel completely alone.
Your silence is not the message to convey to your loved ones. They won't be able to read your mind or figure things out on their own, so you sometimes have to spell out what you're thinking clearly.
Don't withdraw love.
Too many good relationships are lost because of that. Just express the truth, even when the risks are high. Truth gives the other person something to work with, even if they don't want to hear it. Hiding that truth only makes things worse. And the long term resentment and mistrust that builds is cancer to any relationship.